The Baha'i world joins India and Israel in celebrating Haifa Day
Sep 23, 2018 07:28 AM IST
September 23 is observed as Vijay Diwas and Haifa Day each year in India and Israel, the Baha'i world additionally celebrates it as the day of the liberation of Abdu'l-Baha
The valour and sacrifices of Indian warrior kings, queens and soldiers against foreign domination is legend. But most acclaimed by historians, is the heroism of our soldiers on World War I fronts under British commanders, especially in West Asia. Indian troops of the 15th Cavalry Brigade formed the largest component of allied forces that fought and liberated Palestine from four centuries of despotic Turkish rule. Their final battle in the campaign was to gain control over the strategic port city of Haifa, an essential sea route for landing supplies, armaments and men.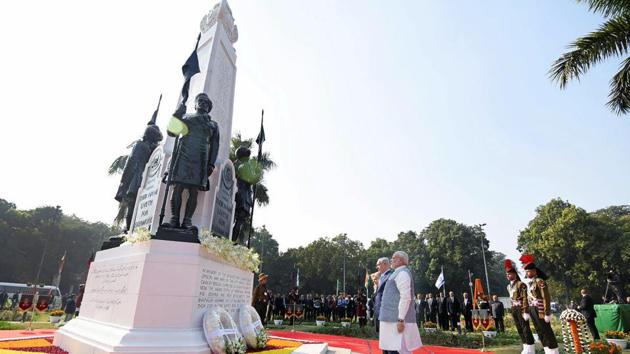 A century ago, some 400 soldiers of the Imperial Services Troops of the renowned Jodhpur, Mysore and Hyderabad Lancers, armed with swords and lances, backed by British rearguard shelling and gunfire, stormed the bastions of a strong enemy in a virtually impossible task of routing over a thousand Turkish, German and Austrian troops, ensconced on the heights of Mount Carmel, defending their positions with machine guns and cannons. It was a virtual Biblical David and Goliath combat, a most daring exploit in an armed conflict. Led by Major Dalpat Singh Shekhawat, the gallant lancers stormed Mount Carmel. Their sheer courage, martial and equestrian skill, helped them overrun gun emplacements and force concentrations. Their heroic leader, Major Dalpat Singh, led the charge, and single-handedly captured a machine-gun piquet that rained death upon his men and their horses. He was fatally wounded in that daring effort and Captain Aman Singh led the lancers to the finish. In a matter of few desperate and fatal hours for the Turks and their alien supporters, Haifa was liberated on 23rd September 1918. Over a thousand Turk and German soldiers were taken prisoner. Our forces lost 44 lives. Major Dalpat Singh's death was lamented not only by our Indian forces but also by Colonel Harvey, a British officer who reported: "His death is a loss not only to all Jodhpuris, but to India and the whole of the British Empire." The British Government eulogised Major Dalpat Singh's heroic feat, named him "Hero of Haifa" and posthumously awarded him the Military Cross. That feat of courage of our forces is unmatched in the annals of warfare, and the commander in chief of British forces, General Sir Edmund Allenby, commented: "No more remarkable cavalry action of its scale was fought in the whole course of the campaign". A Delhi memorial at Teen Murti Chowk raised in honour of the Lancers of Jodhpur, Mysore and Hyderabad was renamed Haifa Chowk during the recent visit of the Israeli prime minister to Delhi. A plaque unveiled in Haifa by Prime Minister Narendra Modi, salutes the memory of Major Dalpat Singh. Besides memorials and plaques, the municipality of Haifa immortalised the role of Indian soldiers in the liberation of Haifa by including accounts of their bravery and sacrifices in their school books.
Beyond the realm of politics and warfare there was another important and sensitive factor the British forces had to deal with. Living during those disturbed times in Haifa was a person whom all Palestine revered and held in high regard. He was Abdu'l-Baha, son of Baha'u'llah, Founder of the Baha'i Faith, and leader of the Baha'i world community. Having been exiled, with his father from his native Persia, and released after a long and unjust prison sentence, he was again under threat of arrest and death for his religious beliefs, by Jamal Pasha, commander of the Turkish forces. Fearing great civil unrest should Abdu'l-Baha, an innocent and peaceful religious leader, be crucified, as had been announced by Jamal Pasha, the British Foreign Secretary, Arthur Balfour, ordered British Intelligence in Palestine to ensure the safety of Abdu'l-Baha. On the momentous day of the liberation of Haifa, General Allenby cabled a brief message to London saying: "Have today taken Palestine. Notify the world that Abdu'l-Baha is safe."
A few days after peace descended on Haifa, Abdu'l-Baha met with and warmly greeted Indian soldiers, "I am glad to meet you" he said. "The people of India have a wonderful spiritual capacity. They are naturally inclined towards God and religion…They are people of faith and intelligence…The people are God-fearing, loving and faithful…Although this war was terrible, it made this meeting possible. I hope you will return in safety to India". Abdu'l-Baha passed away on 28th November 1921, and his funeral, attended by over ten thousand, Arab and Jew, Druze and Christian, young and old, rich and poor, mourned the passing of their benevolent father. Abdu'l-Baha lies enshrined in a monumental shrine on Mount Carmel, the last Turkish bastion in Palestine freed by valiant Indian soldiers. So, as September 23 is observed as Vijay Diwas and Haifa Day each year in India and Israel, the Baha'i world additionally celebrates it as the day of the liberation of Abdu'l-Baha.
In celebration of the centenary year of the battle of Haifa the Israeli government has issued a special first day cover and a set of commemorative postage stamps.
Sheriar Nooreyezdan is a history enthusiast who was part of the team that built the Baha'i temple in Delhi
The views expressed are personal