Meet the good boy of comedy: EIC's Sapan Verma
Sapan Verma insists he was good at studies, and could have aced engineering entrance. Instead, he moved to Mumbai and became a comedian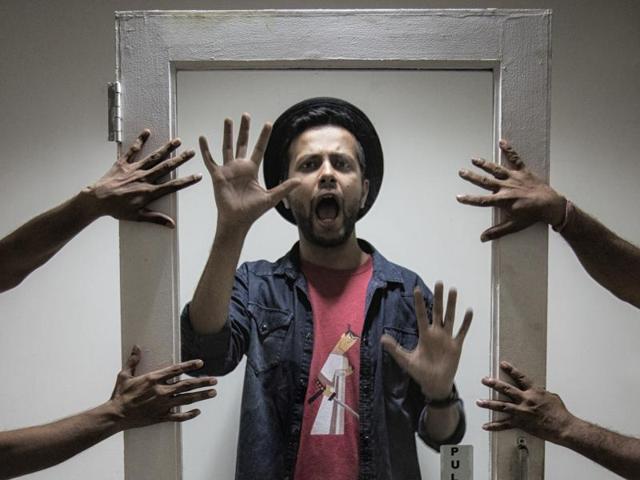 Updated on Aug 11, 2016 05:53 PM IST
Stand-up comedian Sapan Verma (27) has had fans gift him illustrations of him, with his catchphrases. It's the kind of adulation reserved for actors. But after his EIC (East India Comedy) Outrage video on student suicides went viral, students across the country wrote him thank you messages for highlighting the issue.
Read: 5 laws stand-up comedian Sapan Verma wants instead of the Fat Tax
Now, he's reached another landmark in modern fame: fans wanting to click selfies with him when he steps out. "That's started happening recently," he admits awkwardly. "It's a little weird. I'm not an extrovert who loves the attention." He may not be an extrovert, but he's extremely chatty — our interview went on for nearly an hour. He speaks with a childlike enthusiasm, smiling broadly and occasionally biting his nails.
Verma has been a comedian for five years, and is now touring the country with his first solo special — Obsessive Comedic Disorder (OCD). Apart from his own obsessive compulsive disorders (how his step has to fall in line with a tile while walking, for instance), he talks about being a '90s kid and everyday struggles. He says his "OCD brain" is active even as he is talking to us. In the 70-minute show, there's no break and no opening act. "Keeping the crowd engaged, and sustaining energy levels throughout is a challenge," Verma says, adding, "I get terrible stage fright each time I have to go on stage."
Flashback
Growing up in Mhow, a small military cantonment in Indore, Madhya Pradesh, Verma excelled in studies. He says, "My dad was in the Indian Railway, so he had a travelling job. After my board exams (2005), I visited Mumbai — where my dad was transferred — during the summer vacations. I applied to the top three city colleges and got through, so I moved here."
+
Studying at Jai Hind exposed Verma to extra-curricular activities and event management. After a lot of pleading, his parents gave him the go ahead to pursue Bachelors of Mass Media (BMM). "In Indore, there was no culture of media. You either did engineering or medicine," he says. Sticking to convention, Verma studied science and also attended engineering entrance coaching classes for five hours a day before realising it didn't hold his interest.
Verma interned and worked through various jobs — magazine writer, event manager, assistant director — before he tried his hand at comedy, for fun. "I remember my first open mic, at Café Goa in Bandra. I still have the video; it embarrasses me now," he says. We tried coaxing him into sharing the footage with us. To no avail.
Laugh away
Watch Obsessive Comedic Disorder - a stand-up special by Sapan Verma on August 13 and September 17, 6pm.
Where: Canvas Laugh Club, Palladium, High Street Phoenix, Lower Parel
Price: Rs 500 on bookmyshow.com
Close Story