Analysis: Historic victory, but Jayalalithaa has lessons to learn
Updated on May 20, 2016 11:01 AM IST
Election has exposed the ideological and political vacuum in the politics of the state.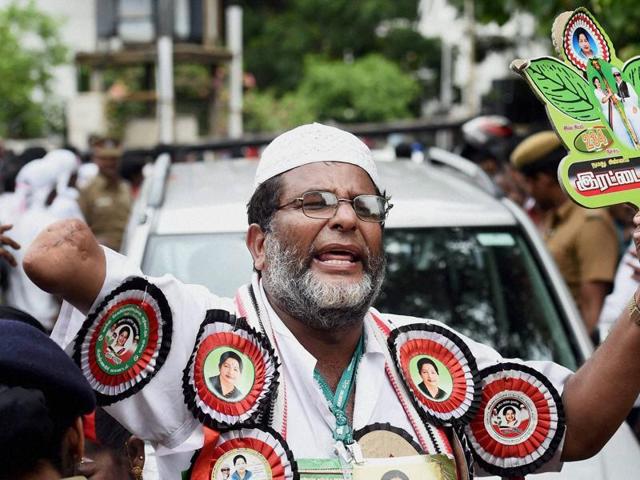 Jayalalithaa has made history. She has survived the anti-incumbency trend, which had persisted in Tamil Nadu for decades. She has also defied the predictions of majority of exit polls.
AIADMK was anxious in the past few weeks, for the DMK exuded confidence and had an edge in campaign and mobilization. Though AIADMK won, this election must be seen as a close contest, given Tamil Nadu's history of clean sweeps.
Two factors helped AIADMK.
The first was the failure of Desiya Murpokku Dravida Kazhagam (DMDK)-Peoples' Welfare Front (PWF) to convert the curiosity of people and imagination of an alternative into votes. The alliance had poor leadership.
Analysis: 3 factors that helped Jayalalithaa keep Tamil Nadu
DMK and its allies came thus far but not enough to succeed. AIADMK had a strong rural vote and Jayalalitha's outreach, read as freebies, was a big factor. There is a marked difference in people's perception of promises made by the two parties. People by and large rejected DMK's poll pledges.
DMK also could not capitalise on the AIADMK's obvious failures on the governance front. The Chennai floods exposed the government's weaknesses. And the poor health, selective public appearances of Jayalalitha and obeisance of her ministers and cadres gave a North Korean-type twist to the political culture of the state.
There are crucial lessons for the DMK, the Third Front and other political outfits in the state including the Congress and BJP. People have chosen the lesser evil as they refused to forget the excesses of the DMK-Congress combine. People saw the enormous ground work being put in by Stalin and the DMK, but were unable to move past DMK's image of corruption and nepotism. DMK benefitted from the alliance with Congress, at least in southern districts, in terms of votes share. But it also came across as more than opportunistic in forgetting the sentiments of the people vis-à-vis the Congress' policies towards the sufferings of Tamils in Sri Lanka.
DMK's false campaign has been defeated, says Jayalalithaa
The election has exposed the ideological and political vacuum in the politics of the state. Corruption and the role of money in elections are emerging to be the dark sides of our democracy. Jayalalitha and her party, AIADMK, should read the outcome of the assembly elections with a pinch of salt. This is no sweep and close contests in a majority of constituencies should be a wake-up call.
(Ramu Manivannan is a professor in the department of politics and public administration at Madras University.)
Personalise your news feed. Follow trending topics