Five reasons how Kejriwal-led AAP threw away Punjab elections, hurt national ambition
A series of mistakes by the Delhi-based Aam Aadmi Party leadership dearly in Punjab.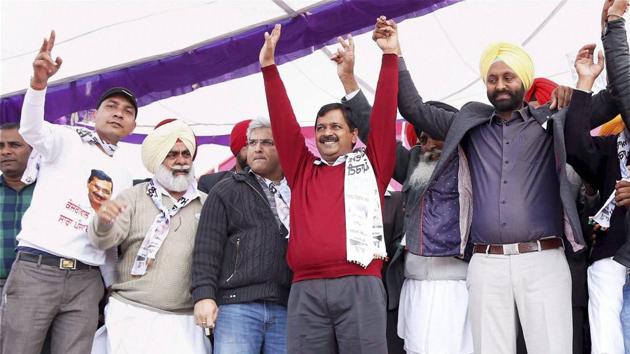 Updated on Mar 12, 2017 08:05 PM IST
The Aam Aadmi Party and its Delhi-based leadership that remote controlled the Punjab campaign may have just frittered away the fledgling outfit's biggest chance to expand its footprint outside Delhi.
For a party that nurtures national ambitions and is in a hurry to get there, the AAP seems to have made mistakes in the border state that cost it dearly.
Here are five reasons why AAP lost:
The outsider tag stuck: The AAP leadership refused to address the grievances of its regional leaders. AAP bosses in New Delhi threw out Punjab convenor Sucha Singh Chhottepur last year in September. Chhottepur and his supporters had complained against the party's high command imposing central leaders Sanjay Singh and Durgesh Pathak on the Punjab unit. The two, he alleged were foisting outsiders on the state unit. Its key leaders and "Sikh faces" in the contest HS Phoolka and Jarnail Singh are both from Delhi and not Punjab. Both Congress and SAD-BJP combine used the 'outsider' tag against AAP in their campaign.
Failure to respect the local leadership: It wasn't just Chhottepur and his supporters that AAP leaders in Delhi turned away. Out of the four MPs who won from Punjab in 2014, the party suspended Dharamvira Gandhi (of Patiala) and Harinder Singh Khalsa (Fatehgarh Sahib) over petty differences. They were charged with anti-party activities while the two accused the central leadrship (again) of being undemocratic. Congress reaped the benefit of backing its local leadership under Amarinder Singh.
Excessive focus on Malwa: The party focussed too hard on Malwa which has 69 seats and has traditionally held the key to power in Punjab and not the Majha and Doaba regions which together account for 48 (or 40%) seats in the state. The lop-sided approach left AAP weak in too many spots.
Peaked too early: In the 2014 Lok Sabha elections, AAP had won four out of the 13 seats encashing the anti-incumbency in the state against the SAD-BJP combine. Punjab showed it was willing to trust a new comer pushing the party into campaign mode for 2017. But as elections to the assembly drew closer, infighting within the ranks surfaced.
Failure to stitch alliance with Sidhu: AAP wooed and then shooed away former BJP leader Navjot Singh Sidhu who took away with him MLAs Navjot Kaur and Pargat Singh. The alliance could have helped AAP in Majha where Sidhu had won from Amritsar thrice.
Close Story