Gujarat election Highlights: Why PM Modi ends up speaking about Congress half the time in his rallies, asks Rahul Gandhi
PM Narendra Modi and Congress vice president Rahul Gandhi addressed several public rallies in Gujarat ahead of second phase of polling in the state.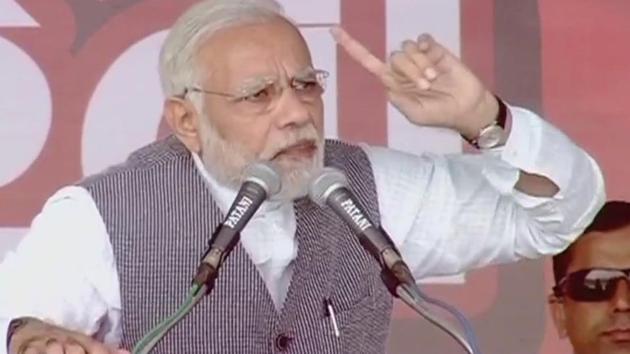 Updated on Dec 10, 2017 10:57 PM IST
After witnessing a 66% turnout in phase-I of Gujarat Assembly elections, Prime Minister Narendra Modi and Congress vice president Rahul Gandhi continued on their campaign trail on Sunday ahead of the second phase of voting.
Modi visited Palanpur, Sanand, Kalol and Vadodara while Gandhi campaigned in Kheda, Aravali, Banaskantha and ends at Gandhinagar.
Below are the updates:
9:08 pm: Congress dismisses PM Modi's allegation of its party members meeting Pakistani envoy as baseless.
"Holding the country's topmost post, Modiji is making baseless allegations. Modiji is worried, dejected, angry. Such a statement has no truth or fact, and is based on lies. Such a behaviour is unbecoming of a prime minister," Congress spokesperson Randeep Surjewala told reporters in Ahmedabad.
Modi alleged that former prime minister Manmohan Singh and Mani Shankar Aiyar had met the Pakistani high commissioner in India and an ex-Pakistani foreign minister at the residence of Aiyar recently.
8:40 pm: When our soldiers were fighting in Doklam, Congress leaders were meeting Chinese Ambassador. When asked why, he said - to get a sense of what is happening in Doklam. Now, you tell me - in such times should we trust our authorities more or the Chinese: PM Modi in Vadodara
My Govt is for the poor. I can't understand the lies Congress keeps saying. When we build a state of the art bus terminus for Vadodara, do we do it because Mukesh Ambani, Tata or Birla uses it? No we make this to serve the poor: Modi.
8:37pm: Congress leader Rahul Gandhi came down heavily on Prime Minister Narendra Modi, asserting that his words had ceased to carry weight since he was lying through his teeth on the promises made to Gujarat and the country.
Addressing a series of election rallies in North and Central Gujarat, Gandhi recalled how Modi had promised during the 2014 Lok Sabha election to bring back black money stashed abroad and then deposit Rs 15 lakh into each Indian's bank account.
"Narendra Modi had said you will get Rs 15 lakh in your bank accounts, you did not get even 15 paise," Gandhi said in Deodar.
7:30 pm: BJP president Amit Shah accused the Congress of indulging in "politics of minority appeasement" during the Gujarat polls as the latter was sure of its defeat.
"The Congress first indulged in caste politics. Now, 2-3 days prior to the first phase of voting, when they could see their defeat, the Congress has gone back to politics of minority appeasement," Shah said in Ahmedabad.
6:59 pm: Rahul Gandhi said that he could not understand Prime Minister Narendra Modi's obsession with the Congress, despite his claims to have wiped the party out of India.
"On one side, Modiji says that he has wiped Congress out of India. If that is so, why he ends up speaking about the Congress half the time in his election rallies," he said at a public meeting here, reiterating that the election is neither about him nor Modi but about the future of Gujarat and Gujaratis.
6:30 pm: Modi ji keeps using bad words against me in his speeches, even today he did so. Rahul Gandhi respects the post of PM. No matter what PM says about me, but I won't utter even a single bad word about the PM: Rahul Gandhi in Kalol
6:18 pm: The CPI accused the BJP of resorting to a "dangerous" election campaign in Gujarat and said the party's model of development in the state "stood exposed".
"BJP is indulging in personalised campaign in Gujarat. It seeks to polarise and divide people on communal and caste lines for votes, taking politics to a low level," CPI national secretary D Raja.
6:00 pm: Lalu Prasad asserted that the Congress will form the government in Gujarat as people have voted heavily in its favour in the first phase of polls.
5:23 pm: The first phase of Gujarat assembly elections on Saturday saw a 66.75 per cent turnout, according to final figures released by the Election Commission on Sunday.
4:41 pm: Taking a dig at the Congress over its leader Mani Shankar Aiyar's "neech" remark , Union minister Mukhtar Abbas Naqvi said the party was "roaming around with axes and chisels to damage the tree roots nourished by their ancestors".
4:27 pm: Former chief minister Shankarsinh Vaghela is convinced that the Congress has deliberately lost out to the BJP, which will end up with a majority in the state Assembly elections.
Vagela, who quit the Congress earlier this year, believed that the opposition party's central leadership had taken a "supari" (contract) from the BJP to lose the Assembly elections and predicted a clear majority for the ruling party in the state.
3:58 pm: Union minister Ramdas Athawale says BJP would retain power in Gujarat despite the aggressive campaign of the opposition Congress.
Athawale said that the percentage of votes for the Congress will definitely go up thanks to its campaign as well as the backing of the Patidar Anamat Andolan Samiti (PAAS).
3:48 pm: Crowd shouts 'Modi Modi' chants when Rahul Gandhi was exiting from Shree Ranchhodji Temple.
The Congress vice president keeps walking with a smile on his face.
3:30pm: "Salman Nizami who has vowed for Kashmir's 'freedom', is being launched for campaigning in Gujarat and this is being leaked for the consolidation of vote bank. People of Gujarat can see through the cunning ways of Congress," says Shah.
3:20pm: Shah reiterates Modi's charge of Pakistan's interference in the state elections.
"Pakistan's envoy, former PM Manmohan Singh and former VP Hamid Ansari had a meeting with Mani Shankar Aiyar. Right before Gujarat election, without informing MEA conducting a meeting with Pak envoy... I don't know what message does it convey."
3:15pm: Amit Shah targets Congress over its ties with Dalit leader Jignesh Mewani. "Mewani's pictures of accepting money from PFI has gone viral. PFI has always indulged in anti-national activities. Rahul Gandhi meets such a person who has relations with an anti-national outfit & Congress gives up its seat for him for vote bank consolidation... They (Congress) knew of the relations so they made him contest as an independent candidate and supported him from outside."
3:07pm: Amit Shah says Congress is raising the issue of the 2002 communal riots to polarise the vote bank. "Entire nation knows the allegations levelled against Modiji by Congress-backed NGO were all false and he is spotless. Yet for vote bank consolidation, 2002 is being raised in 2017," says Shah.
3:05pm: "Congress laid the foundation of Gujarat election on casteism. The would-be President of Congress (Rahul Gandhi) started hopping from temple to temple. Congress has been the creator of polarisation in India," says Amit Shah.
3pm: BJP president Amit Shah addresses a press conference in Gandhinagar, Gujarat, ahead of second phase of state polls.
2:45pm: "Narendra Modi had said you will get Rs 15 Lakh in your bank accounts, you did not get even 15 paise," says Rahul Gandhi, attacking Modi over last year's demonetisation move.
2:30pm: Rahul Gandhi continues campaigning in Aravali.
1pm: The money of all thieves in India was turned white by Modi Ji: Rahul Gandhi.
12:57pm: Yesterday, I listened to PM Modi's speech in which he mostly spoke of himself, says Congress vice president Rahul Gandhi.
12:55pm: Congress vice president's rally begins in Kheda's Dakor.
12:45pm: With the coming of the DMIC, Banaskantha will become a transport hub. This will provide opportunities to the youth of this region: PM Modi.
12:40pm: The same Mani Shankar Aiyar, who insulted Gujarat, held secret meetings with Pakistan High Commissioner. What was the reason? Why are people who previously held high posts in intelligence establishment of Pak writing that we should help make Ahmed Patel the CM?, asks PM Modi.
12:35pm: The entire nation is seeing the wonders of Banaskantha in agriculture, particularly in potato cultivation: PM Narendra Modi in in Banaskantha's Palanpur.
12:30pm: PM Modi will be addressing an election rally in Palanpur.
Close Story
Personalise your news feed. Follow trending topics