UP election: Electricity a distant dream in villages near Sonbhadra's power hub
Sonbhadra district residents, who bank on kerosene lamps for light, say politicians don't keep their word.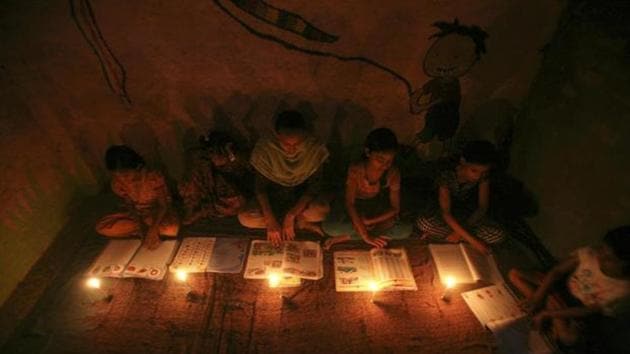 Updated on Feb 28, 2017 02:54 PM IST
As the sun sets, kerosene lamps flicker in every house at the non-descript Bodara Dand village in Myonpur area of Sonbhadra district.
The irony is not lost on anyone as this power-rich district – which will vote in the last phase of the ongoing Uttar Pradesh elections – has nine power plants together generating around 12,500 MW of electricity.
Bodara Dand is among the 20 powerless villages in the area where kerosene lamps are the only source of light at night.
This area accounts for 5% of the total 228,722 MW electricity generated in the country.
And the nearby Rihand dam serves as a reservoir for these power stations.
Even 70 years after Independence, electricity is still a dream here. Sitting in the dim light of kerosene lamps, villagers watch power plants bathed in bright lights on the horizon. They are angry with politicians who make empty promises.
Jaymanagal Prasad (70), a Dalit, says, "A few months after the 2012 assembly elections, I made a request to local MLA Rubi Prasad to ensure electrification of my village. She gave an assurance. Five years on, we are in the midst of another assembly election but are still waiting for electrification."
Prasad and his wife Paan Kunwar (69) say politicians visit their village once in five years.
"The light of kerosene lamps is very dim. It has affected my eyesight and also caused respiratory problems. But, it hardly makes a difference to those in Lucknow and New Delhi," she says.
Villagers say snakes and scorpions enter their homes in the rainy season but cannot be spotted due to lack of proper light. Besides, it's a struggle for children to study under kerosene lamps.
Another resident Sukuwariya Devi says their plight remains invisible to the politicians: "The lamp emits carbon and has made our life dark. This time, when they visit the village for votes, we will seek an explanation from them."
The village has no hand pump either. Villagers have to climb down a hill and trek for about half-a-kilometre to get drinking water from the reservoir.
The villagers also have to negotiate a 14-km bumpy road to reach the nearest town of Myonpur.
Tilakdhari Prasad, a local, says the villagers have no choice but to drink water from the reservoir.
Bodara Dand's 250 families are mostly Dalits and none of them has a government job. The locals are not aware of poll manifestos of different parties.
Jaymangal says, "Caste politics is not good for the society. Development, education, health and other facilities should be the poll planks, not caste and creed."
Sitting MLA Rubi Prasad accepts that 20 villages are yet to get electrification. She claims to have got electrification done in 150 other villages in her constituency.
"The tender for electrification of rest of the villages has already been done (floated) by the power department before the poll dates were announced. Soon, electrification will be carried out there."
It's a promise that is waiting to see the light of day.
Close Story
Personalise your news feed. Follow trending topics