Kharmas 2021: Relevance and astrological influence on sun signs
Kharmas month begins, know what it has in store for different sun signs and conditions for the zodiac sign from Aries to Pisces. According to the Hindu calendar, Kharmas will begin from 16 December and will last till 14 January.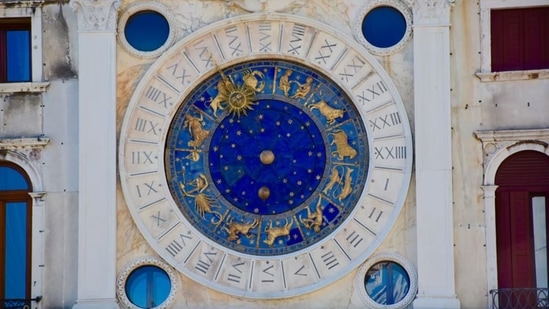 Published on Dec 17, 2021 10:49 PM IST
As soon as the sun enters the Sagittarius sun sign, the month of Kharmas starts. There is a special significance of Kharmas month in the Hindu mythology. As soon as Kharmas begins all the auspicious works including marriages come to a standstill. According to the Hindu calendar, Kharmas will begin from 16 December and will last till 14 January. According to astrology, planetary movement directly influences human lives. All the 12 sun signs witness this influence as per astrology. Let us find out what are the sun signs that will receive the good news and the ones that need to be careful. Read the conditions for different sun signs from Aries to Pisces.
Aries
Self-control is required
Stay away from negativity
You might experience auspicious changes in your life
You can expect some new things to happen in your life
Your relationship and bonding will become strong
A long-standing problem might resolve
There might be a new opportunity on the employment front
Keep the monetary plans and information a secret
Taurus
People belonging to this sun sign might receive a mixed outcome this month
This month might be high on expenditure
There might be a mutual discord with relatives
Respect and honour might also be decreased this month
You can avoid problems by controlling the hardness in your speech
There might be financial gains for the ones who are cautious in business transactions
Gemini
There will be lack of self confidence
Make efforts for the mental peace
Take good care of your mother's health
Mind will be at peace
There might be an increase in the expenditure on vehicles etc
Opponents might be active
If you will work with caution and wisdom then you might defeat your enemies
You might achieve many important successes due to your wisdom
Cancer
Living conditions might be problematic
Family discord might bother you
If you work as per the advice of your elders, you might achieve success.
You can get mental peace by keep your mind engaged in religious activities or participating in such activities
This month is going to be favourable for the business class
Leo
You need to be cautious towards your health
You might experience stomach related ailments in this month
There might be a financial loss and this will result in mental stress
Worship Goddess Durga for peace and success at work
Spend time with your life partner
Spend money wisely
Virgo
There will be an increase in the means of comfort and amenity
Time is favourable for people belonging to this sun sign
You might be a victim of false suspicion
There is a possibility of family problems too
You might experience a rise in expenditure at the home
Your family will be supportive but be very clever and cautious in legal affairs
Libra
This is the best phase for Libras
However, take any decision after an intense evaluation and thought
Focus your mind on positive things, you will be successful
You will be successful in your career
Do not waste your time in love affairs during this phase
You might face disappointment in the matters of love
This could be a problematic phase for the unemployed people while it will prove to be a phase of a lot of hard work for students.
Scorpio
This month will prove to be favourable for the people belonging to this sun sign
There might be few hindrances and difficulties in your work but with your continued efforts you will be successful
You will be free from diseases
Family amenities will increase
There will be happiness in the family
Respect and honour will increase
People belonging to this sun sign can achieve better results by worshiping Lord Hanuman
Sagittarius
This sun sign is experiencing Shani Dhaiya which will result in mental stress and loss in business
Avoid dispute with any of the family member
If you will begin the work after consulting someone who is senior and experienced, then you will be successful
Sagittarians, your opponents will be active which could lead to some problems
Capricorn
This month will bring good news for Capricorns
You will have to identify the correct time and then move ahead accordingly
There will be no scarcity of wealth, cash after this month.
Married life will be full of happiness. People from the field of education will be successful
Aquarius
For the people belonging to this sun sign, the month is bringing good and auspicious opportunity
Tasks that are on hold or projects that are shelved will be done
You might also begin a new work or project
There will be an ambience of success all around. But you need not be careful at the same time
You do not need to be hasty
Do not try too hard for anything
Pisces
There will be a rise in honour and respect for Pisceans
There will be happiness and peace in the family which lead to domestic prosperity
You will be in the company of good people
The people belonging to this sun sign should avoid anger and hastiness otherwise there might be losses
Serving the elderly will be beneficial and you might get an inspiration to do something big
You will achieve physical comfort
(We do not claim that all the information shared in the above article is completely true and accurate. For more elaborate information, you are advised to consult an expert in the related field.)
Close Story