Love and Relationship Horoscope for January 13, 2023
Jan 13, 2023 06:00 AM IST
Horoscope Today 13 January, 2023: A wonderful love life for these sun signs.Find the love daily astrological prediction for Aries, Scorpio, Capricorn, Pisces, and other zodiac signs for January 13.
Aries: Don't damage your sweet relationship with your rude behaviour. Today will be one of those days when you and your significant other quarrel over everything under the sun. You may find yourself being more judgmental and outspoken than usual. Recognize that this feeling will pass, and try to maintain some sense of balance. Avoid reacting emotionally and instead train your mind to overlook problems.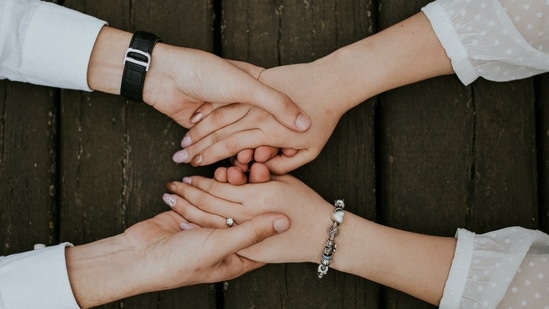 Taurus: It is time to re-explore your relationship again. Any initial flame between you and your partner may have been snuffed out by the monotony of your daily lives. It's time to start the fire going again, and today is the day to probe deeper into this facet. Get back in touch with your significant other on a deeper level. Begin with modest yet meaningful gestures of affection and express your feelings.
Stay tuned with breaking news on HT Channel on Facebook.
Join Now
Gemini: Honour and celebrate the wonderful love you have right now. Emotional compatibility has put you in a place where you may anticipate to feel the affection and comfort of your partner today. If you let your partner in on how you feel, they will respond by showing you how much they care. If you are single, concentrate on bettering yourself in all respects to get noticed.
Cancer: You'll be in a joyous mood today, so take advantage of the situation. You have a deep connection with your loved ones and today you will be full of gratitude for their support. Be thankful beyond words for all they have done for you. You should make it a point to spend quality time with your partner. Maintain an open line of communication regarding your emotions today.
Leo: You shouldn't try to evade your responsibilities and face them. Put aside some time today if your partner has been trying to have a serious talk with you. Let them talk about their deepest, most hidden thoughts and feelings and listen patiently while they do. This is an excellent opportunity to take your connection to the next level. Foster its growth with love and care.
Virgo: Thoughts of the future will occupy your attention today. It's natural to question whether or not to take things to the next level in a relationship now, especially if you've been dating the same person for a while. If you are currently single but have developed romantic emotions for a close friend, you may opt to take the relationship to the next level. The reward justifies the risk, so go in.
Libra: Now is the time to make some changes and get things moving in the right direction. Perhaps you feel like you have a better grasp on your priorities now that you have spent some time with those closest to you. This will motivate you to make a significant adjustment to your personal life in the near future. Share your plans with your partner and proceed together on this path.
Scorpio: Have your soulmate's back and cheer them on in all they do. To succeed in life, your partner may only need to hear that you trust and love them as they are. They will always remember how much you cared and supported them just by being there. Together, you'll feel closer than ever, and your relationship will only improve from here on out. Enjoy these moments while they last.
Sagittarius: Because you always look on the bright side of things, today is a wonderful day to kick back, take it easy, and do whatever makes you happy. You and your partner will both have the opportunity to experience having a relationship that is filled with harmony and a sense of intimacy with one another. Today, you'll feel this closely, and as a result, you'll be more vulnerable and emotional than usual.
Capricorn: You may finally feel as though you have found someone who loves and accepts you without making any changes to who you are as a person. Your love chances are looking up today as the devotion of your partner will assist you in moving on from the difficulties of the past and towards happier times. Take care of each other, and place a high value on the things you share.
Aquarius: Explore your dating alternatives more thoroughly in order to identify the person who is most suited to you. People will find you attractive today, and you could discover that you are the topic of discussion in more than one situation. If you are serious about winning them over, you need to put on your best side. Determine exactly what it is you hope to get from all of this focus.
Pisces: Do something out of the ordinary and spend some quality time with your special someone. The two of you may benefit from taking a break and seeing the world together. To take advantage of the peace in your life, you might want to plan a trip to a natural setting. Your relationship will be more exciting as you discover a new facet of each other's personalities.
----------------------
Neeraj Dhankher
(Vedic Astrologer, Founder - Astro Zindagi)
Email: info@astrozindagi.in, neeraj@astrozindagi.in
Url: www.astrozindagi.in
Contact: Noida: +919910094779