Jade Lyngdoh is currently at National Law University, Jodhpur, where he has been a Meta India Tech Scholar (2021-22). He contributes to Hindustan Times and is interested in the intersection of technology law and policy and human rights.
Articles by Jade Lyngdoh
Network disruptions can cloak human rights abuses during crises, including war crimes and acts of genocide. They obstruct humanitarian aid, and hinder journalism and the documentation of rights violations

Updated on Dec 21, 2022 05:39 PM IST
Beyond committing to ensuring justice for the victims, the Union government must now improve its stance on AFSPA to demonstrate that it is truly committed to working towards peace in the region.

Published on Apr 02, 2022 04:52 PM IST
According to reports, refugee camps set up in Mizoram are in a dire condition. Drinking water, winter blankets, and healthcare for children, pregnant women, and injured civilians are all in limited supply. With little assistance from the Union government, the refugees are forced to rely on civil society organisations that have established makeshift facilities

Published on Feb 01, 2022 10:04 AM IST
While the police operation itself must be condemned for the excessive use of force during the raid, the violence, arson and mayhem that followed are counterproductive, and thereby, a disservice to the cause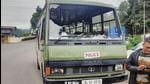 Updated on Aug 17, 2021 02:56 PM IST