What makes Sasikala so powerful and indispensable for the AIADMK
Feb 14, 2017 07:14 AM IST
Rumoured to hold the party's purse strings, the most recognisable face among leaders and good ties with regional groups and parties — all these factors work in Sasikala's favour. However, Sasikala will have to earn her political legitimacy if she has to quell any form of dissent and doubt regarding her stature
On Sunday, VK Sasikala was chosen the AIADMK's legislature head and chief minister of Tamil Nadu by the party. For Sasikala to become CM, current chief minister O Panneerselvam had to step down — something he has down twice in the past, but for J Jayalalithaa, the charismatic six-time CM who passed away on December 5 in Chennai after a prolonged illness.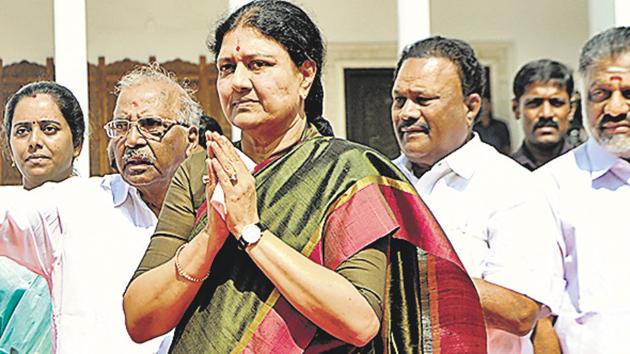 After Jaya's demise, Panneerselvam took over as CM, only to step down 62 days later.
While OPS, as Panneerselvam is popularly called, could win the prize for the "Most Content Politician", what is it that makes Sasikala such a powerful a leader?
Read | Sasikala to be Tamil Nadu CM: Moment right for her, but she has to prove mettle
Bits and pieces about her personal life and three-decade-long association with J Jayalalithaa are known, but little is known about 'Sasikala The Politician'. One is not sure if she is yet to deliver a political speech and it is doubtful is the cadre sees her as the "heir" to Jayalalithaa.
Then why does the AIADMK — at least the party leadership, because the sentiments of the cadre is not clear — rally behind Sasikala?
Much of her importance comes from the fact that she was a close associate of Jayalalithaa and privy to the decision-making process that shaped the AIADMK for almost three decades. While some party spokespersons have been calling Sasikala the "architect of Jaya's politics," I feel that's showering undue praise on Sasikala by belittling the former CM's political acumen.
Read | Sasikala as CM might be good for AIADMK, but not necessarily for Tamil Nadu
Without doubt, it is her association with Jaya that gives Sasikala a sort of 'Right of First Refusal' when it comes to the AIADMK's leadership.
"What works in Sasikala's favour is that the AIADMK does not have a second-rung leadership," V Srinivasan, a human rights activist, told HT.
Sasikala is the most recognisable face in the AIADMK, with, probably, OPS as an exception. In not building a second-rung leadership Jayalalithaa followed her mentor MGR. This is clearly visible when one looks at the fact that though the party has more than 130 MLAs, hardly anyone has made a mark for himself/herself in his/her constituency. It was Jayalalithaa charisma and the "two leaves" party symbol that worked in their favour.
Read | Sasikala Natarajan: Jayalalithaa's close aide, the power behind the throne
"There is no noble goal in this development," says an editor in a Tamil newspaper, who did not want to be identified. "This is a politically necessary move to unite the party, as she is the only person whom a majority of the MLAs will accept. Anyone else, even OPS, and the party would have split."
It is also rumoured that Sasikala has control over most of the financial dealings in the party. "Business leaders trust her and that gives her control of the party's finances," the editor said.
Another factor that works in Sasikala's favour is her husband M Natarajan's vast network cutting across party and caste lines. Right from his PRO days in the seventies, Natarajan built a rapport with Tamil groups and major political parties that will now help in further stabilising Sasikala's position in the party and government.
Read | Setback for AIADMK chief Sasikala as 20-year-old case returns to haunt her
By now it is clear that the AIADMK leadership has thrown its weight behind Sasikala. "Chinnamma has all the requisite qualities to be an able administrator and a strong chief minister. She has been mentored by the best and has observed governance, government and party dynamics very closely," Apsara Reddy, a party spokesperson told HT.
However, two challenges remain: Becoming a leader with political credibility and winning over the cadre.
Sasikala's absence from active politics has caused a lack of credibility, which political parties will be quick to highlight — like DMK working president MK Stalin's comment on Sunday that the people of Tamil Nadu did not vote for anyone from Jayalalithaa's household to become the CM.
Read | VK Sasikala ready to take charge: The many challenges before the next Tamil Nadu CM
"People seem to forget that Chinnamma has been a crucial part of Amma's rise too. When Amma was a struggling politician and faced many phases of political wilderness, Chinnamma nurtured Amma, lifted her spirits and provided the impetus to rise again," Reddy said.
While the political orchestra to create 'Sasikala The Politician' is in the works, an important piece in that will be to garner cadre goodwill and support. The test for this will be Sasikala's election to the legislature. Given the size and power AIADMK machinery that should not be a problem; what has to be seen is from where she will contest from. The by-election for RK Nagar, the seat left vacant on the demise of Jaya, will go to polls shortly, and if Sasikala chooses a "safe seat", it will not help in consolidating her legitimacy as Jaya's heir.
Read | Jayalalithaa DA case: SC verdict against Sasikala next week
Post script: It is ironic that the AIADMK, which came to power promising a phased but complete prohibition in Tamil Nadu in last year's election, is now headed by a person who is linked with a firm that is the major supplier of liquor to TASMACs, government-owned liquor shops operating across Tamil Nadu. Cheers to that!
@VijuCherian
"Exciting news! Hindustan Times is now on WhatsApp Channels
Subscribe today by clicking the link and stay updated with the latest news!"
Click here!