Bhopal: Braveheart's tryst with unkept promise
Published on Apr 22, 2016 05:45 PM IST
In August 1973, Saraswati Machiya, saved the lives of 150 people from being swept away by the flooded Narmada and Tawa Rivers at Hoshangabad's Malakhedi village.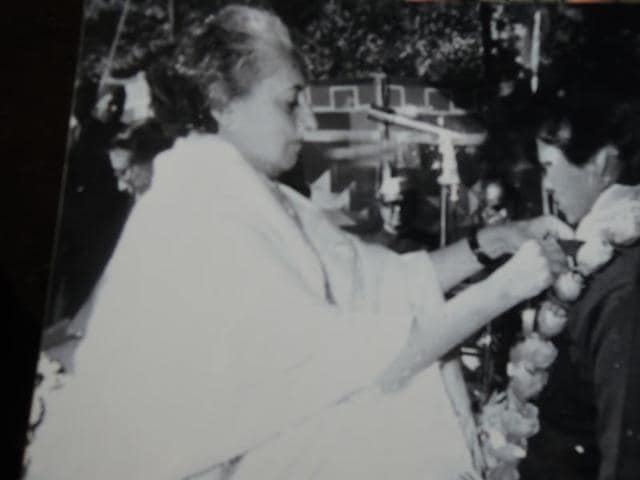 Hindustan Times |
, Hoshangabad
HT Correspondent
In August 1973, Saraswati Machiya, saved the lives of 150 people from being swept away by the flooded Narmada and Tawa Rivers at Hoshangabad's Malakhedi village.
The 15-year-old girl's feat not only earned her the coveted Uttam Jeevan Raksha medal –national bravery award–in 1974, but she also won the then Prime Minister Indira Gandhi's heart, who announced to award her a 10 acre agricultural land, a house, lifelong free rail travel and annual pension.
Four decades on, the 58-year-old braveheart, who now lives with her six sons in a makeshift two room house, is still awaiting the late PM's promise to be fulfilled.
"I didn't beg for honour, the promise was made by the then PM in Delhi. Had the promises been fulfilled, I could have realised my dream of building a temple dedicated to goddess Narmada and a school for poor children," she tells Hindustan Times.
"In early 1980s, the Hoshangabad district administration, acting on the order from Delhi, measured a piece of land in Kothi Bazar neighbourhood of the town for building a house for me," she says.
"The administration also earmarked a 10 acre agricultural land in Ganaura village, but till date the land has not been allotted to me nor the promised house."
The other promises too, remain unfulfilled for Saraswati, who says that she written numerous letters until now to officials at the Centre and the state government, but to no avail.
"I ran from pillar to post in district administration offices between 2000 and 2003, then wrote letters to the prime minister's office, the union ministry of home affairs, Madhya Pradesh chief minister Shivraj Singh Chouhan and Congress president Sonia Gandhi, but no one seems to be interested taking up my cause," she says.
"In 2003, the then collector Ashish Upadhyaya, belittled my feat, saying that a medal was easily available in the market. That very day I decided to never go to the district collector's office again," she adds
Saraswati, who earlier eked out living selling vegetables, used all her savings and the earnings of her six daily wage earning sons to build a makeshift tin-roofed two room house some months back.
"Not only did our mother win the national bravery award in 1974, but she continues to be feted with other awards for her feat," says her youngest son, Naresh.
"We don't want our mother to beg for her honour. The unfulfilled promises are not only an insult to my mother but also to goddess Narmada," he adds.
Sanket Bhondve, who been posted as district collector since 2014, said that he had no knowledge about Sarawati and will enquire about the matter, examine relevant documents and then ensure that Saraswati gets the honour due to her at the earliest.
How a girl and a boat saved a village
Four decades after winning the Uttam Jeevan Raksha Padak, a civilian bravery medal awarded for courage and promptitude under circumstances of great danger, Saraswati Machiya is unable to walk properly in her two room dwelling owing to a festering wound.
But a mere mention of her daredevil feat 43 years ago is enough to galvanise her to swim and row her boat in the Narmada again.
In 1973, Saraswati, then 14, saved the lives of 150 people when she saved them from being drowned in the rain-swollen Narmada and Tawa rivers.
"A small dongy (boat) was the only means with which my fisherman father earned a living. That August morning, we came to know from neighbours that the boat had been swept away in a flood. My father asked me to forget about the boat, but I decided that I would bring it back with blessings of the river Narmada," Saraswati told HT.
The 14-year-old Saraswati jumped into the river and began to swim against the current. "I swam a long distance but was unable to find the lost boat. I then climbed onto a Neem tree and was able to spot the boat nearby. I used a long bamboo to somehow hold onto the boat and then began rowing it back to Kothi Bazar," she said.
"On my way back, I heard a cry for help in the adjoining Malakhedi village and an army helicopter hovering in the sky. I changed the boat's direction and started rowing towards Malakhedi," she said. "I first saved an 80-year-old man and a 16-year-old boy from the terrace of their marooned house, which triggered shouts of Saraswati ki jai and Narmada maiya ki jai, which emboldened me to save all the others."
The valiant feat would be replicated numerous times over the course of 15 hours. "I didn't care for food and water but kept on rescuing people. My mission, which started at around 7 am, continued till 10 pm and with Narmada's blessings, I saved her 150 lives," said a proud Saraswati.
When Saraswati met then prime minister Indira Gandhi in Delhi in 1974, Gandhi said while all kids were brave, Saraswati was extra special, as she had saved all the generations, spanning from a 16-year-old to an 80-year-old. "I responded to her saying it's not me, but the never-say-die spirit of river Narmada that has prevailed," Saraswati said.
Personalise your news feed. Follow trending topics