'Breaking monopoly': Dalit girls in Bhopal's first Sanskrit school
The girls, part of the 45-member group of students who took admission in Classes 6 and 9, say they have come to the school because they want to "change the perspective about (Dalits)"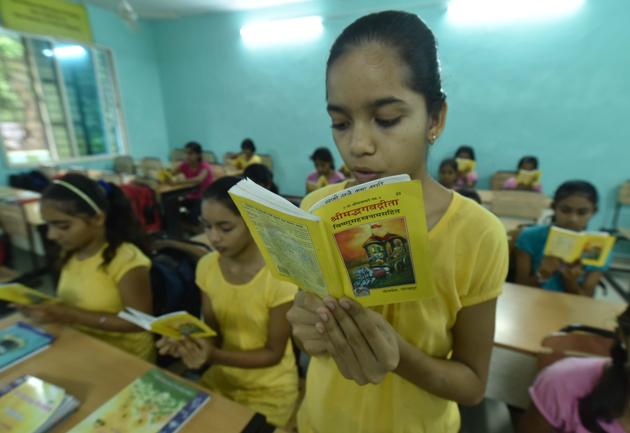 Published on Sep 02, 2018 02:00 PM IST
Twelve-year-old Muskan Chauhan is one of the 15 girls from Dalit and tribal backgrounds who are learning the Vedas and the Puranas - religious Hindu texts - as part of their curriculum at Madhya Pradesh's first residential Sanskrit school for girls, which was inaugurated in Bhopal in July this year.
The girls, part of the 45-member group of students who took admission in Classes 6 and 9, say they have come to the school because they want to "change the perspective about (Dalits)".
"I am the first person in my family who cleared Class 8 with first division. My family has a lot of hopes from me. They feel I have the courage and the strength to change people's perspective about us," said Sakshi Kataria, a resident of Ratlam who studies in Class 9 of the residential school.
The state education department-run Maharishi Patanjali Sanskrit Sansthan set up the school to "promote Sanskrit", with four subjects in the language on offer, besides students taking up extra-curricular activities like dance, sports, music, drama, etc.
A typical day at the school begins with the students chanting swasti vachan (vedic mantras) and reading of shlokas.
"These teenagers may have different career aspirations but they have the common determination to learn in Sanskrit to show people who discriminate against them that nobody has a monopoly on a language and on chanting of mantras/shlokas," principal Sneha Salodkar said.
One of the teachers Meena Sharma said these girls "want to prove something". "They ask a lot of questions about the mantras and the Vedas. They also have questions on caste and religion and we have to answer these."
The students, who stay at the on-campus hostel, undergo a routine that keeps them busy from dawn to dusk — and are imparted teachings on "the basic way of living as per the Indian traditions".
The Sansthan director, PR Tiwari, said, "Many girls have come here to break the caste barriers. Many have come to make a career. But our purpose is to improve their standard of living. The students may choose different careers, but they will also learn the Vedas, the way of living, personal hygiene and about the Indian tradition and culture."
As per National Crime Records Bureau's data for 2016, Madhya Pradesh stands fourth in crime against Scheduled Castes (4,922 cases), and tops in cases against Scheduled Tribes (1,823 cases).
"Dalits are still prohibited from entering temples. The students face discrimination in schools, and verbal abuse is common. These girls can bring a lot of change in society but only if they follow their dreams because the environment of school can also push them towards the agenda of saffronisation and Hindutva," activist Rakesh Malviya said.
Close Story