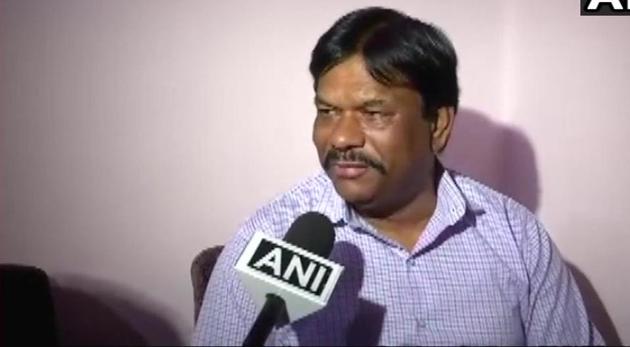 Congress protests against BJP MP for 'indecent remark' against Digvijaya Singh's wife
Manohar Untwal said his statement was distorted and that he had not meant the Congress MP's wife. He also said that he has respect for women and Digvijaya Singh.
PUBLISHED ON APR 13, 2018 04:15 PM IST
Congress activists in Madhya Pradesh took to the streets on Friday demanding action against BJP MP Manohar Untwal for his indecent remark allegedly against Congress leader Digvijaya Singh's wife, Amrita Rai, a day earlier.
A group of Congress leaders, Jai Singh Thakur, Shaukat Husain, Shabana Suhail and Rekha Verma, also lodged a complaint at Kotwali police station in Dewas as activists staged a demonstration and burnt an effigy of Untwal.
Untwal, who represents Dewas in Lok Sabha, had targeted Digvijaya Singh, a Rajya Sabha MP from Madhya Pradesh, during a BJP protest on Thursday against the Congress's alleged disruption of Parliament.
"Digvijaya Singh has no shame. He gave nothing to the state," Untwal said and made the controversial remark. He then went on to add that the Congress leader was a mere copy cat. "After (chief minister) Shivraj Singh Chouhan (of BJP) performed the Narmada Parikrama (procession), Digvijaya too did the Parikrama," he said.
Untwal was not available for comments on Thursday.
However, after state BJP president Nandkumar Singh Chouhan criticised his remark, Untwal said his remarks were distorted.
He told media on Friday that he had a lot of respect for Digvijaya Singh and also for women and that he didn't make any comment on Digvijaya Singh's wife.
"Item se mera matlab Digvijaya Singhji ki Narmada Yatra se tha (I meant Digvijaya Singh's Narmada Yatra by the word item)," he said.
State BJP president termed the MP's remark as uncivilised and said he should have not made such a remark. The BJP respected women and such remarks by anyone in the party couldn't be allowed, he said.
This is not the first time that Untwal has been embroiled in controversy. During the Ekatm Yatra in January, BJP MLA from Agar-Malwa, Gopal Parmar had alleged the Untwal's men had abused and beaten him following a dispute over who would carry the flag in the procession.
In 2013, when the state was facing flak over a number of rape cases, Untwal had argued when the state had a population of 7.5 crore, the rape of 4,500 women was not a big number.
(With inputs from Nitin Gupta in Dewas)
Close