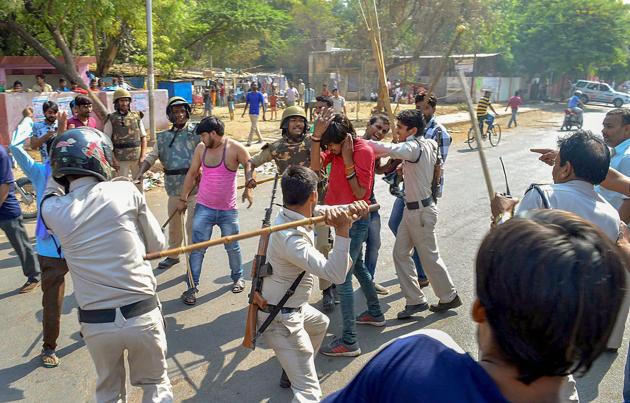 Curfew to continue in three MP districts till Saturday over April 10 bandh call
Internet services suspended in areas worst hit by violence during last week's nationwide strike call by Dalit groups; prohibitory orders in place in other sensitive areas across Madhya Pradesh.
UPDATED ON APR 09, 2018 07:43 PM IST
Curfew will continue in three districts of Madhya Pradesh, which saw the worst of clashes during the nationwide strike by Dalit organisations last week, till Saturday over reports of an all-India shutdown against caste-based reservation in jobs and education and BR Ambedkar's birth anniversary on April 14, officials said.
The curfew was relaxed on Sunday and Monday but will continue in Bhind, Morena and three police stations in Gwalior, where internet services have also been suspended to prevent rumours, officials said.
Prohibitory orders have been issued in areas of Gwalior city where curfew was not imposed. Gwalior's collector Rahul Jain said the district administration has announced closure of schools and colleges on Tuesday.
"No organisation and leader has taken responsibility for the Bharat Bandh call on April 10 but social media continues to be rife with the shutdown call," inspector general of police (Gwalior zone) Anshuman Singh Yadav said.
"We have identified potential troublemaker and also held several discussions with people of all castes and communities, political parties, social organisations and others to ensure peace in the town," Yadav said.
The cyber cell of police is also working to nab those spreading hate messages on social media, the officer said.
"More than a dozen cases have been registered in connection with such messages in Gwalior-Chambal division," he said.
Police sources said the district administration has suspended arms licenses in Bhind, Morena and Gwalior as the "gun culture in the region was supposed to be a major factor behind violence on April 2".
"More than 9,000 arms have been deposited in police stations in these districts," a source added.
Paramilitary force, which was deployed after the violence on April 2, will continue to assist police in these districts.
The administration in Bhopal has also issued prohibitory orders in the district and stepped up security in the capital city.
"Prohibitory orders under section 144 of CrPC have been issued in Bhopal. In all, 6,000 police personnel will be deployed in the city on April 10. Similarly, police will keep an eye on social media messages too," Bhopal's divisional commissioner Ajatshatru Shrivastava said.
Eight people were killed in Madhya Pradesh — four in Gwalior, three in Bhind and one in Morena — in clashes during the nationwide strike called on April 2 by Dalit organisations angered over alleged dilution of the Scheduled Castes and Scheduled Tribes (Prevention of Atrocities) Act, 1989, meant to protect historically discriminated communities from abuse.
The Centre has also advised all states to strengthen security and prevent violence during the nationwide strike called on Tuesday. The Union Ministry of Home Affairs (MHA) also said district magistrates and superintendents of police will be personally held responsible for any violence in their area of jurisdiction.
Close