Family keeps dead SIMI activist 'alive' for his children who are awaiting his homecoming
Four-year old Mohd Talha everyday nudges his maternal uncle Zahid Nagauri to take him to the Bhopal Central Jail, where he believes his father is lodged.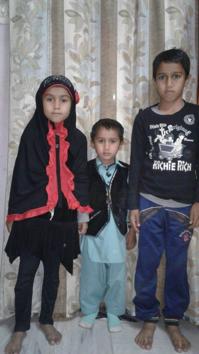 Published on Dec 18, 2016 06:48 PM IST
Four-year old Mohd Talha everyday nudges his maternal uncle Zahid Nagauri to take him to the Bhopal Central Jail, where he believes his father is lodged.
Talha is the son of Abdul Majid, a suspected activist of the banned Students Islamic Movement of India (SIMI), who was gunned down by police in an alleged encounter in Bhopal 45 days ago.
Talha's two elder siblings--six-year-old sister Sharmin Fiza and eight-year-old brother Imanq Abdullah—too are yet to realize their father, an electrician turned alleged bomb maker, has died.
They often pester their truck-driver uncle Abdul Rashid (elder brother of Majid) to take them to the jail where their father is "waiting to meet them."
Faced with the poignant situation, the joint family of the slain militant at the state's Ujjan district is forced to "keep the dead man alive" for his children.
"We have not yet mustered the courage to tell the truth to the children. We don't know how long we have to hide the truth from the children," said Rashid.
"We had brought Majid's body to home town Mahidpur at 3.30pm on November 1 and buried it by 5 pm. But in the hubbub none of the three kids could realise that the deceased was their father, whom they had met in Bhopal Central Jail a few weeks ago," claimed Zahid.
Majid was gunned down on October 31, along with seven other activists of the proscribed outfit hours after their audacious jail break.
Eldest of the three siblings Imanq told HT over phone on Saturday that the last time they met "abbu" and "mamu" (a maternal uncle, Irfan in Bhopal jail, their father had promised to come and meet them within a few months.
"We will soon meet abbu and ask him when the police will let him live with us as in the past," said Imanq, a student of Class III.
"We went to jail on Eid and had food and sweets with abbu and Irfan mamu. I have urged my mother to take us to Bhopal again to have food and sweets with abbu and mamu," said Sharmin Fiza, the second child of the slain SIMI activist. She is a student of Class I.
"Even our neighbours and teachers at the school and madarsa in which the two kids study have not told the children about Majid's death in the encounter," claimed Abdul Rashid.
According to Zahid, his younger brother Irfan Nagauri was arrested along with self-styled chief of the SIMI MP unit Abu Faisal alias Doctor by police from Sendhwa (Barwani) in December 2013.
A few weeks later in January 2014, Majid surrendered before the police in Bhopal after the cops put a bounty of Rs 10,000 on his arrest for allegedly supplying explosives to other SIMI men.
Majid and Irfan's Bhopal-based legal counsel, Parvez Alam said, "Majid was accused in a 2013 case under the Unlawful Activities Prevention Act, the Explosives Substances Act and Section 307 of the IPC dealing with attempt to murder.
"Statements of witnesses were recorded in the case before court just a few weeks before Majid and seven other jail inmates were killed in the encounter," said Alam.
The encounter is now being probed by a retired High Court judge, SK Pandey.
Close Story