Newborn trafficking racket in MP: Nursing home owner surrenders
Published on Apr 26, 2016 04:46 PM IST
Owner-director of Gwalior-based Palash Nurshing Home, which was operating an inter-state newborn trafficking racket for four years, surrendered before the police on Monday.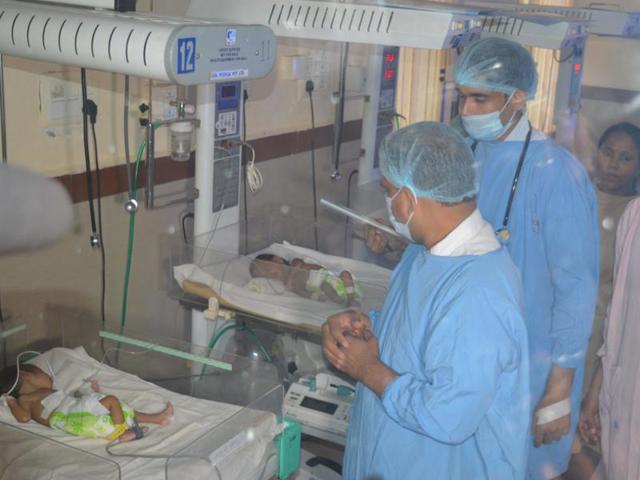 Hindustan Times |
, Gwalior
HT Correspondent
Owner-director of Gwalior-based Palash Nurshing Home, which was operating an inter-state newborn trafficking racket for four years, surrendered before the police on Monday. TK Gupta, 34, was absconding since April 18 when the police raided his nursing home.
The accused was allegedly in Chhattisgarh for the last seven days where he runs a clinic, Gwalior additional superintendent of police (ASP) Kumar Prateek said, adding that he will be produced before the court on Tuesday after preliminary interrogation.
Police will interrogate the accused about his "adopted" one-and-a-half-year-old girl child. Accused of raping a patient in 2013, police believe that Gupta had not followed the legal procedure for adopting a girl child. Gupta was exonerated from the rape case following a consensus between the two parties.
"As Gupta's wife couldn't provide any satisfactory documents regarding the adoption of the girl child, police will have to take girl under its care…The women and child development also does not have any record of her adoption," the ASP said, adding that Gupta's wife had claimed that the child was born to a couple from Old Gwalior, who had willingly handed over the child as they were unable to take care of her. She, however, claimed that the couple had died in a road accident recently.
Police will also interrogate Gupta on the newborn trafficking racket, babies 'sold' and their network in the country. Unconfirmed reports suggest that nursing home conducted over 700 deliveries over last four years, but it did not have the record of all the children born. The nursing home also flouted the adoption process laid down by the Central Adoption Resource Authority (CARA).
Earlier, co-director of Palash Arun Bhadoria told police that around three children were passed on to individuals at Lucknow, Dabra and to TK Gupta respectively, while two others were recovered during a raid on the hospital.
Adoption process not followed
Regional coordinator in women and child welfare department (women empowerment wing), Suresh Tomar said the legal course was not followed by the Guptas while adopting the girl. "It is illegal and the couple is liable to face action under juvenile justice act. Under the act there is provision of three to five years of rigorous imprisonment and fine of `1 lakh for violation," he said.
Tomar said child adoption process was a four-step procedure, including online registration with cara.nic.in followed by house-home study, selection of district child protection home (DCPH), fee deposition and taking possession of child from prescribed centers and after committee recommendation constituted under district and session judge.
'Underweight' baby recovered from Palash dies
A one-and-a-half-month-old boy rescued from Gwalior's Palash Nursing Home during a raid on April 18 died in the pediatric ward of Kamla Raja Hospital around 3 am on Monday, police said. Doctors claimed the baby died from infections as he had not been breastfed.
The private nursing home is at the centre of an inter-state racket involving trafficking of newborns for last four years. Two newborns, with no record of their birth and other mandatory details, were rescued from the hospital during the police raid. The babies were allegedly abandoned by unmarried mothers after delivery or impoverished couples who couldn't afford to raise them.
The boy was shifted to Kamla Raja Hospital from neonatal care unit of district hospital at Morar Gwalior after his health started deteriorating on Sunday afternoon. Head of pediatric department at Kamla Raja Hospital, Dr Ajay Gaur said despite their efforts to save the baby, they couldn't succeed.
"The baby was very weak from the very beginning. He weighed just 1.8 kg and was suffering from multiple complications, including infection of blood, weakness, underweight and so on," he said.
Gwalior chief medical and health officer Dr Anoop Kamthan said the other baby (girl) was stable and has been kept at Morar district hospital.
Personalise your news feed. Follow trending topics