MP jails don't serve non-veg food but Chouhan wants to ban it
Non-vegetarian dishes were taken off the menu in jails in Madhya Pradesh much before chief minister Shivraj Singh Chouhan's recent call to end the chicken-biryani-culture in prisons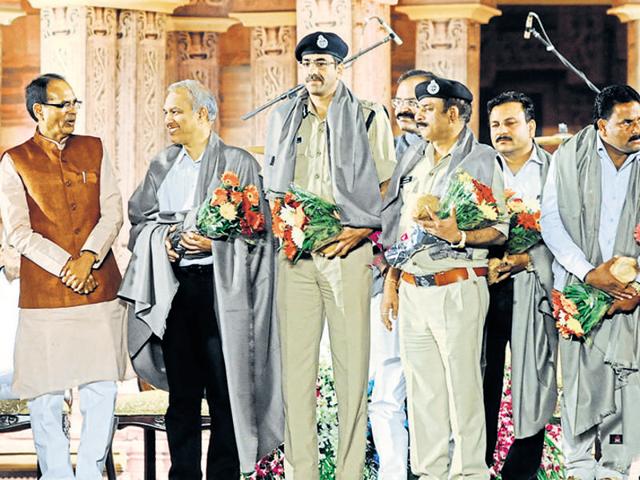 Updated on Nov 06, 2016 03:28 PM IST
Chief minister Shivraj Singh Chouhan's recent call to end the chicken-biryani-culture, an euphemism for alleged VIP-treatment to terrorists, seems out of place at least in the context of Madhya Pradesh and also the SIMI men lodged at the Bhopal Central Jail.
There is no provision for dishing out non-vegetarian food to any prisoners in the state, though halwa-puris are served to them occasionally, said a jail official wishing anonymity.
Addressing a Madhya Pradesh foundation day programme a few days back the CM said, "We will have to think about the system. When enemies of the mankind, who don't care about human rights, are caught they remain in jail for years. It takes years to award punishment to them and they continue to eat chicken and biryani."
Prisoners in MP jails get 90 grams of any of the following items — uncooked chana, dalia, poha, roti or rice for breakfast in addition to tea or milk.
During lunch and dinners prisoners are served roti, daal, rice and vegetables. Their taste buds, however, are tickled with special spread of halwa-puris on 65 days in a year, prison sources said.
Non-vegetarian food can be given only to an ailing prisoner on doctor's recommendations.
The chicken-biryani phrase was originally coined for Pakistan-born terrorist Mohammed Ajmal Kasab, who was allegedly offered non-veg meals when he was lodged in Mumbai's Arthur Road Jail.
It was alleged that Kasab along with some police personnel who worked as cooks for jailors in the jail used to cook chicken biryani occasionally. The police personnel were later shifted.
In Maharashtra, only vegetarian foods are usually served to prisoners.
Four years ago, jail authorities decided to cut down on non-vegetarian food served to prisoners. Since then, only on select few occasions like festivals, prisoners get to relish meat and other non-vegetarian items.
Talking to HT former additional inspector general (Jails) GK Agrawal said the Prisons Act only mentioned about food without specifying whether it should be vegetarian or non-vegetarian.
Hence, it is purely a state's prerogative to decide what to serve to its prison inmates. The choice of food in the prisons varies from state to state based on the food-habit of the particular region. For instance, in jails across North India chapatis are staple food for prisoners, while rice is in South.
Close Story