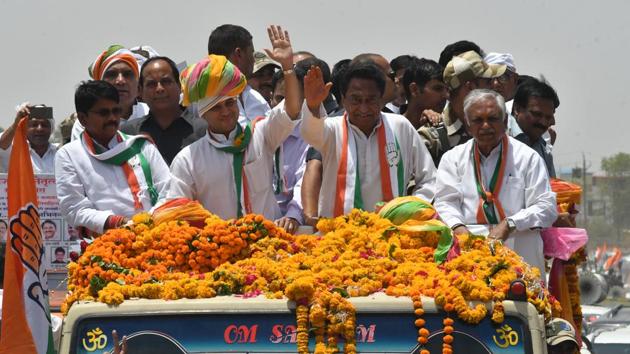 Scindia, Kamal Nath hold road show, signal united front against Shivraj govt in MP
Jyotiraditya Scindia asks COngress workers to work hard for the next 180 days to start a new Madhya Pradesh, where farmers, youth and the Dalits have opportunities.
UPDATED ON MAY 01, 2018 11:31 PM IST
In an impressive seven-hour-long roadshow to mark Kamal Nath's appointment as state party president and Jyotiraditya Scindia taking over as the campaign committee chief, the Congress signalled a united front against the Bharatiya Janata Party (BJP) in the run up to the assembly elections due in the state later this year.
Portraying the elevations as a combination of Nath's experience and Scindia's energy, a huge banner that formed the backdrop of the public meeting venue – "Anubhav aur Urjawan Netritva ka Samagam" -- summed up the message of the Congress, which is attempting to topple chief minister Shivraj Singh Chouhan, who has been in power since 2005.
Addressing a public meeting after the roadshow, Nath tore into the Chouhan government by accusing it of being a 'Ghoshana Ka Sarkar' (a government of announcements) and warned "Ghoshana ka samay ab khatam, ab hisaab dene ka samay aya" (the time for announcements has ended, it is now time to show an account of the work done).
"Farmers are being sent to jail, they are committing suicide. There is no employment for youth. If 'acche din' have come, they have come for BJP leaders who earlier did not have a single two-wheeler but now own multiple four-wheelers," Nath said, stressing that all sections of society were clamouring for change.
Scindia launched an aggressive attack against the state government for failing the people on all fronts, especially when it came to its record of protecting women, with Madhya Pradesh the worst state in the country in the number of rape cases.
Scindia said they will have to work hard for the next 180 days — workers will have to give their sweat and leaders their blood to start a new Madhya Pradesh, where farmers, youth and the Dalits have opportunities. "It is time for the present government to go. A new government, by and for the youth, farmers and women, will come to power," he said, adding the economy was in shambles. "We have a debt of Rs 2 lakh crores, and each person in the state has a loan of Rs 26,000 on his head," Scindia said.
Asked whether the Congress was adopting a soft-Hindutva stance by going to temples, Scindia said most Congressmen were religious in their private lives and it was the BJP that mixed religion with politics. "It is the duty of every citizen to maintain communal harmony and secularism in the society," he said.
Close