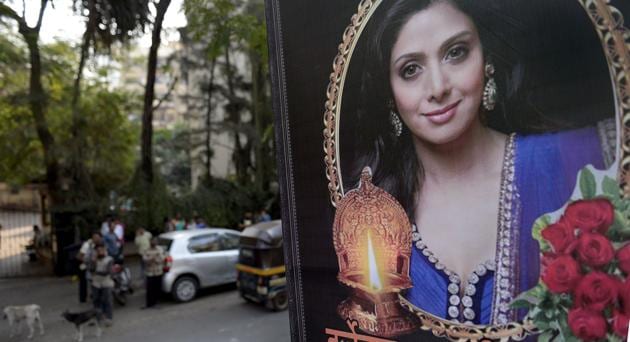 State assembly takes U-turn on paying tributes to Sridevi Drops her name from obituary references
The assembly secretariat had earlier announced that there will be obituary reference to her and Shashi Kapoor
PUBLISHED ON FEB 27, 2018 09:35 PM IST
Madhya Pradesh state assembly on Monday took a U-turn on paying respect to Bollywood's first female superstar Sridevi during the ongoing budget session after the news started pouring that she died of accidental drowning.
The assembly secretariat had earlier announced that there will be obituary reference to her and Shashi Kapoor. Sources in the assembly secretariat said that the decision was junked after television broke the news about her accidental drowning and presence of alcohol in her blood.
The business list of the assembly for Tuesday prepared on Monday night had Sridevi's name in it along with 9 others including doyen of film industry Shashi Kapoor, ex-state assembly speaker Srinivas Tiwari, four ex-MLAs, two former union ministers and an ex-state assembly secretary who died during the intervening period of the state assembly's winter and budget sessions besides Army jawans killed in Pakistani Army's firing at J&K's Rajouri in February first week.
The list of business was uploaded on the state assembly's website mpvidhansabha.nic.in late in the night but it was amended later with names of Sridevi and Shahsi Kapoor missing in it.
Notably, Shashi Kapoor was honoured with Padmabhushan in 2011 and also Dada Saheb Phalke award, the most prestigious award in Indian cinema in 2014 while Sridevi got Padma Shri honour in 2013.
"The news about influence of alcohol was what changed the opinion in the speaker's office. There was a brief discussion too with some senior legislators but omission of only Sridevi's name from the list would have looked quite unusual. Hence, Shashi Kapoor's name was dropped too who was also from Bollywood", said an official in the state assembly wishing not to be named.
Ex-state assembly principal secretary Bhagwandev Israni termed the development quite unusual and surprising.
"Such a practice has hardly taken place before. Madhya Pradesh assembly has had a rich tradition of paying tributes to dignitaries from different fields of society, who have played an important role in public life in the country. Such dropping of names, that too of such persons who had got Padma awards, from obituary references was uncalled for. It may set a wrong precedent."
When contacted state assembly principal secretary AP Singh said the amendment in obituary references had nothing to do with media reports on Sridevi's death. The names of Sridevi and Shashi Kapoor were included in the list of dignitaries who are no more on the basis of a discussion with leaders from the ruling party as well as the Opposition both. However, later it was decided to keep the list short and with names of only those persons who were in political field.
Speaker of the state assembly Dr Sitasharan Sharma said it was not necessary to tell media about what was the reason behind every decision.
Close