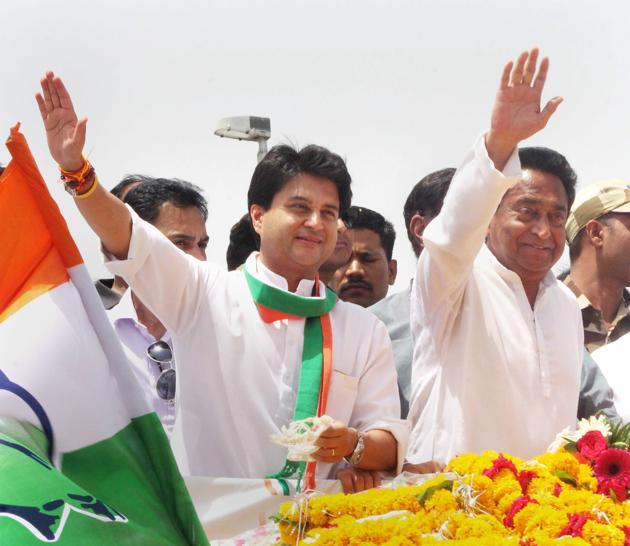 We will treat cancer of corruption with chemotherapy and radiation: Scindia
In Madhya Pradesh, he said, corruption prevailed from top to bottom in the government machinery and money was taken for every work whether it was an insignificant work or establishing of any industry
Hindustan Times, Bhopal | By
Ranjan
UPDATED ON JUN 04, 2018 06:40 PM IST
Member of parliament and state Congress campaign committee chairman Jyotiraditya Scindia said on Thursday the cancer of corruption prevailing in Madhya Pradesh under BJP regime would be treated with chemotherapy and radiation after Congress forming its government in November this year after the assembly elections.
Scindia said the Congress government in Madhya Pradesh would have zero tolerance on corruption.
In Madhya Pradesh, he said, corruption prevailed from top to bottom in the government machinery and money was taken for every work whether it was an insignificant work or establishing of any industry. There was commission for every permission (chahiye permission to de do commission).
Referring to Vyapam scam he said he used to think that Munnabhais were produced in films only but during BJP government in Madhya Pradesh fake doctors were produced through Vyapam.
He said whereas farmers, youths, women and people in every sphere of society suffered due BJP government's misrule in Madhya Pradesh approximately Rs 3000 crore were being spent annually on advertisement on image building of chief minister Shivraj Singh Chouhan. Today, he added, Madhya Pradesh was number one in the country in crimes against women, malnutrition, infant mortality rate, maternal mortality rate, illegal mining, unemployment and corruption etc.
He said there were about 14 lakh malnourished children in the state. There were about one lakh children who couldn't see their first birthday. As many as Rs 2000 crore were being spent on mid-day meal annually but malnutrition continued to remain as a blot on the face of the state.
He said there were approximately 50 lakh educated unemployed in Madhya Pradesh. After every global investors meet the state government claimed of having signed memoranda of understanding (MOUs) worth lakhs of crores of rupees but there was hardly any new plant in the state.
On petrol and diesel prices hike he said the central government got Rs3.5 lakh crore annually through petrol and diesel. Thus it got more than Rs 10 lakh crore in the past 3 years but nobody knew where did money go. During UPA government when rate of crude oil in international market was high and prices of petrol and diesel were comparatively much lower in the country the BJP leaders used to say that the then government was not adept at managing finances. Chief minister Shivraj Singh Chouhan used to ride a bicycle to reach the secretariat. But now, when the rate of crude oil was much low in the international market and the prices of petrol and diesel were increasing by the day in the country none of the BJP leaders said anything. Chouhan's didn't ride bicycle now and didn't go to Delhi to lodge his protest.
He said Congress had a road map for the progress of the state. Employment would be given in manufacturing and IT sectors and also by linking agriculture sector with food processing. There would be a timebound inquiry into the charges of corruption.
Close