Alia, I'll drop you? Ranbir Kapoor's the cutest boyfriend ever in new video
Jul 14, 2018 09:17 AM IST
New pictures and videos of Bollywood's favourite new couple Ranbir Kapoor and Alia Bhatt have been shared online. Check them out here.
Bollywood's newest couple, Ranbir Kapoor and Alia Bhatt were spotted leaving a venue recently, and a new video shows Ranbir cutely asking Alia if he should drop her where she wanted to go. The couple was seen leaving the venue together, in the same car.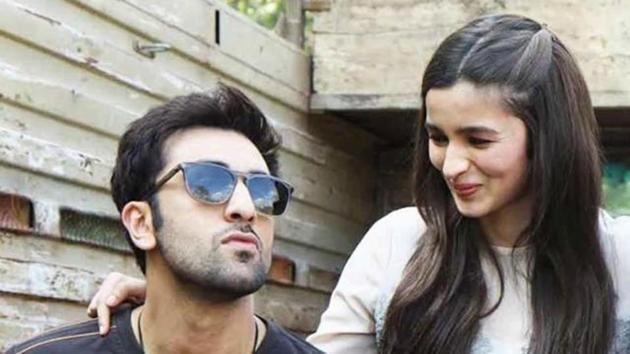 In the video, shared on several Bollywood fan sites, Ranbir and Alia can be seen exiting a building into the parking lot, where they interact with a few fans and click selfies. Ranbir is wearing a dark shirt, while Alia is wearing a salwar kameez. As he heads to his car, Ranbir can be heard saying, "Alia, I'll drop you?"
Alia quickly rushes to the car and jumps in. As the car drives off, someone from the crowd says, "Good luck for tomorrow RK," to which Ranbir replies, "Thank you, I'll need it."
Ranbir and Alia have since taken off for Bulgaria, where they're shooting Ayan Mukerji's ambitious new film, Brahmastra. Photos of the two, twinning in white, also made it online. You can check them out here.
Ranbir Kapoor confirmed in May that he is dating Alia. "It's really new right now, and I don't want to over speak. It needs time to breathe and it needs space. As an actor, as a person, Alia is – what's the right word? – flowing right now. When I see her work, when I see her act, even in life, what she gives is something that I'm aspiring to for myself. It's new for us, so let it cook a bit," he told GQ.
Prior to this, he had offered praise for Alia's performance in Raazi. "I watched the film one week before release and it blew my mind it's one of the greatest films ever made in Indian cinema," he told NDTV. Alia returned the favour by praising his performance in Sanju. "I really liked it. It is a fantastic, fabulous and an outstanding film. I think in my top 10 best film list, Sanju is high up there. Ranbir is outstanding in it.," she said at a media interaction.
Ranbir was slightly more vague in a recent interview to Anupama Chopra. "Falling in love is the greatest thing in the world. When you fall in love, everything is great. Water tastes like sherbet and you seem like you are Uma Thurman. You feel great. Who doesn't wanna be in love?," he said.
The couple has been spotted out and about several times in the last few months. Ranbir was even spotted dining at Alia's home with her father Mahesh Bhatt present. The senior Bhatt later said that it is up to the media to decide if 'papa is raazi' about the relationship.
Follow @htshowbiz for more