Arbaaz Khan confirms dating Giorgia Andriani, says he doesn't want to rush about anything
Oct 25, 2018 09:08 AM IST
Arbaaz Khan, confirming the news about his relationship with Giorgia Andriani, added that people will jump to conclusion, but he doesn't want to rush into things. Ex-couple Arbaaz and Malaika Arora have a son named Arhaan together.
Arbaaz Khan is often spotted with model Giorgia Andriani, including at Khan family events,but he is yet to accept the relationship publicly. Giorgia was spotted bonding with Arbaaz's son Arhaan Khan and at Arpita Khan Sharma's Ganesh Chaturthi celebrations.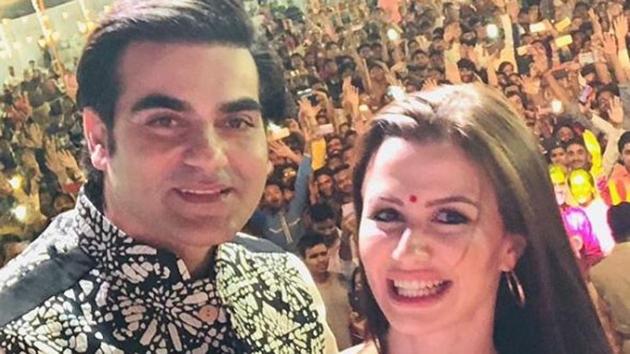 Opening up about the speculation to Zoom, Arbaaz confirmed that he was dating now, but also said that he did not want to rush things.
Arbaaz spoke about the rumours and said, "You cannot shut a lot of people. They jump to a conclusion, they jump with certain assumptions. You know it's okay, it's alright if they see somebody with someone they want to get them married, they want to...everything has its due course of time. I am obviously, post my divorce, I've had a few scenarios and equations with people, I've dated women and some look like they would go maybe little longer than they did but they didn't happen and I don't want to rush about anything. At this point of time yes, I am dating and I don't know where it's gonna go but people think they know."
He also added, "They've already decided, 'Okay, this is gonna happen and when it's gonna happen'. Has anybody said that? Have I come on camera and said that? Has somebody else said that? No, from "reliable sources" from "family sources". Who? Who are the people who are talking on my behalf? I don't understand. And why would you wanna print it? And why would you wanna kind of authenticate it? But you know what do I really have the patience? Do I really have the time to fight and give clarifications for every news that comes about me or about my life or what's happening? You just have to turn your face the other way and do it at your pace and time and not think too much because they are not gonna stop."
On the work front, Arbaaz will be seen next alongside Amit Sadh and Sonal Chauhan in Jack and Dil.
Follow @htshowbiz for more