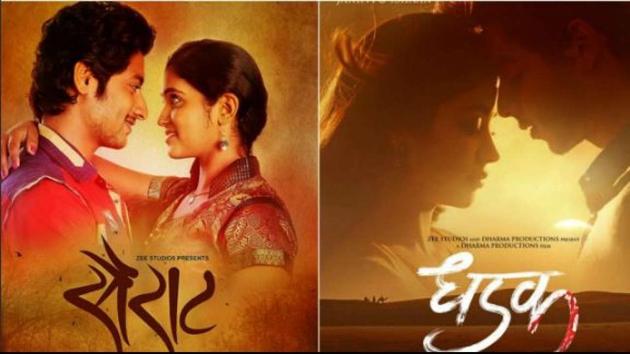 Dhadak is shinier than Sairat and there lies the problem
Marathi film Sairat, the inspiration of Ishaan Khatter-Janhvi Kapoor's Dhadak, had some harsh realities. The new film lacks such approach.
UPDATED ON JUL 22, 2018 04:46 PM IST
Dhadak is a convenient remake of the hit Marathi film Sairat (2016). The filmmaker, Shashank Khaitan, has decided to keep the parts from the original in his film that are fine with typical Bollywood viewers.
In Sairat, Archie and Parshya's love is not accepted by their families because Archie is a girl belonging to the upper caste. While in Sairat this aspect is more pronounced, Dhadak doesn't stress much on it.
Dhadak is not a bad movie, if you haven't seen Sairat. It has moments and good fun quotient. Except for the climax, Dhadak is light-weight compared to original. For instance, Parshya is so poor that he goes with his father to catch fish for income. Madhu in Dhadak, however, is the son of a man who owns a nice terrace cafe in Udaipur.
Watch: Dhadak Movie Review
Archie is so head strong that she has the guts to elope with a bag full of cash and not feel guilty. Parthavi Singh, on the other hand, is forced to elope with Madhu because his life is on the line. Later in the film, Parthavi even tells Madhu that they wouldn't have had to elope, had it not been for his life. The nature of the struggles of the two couples are totally different. Janhvi and Ishaan are much more privileged than Aakash and Rinku of Sairat.
With Karan Johar as the producer, budget was never an issue in Dhadak. The sets are glossier and clothes fancier.
In the new film, Parthavi and Madhu run away and end up at an acquaintance's place who further sends them to Kolkata to start a new life. The only struggle in this time period is Parthavi's mood swings. They get to Kolkata to a nice place safe and secure.
In Sairat, we got invested with Archie and Parshya's characters because their struggle was real. The two struggled to get away from Archie's family and then get caught in the clutches of goons who tried to abuse Archie. They get help from a strange woman. They do not get to stay in a nice one room flat in a society, but they live in the slums and work in factories to be able to afford food. It's heart-wrenching to see them toil to make ends meet.
Dhadak happens to be Janhvi's debut movie, and she has done a decent job. Her eyes are expressive, and she wins points for the climax. Ishaan has done a good job with the character that he was given. With a cast like this, Dhadak could have been more than what it is. Sairat's climax is heart breaking, and Archie and Parshya stay with you even after the credits roll, but Dhadak might not stay with you for long.
Follow @htshowbiz for more

Close