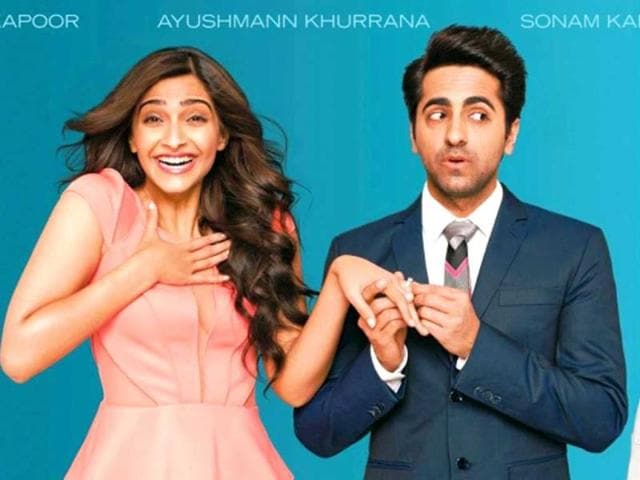 Didn't know how chemistry with Sonam would be: Ayushmann Khurrana
His first film, Vicky Donor, was a hit. And though his second movie Nautanki Saala didn't make much of a splash, Ayushmann Khurrana is now preparing to hit theatres for the third time, this time with co-star Sonam Kapoor in Bewakoofiyaan. The actor opens up on his author-wife Tahira Kashyap and much more.
UPDATED ON MAR 12, 2014 07:11 PM IST
His first film was a sleeper hit that touched upon an unusual subject, sperm donation. And though his second movie didn't make much of a splash, Ayushmann Khurrana is now preparing to hit theatres for the third time, this time with co-star Sonam Kapoor. In this chat, the actor opens up about his author-wife Tahira Kashyap, plans of working with her, his competition in Bollywood, and his experience of working with a fashion icon.

Your wife has written two books. Do you plan to adapt any into a film?
It will happen in the future, for sure. But we both have to evolve as performers, watch more world cinema, read a lot more, evolve as people and then it might happen. As of now, she is happy doing theatre and writing books, and I'm happy being an actor and a singer.
But do you guys talk about it?
Of course we do. We have some plots and we discuss them. Her thought-process is not filmi at all… and even mine is not, so let's see how it goes.
Do you give her feedback?
Yes, I do. Recently, she directed a play based on her book and it was sold out. Tahira is happy in her own world; she has her own life and career.
Any plans to convince her to move to Mumbai?
Not really. Most of my films are shot outside Mumbai. Besides, our families are in Chandigarh, so it's easy for her to live there.
With so many young actors trying to make it big, is this an exciting and challenging time?
I'm secure because I've seen failure very early in my life. I think my contemporaries have never seen failure. I am also pretty content being a singer-actor. I have my niche in the industry. Even if somebody was running a race with me, I'd say, 'Yaar tu nikal le aage' (you go ahead, buddy) (laughs).
If you had to name one actor who you think is competition…
Ranbir (Kapoor) is a star. Among my contemporaries, Ranveer (Singh) is very talented. Both of us are such different people. But there is no competition because there is no lack of space.
Do you feel that you cannot do the kind of roles that he has done?
I will be able to, but not now. The films I'm doing currently aren't in that zone. But I'd love to do something like that.
Like a typical hero-centric part?
That's on my bucket list. I have to do a film in that genre.
So, are you in touch with your peers?
I meet them on and off at events. Recently, I Instagramed a picture with Ranveer. He was so good in (Gunday). We were together at the screening. If I praise someone, I'll be genuine; I won't say it just for the sake of it. I also messaged Varun (Dhawan) after watching the trailer of Main Tera Hero.
Read: Sonam Kapoor dons bikini in Bewakoofiyaan for the first time
Your next film, Bewakoofiyaan, is a rom-com, and it comes across as a light movie, with more typical song-and-dance. What made you sign it?
To begin with, it's every actor's dream to be part of Aditya Chopra's company, and it was part of my personal bucket list to do a rom-com. It's the only commercial film I am associated with. Both Vicky Donor (VD, 2012) and Nautanki Saala (2013) were not in the commercial space. Even after this movie, I am doing concept-based cinema.
Do you relate to the film and your character in it?
Personally, I am like Mohit Chadhdha (his character in the film), more than Vicky (his character in VD), who is an earthy guy. I am more of an urban Punjabi guy. But apart from that, I don't think I can relate to the corporate life of the character.
How was the experience of working with Sonam Kapoor?
Initially, when I got to know that Sonam is playing my leading lady in the film, I was slightly sceptical, because she is a fashion icon, and I am a boy-next-door. I didn't know how the chemistry would be. But when I met her for the first time, I realised that she is a simple girl.

Close