Emraan Hashmi was the best person to do Azhar: Mohammad Azharuddin
Says former cricketer Mohammad Azharuddin, as he talks about an upcoming movie that is based on his life. However, Emraan Hashmi, who plays the lead role in it, confesses that he was scared when he was initially offered the film.
bollywood
Updated: Apr 15, 2016 11:04 IST
It is not every day that you get to meet a former cricketer at the promotional event of a film. But Mohammad Azharuddin was completely at ease when we met him for an interview regarding Azhar, a film that is based on his life. He was joined by Emraan Hashmi, who is playing the former cricketer in the movie.
Read: It's a huge responsibility to play Azhar, says Emraan Hashmi
Here, we talk to them about the film's journey, the importance of being patient, and more.
How do you think the film has shaped up?
*Emraan: I'm very happy with it. We've achieved what we set out for. It's been one of those experiences I can't define in words. As an actor, usually, you get a script, you go through it, learn the dialogue, and start shooting for it. But this has been very different. I got a call in 2014, that's when Ekta (Kapoor; producer) spoke to me. Then, the script was written, the research started, Azhar Bhai gave the film his go-ahead, and then I met him over lunch. He then began training me. I started talking to him about his life, the problems he had gone through, his captaincy, and more. And all that has come out on screen the way we envisioned it. Tony (D'Souza; director) has made a fantastic film.
Read: Salman Khan impressed by Emraan Hashmi's new book, calls it sweet
When you heard that Emraan will be playing you in the film, what was your reaction?
*Azharuddin: I thought he was the best person to do the job. I've seen his films. The first thing that appeals to me about an actor or a player is his or her professionalism. I think Emraan has been very professional, and has worked very hard on the film. He left no stone unturned. I'm sure people will like it. It's not easy to copy someone. It's a different film involving events that occurred in somebody's life. I think people will get inspired by this.
Bollywood actor Emraan Hashmi and former Indian cricketer Mohammad Azharuddin discuss their upcoming film, and more. (Aalok Soni/ HT Photo )
Were you sceptical about sharing details of your life for a film?
*Azharuddin: I don't fear anything. If I did, this film wouldn't have been made. When you want to do something, you have to do it whole-heartedly. I think they've done a good job of portraying whatever has happened in my life. It's a positive film, and people shouldn't see it in a negative way.
You both have faced a severe crisis in your personal lives, and have emerged on top. What have these moments taught you?
*Azharuddin: When you bat, you need to have a lot of patience. I started training for it from the age of eight or nine. So, I knew what I needed when I stepped on the field to bat. But yes, that period was different. I was used to hearing people say good things about me, and suddenly that changed. It was a test of my patience.
Actors Nargis Fakhri (L) and Prachi Desai (R) play important roles in Azhar, in which Emraan Hashmi plays the titular role. (PTI)
*Emraan: Our patience is tested every Friday. That's something we're used to and have to tackle through the year. Then, of course, I had an incident in my family (his son was diagnosed with cancer). I think all this just makes you stronger. You learn how to roll with the punches, and develop the will to face a crisis. I think we're all designed to face these situations. There just needs to be a mad optimism to fight it, sort it out, and things will be okay. We're living in cynical times. Today, everyone has an opinion, and people get personal about things. You just have to think about it sanely, and you realise that they're actually not angry with you. Maybe something's wrong in their lives and they're just venting. So, I don't take any of it seriously. I never confuse what another person thinks of me with what I think of myself.
Read: Azhar will shed light on match-fixing, says Emraan Hashmi
But it must get tough when people constantly make judgements about you…
*Emraan: That depends on how seriously you take those perceptions. I have segregated those things clearly. This whole 'serial kisser' label, I find it laughable. It's very amusing. It'll be stupid of me to take it seriously. But I do know of actors who take these things seriously, and I don't mean to criticise them. They actually refer to themselves in third person. It's mad. In my case, I never wanted to become an actor. I got into this profession by accident. It's a profession that chose me, and then I decided to make the most of it. That's why I feel I should keep these aspects segregated very clearly. I don't constantly live like the person I am playing on-screen; and I know a lot of actors who do that… that plays with your sanity.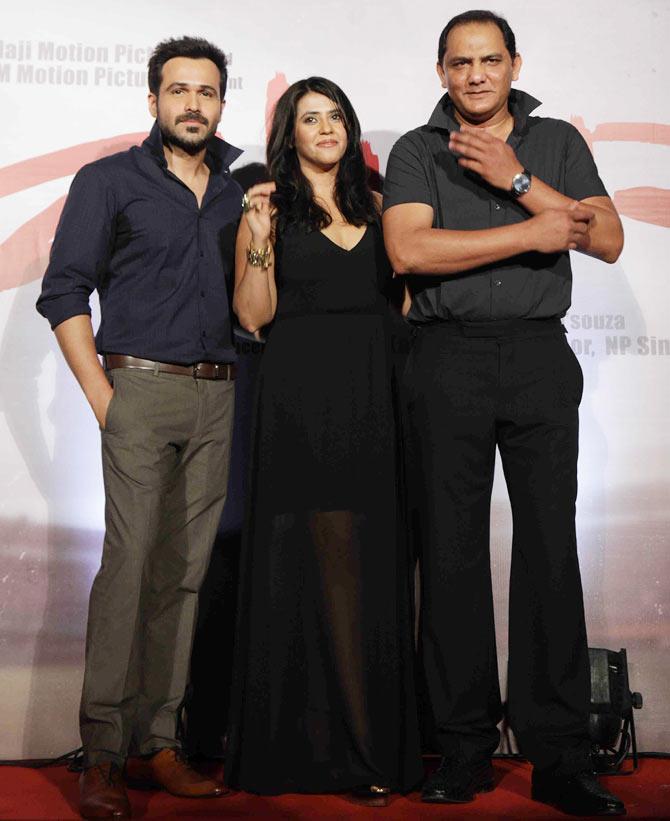 Emraan Hashmi, Ekta Kapoor and Mohammed Azharuddin at Azhar launch. (PTI)
*Azharuddin: When you are playing on the ground, you are a cricketer, but the moment you step off it, you are just another person. You need to talk to people nicely, because you are who you are because of the people. People are going to write things about you, but you have to take the good with the bad, so you shouldn't take it very seriously. If you take it to heart, it'll get very difficult to deal with. So, just take it with a pinch of salt. The only thing you need to do is ensure that you don't repeat whatever mistakes you have made.
Read: Can Azhar be the most successful biopic in Bollywood?
Emraan, how much of a cricket lover were you while growing up?
*Emraan: I think it (cricket) is in our blood, and it is a religion in our country. I have definitely followed a lot of his matches through the '80s and '90s. It was a different era of cricket at that point in time. I wouldn't say it was contaminated, but there weren't too many options. There would be a very singular attention on cricket when the matches would happen. Only one or two channels would show them, and each match was like an event for the house. It's not like how it is now… there are so many avenues now. I always say that those were the glory days of cricket, which Azhar bhai was a part of, and I was fortunate to have grown up in that time. When India-Pakistan matches would happen, the city would shut down to see them, and we used to play too. Everyone would fight about who was going to bat first.
Actors Emraan Hashmi, Lara Dutaa and Nargis Fakhri during the trailer launch of film Azhar in Mumbai on April 1, 2016. (IANS)
Azharuddin, now that you have so closely been involved with the process of film-making, what's your take on acting as a profession?
*Azharuddin: It's not an easy profession at all. They have to fight it out, and there's so much competition nowadays. When you watch a film on the big screen, you don't realise the hard work and sacrifice that goes into making it. When you're shooting, it takes ages sometimes to move from one shot to another. It's a testing time for actors. You have to get into a different mould, learn so much, and still keep your mind straight. It's a very tough job.
Why did you choose to use a film as a medium to tell your story and not, maybe, write a book instead?
*Azharuddin: So many people watch films. If I had written a book, only some [people] would have read it. Cinema is a large medium. Once they (audiences) see it, they will see the problems I had to face, the tough times, and how I came out of it all. I feel it is also an inspiring film. How I reacted at that time, what my attitude was, how I behaved, how other people said things against me, and how I reacted to them… if everybody has to know all that, then cinema as a medium is the biggest.
Follow @htshowbiz for more.