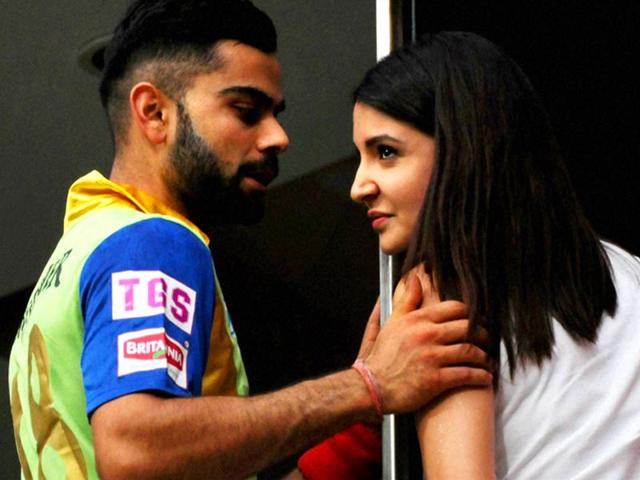 I feel uncomfortable: Anushka Sharma on discussing Virat Kohli in public
Anushka Sharma, adding that she is "only an entertainer"; reveals that she feelsuncomfortable talking about her relationship with cricketer Virat Kohli
Hindustan Times | By Shalvi Mangaokar
, Mumbai
UPDATED ON JUN 06, 2015 11:19 AM IST
Anushka Sharma has been in the news for her personal life for a few months now. The negativity surrounding her seems to have penetrated her professional life too, after her last Bollywood release failed at the box office. But the actor says she is strong enough to not let such things affect her.
In fact, she says there's no other way of dealing with negativity apart from ignoring it. "You can't go on shouting from rooftops, saying, 'It's not true.' And why should you? I entered the industry with Rab Ne Bana Di Jodi (2008). It was a big film, but it didn't turn me into a star overnight. So, what worked for me? A Band Baaja Baaraat (2010), which was a small film, with a new director and a new actor. I've realised that it's just your work that matters. So, you should keep quiet, do your work, and let that speakfor you. If you do well, people will take notice," says Anushka.
But do things surrounding her personal life affect her work? "Not at all," says the actor, adding, "It's very clearly kept separate. This (the negativity) could have happened to me earlier also (before she started dating cricketer Virat Kohli), but it didn't. I have never changed myself because of something that has been written or said about me. I have gone through a lot in the past few years. But I feel like I've grown up now. I understand the futility of these things."
Anushka also feels that people in the film industry should stop taking themselves so seriously. "I'm an actor. I'm not building spaceships and doing anything of that great importance. So, you can't take yourself so seriously. At the end of the day, you are only an entertainer. People read entertainment stories and forget about them," says the actor, who recently admitted to being in a relationship with Virat.
When asked if the never-ending questions about her relationship ever bother her, she says, "No. People understand that I've given enough respect to everybody by acknowledging my relationship. I would like to maintain some privacy and personal space around somebody I am with because at the end of the day, I am human. I don't want to put myself out there. But I feel uncomfortable discussing it."
Close