Karan Johar on drug party accusation: 'Vicky Kaushal was recovering from dengue, my mother was sitting with us'
Updated on Jun 17, 2020 01:09 AM IST
Karan Johar has reacted to allegations of hosting a drug-fulled party at his house and has warned to take a more ruthless course next time.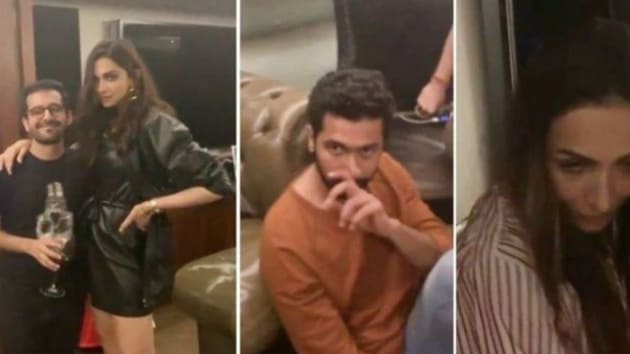 Weeks after a politician accused Karan Johar of hosting a drug-fuelled party that was attended by Deepika Padukone, Ranbir Kapoor, Vicky Kaushal, Shahid Kapoor and Varun Dhawan, among other Bollywood personalities, the filmmaker has dismissed the conspiracy theory as "baseless".
SAD MLA Manjinder Singh Sirsa had claimed that a video shared by Karan from the party was a proof that drugs were used there. He had even requested the police to take cognizance; none of the celebrities have reacted to claims till now.
Talking to journalist Rajeev Masand, Karan asked if he would have shared a video if drugs were indeed used. "There were achieving members of the industry who were having an easy night out after a hard week of work, having a good time. I took that video with all the earnestness... would I be putting out that video if there was anything happening at all, I am not stupid," he said in the interview.
Discussing how the reflection of a light near Vicky Kaushal was misconstrued as proof, he added, "Apparently you are not allowed to scratch your nose. Apparently, you are not allowed to put your phone in your back pocket. Apparently, a shadow of light is perceived to be some kind of powder."
Also Watch | Karan Johar house party: MLA claims Deepika, Ranbir were on drugs
He went on to explain that Vicky was actually recovering from dengue and drinking hot water with lemon. Karan said that it was just a party where friends letting their hair down over some wine. "My mother, 5 minutes before this video, was sitting with us. It was that kind of a family, happy, social gathering, where friends were sitting and having a good time and we were listening to some music, having some good food and having good conversational energy there. There was nothing else going on," he said.
Also read: Bhool Bhulaiyaa 2 first look: Kartik Aaryan turns a ghostbuster but with a twist, reminds of Akshay Kumar's hit number
While he accepted that he wondered whether he should react to the accusations, he eventually decided not to. "I don't react very well to these baseless accusations because that's what they were, baseless," he said, while accepting that he will take a more ruthless course next time, "I told them also... I am not taking this very kindly, the next time where baseless accusations, I will take the legal route. You cannot mar our solid reputations, our sincere reputations our committed reputations just because you are presuming something. You cannot put out a baseless accusation that has no base, no fact, no truth, no reality and try and mar us and our reputations, it's ridiculous."
Follow @htshowbiz for more
Personalise your news feed. Follow trending topics