Katrina Kaif on working with Salman Khan in Bharat: 'We don't take work for granted'
Updated on Apr 25, 2019 08:58 PM IST
Katrina Kaif and Salman Khan have together in films like Ek Tha Tiger, Maine Pyaar Kyu Kiya and more. In this interview, she talk about what makes working with him special.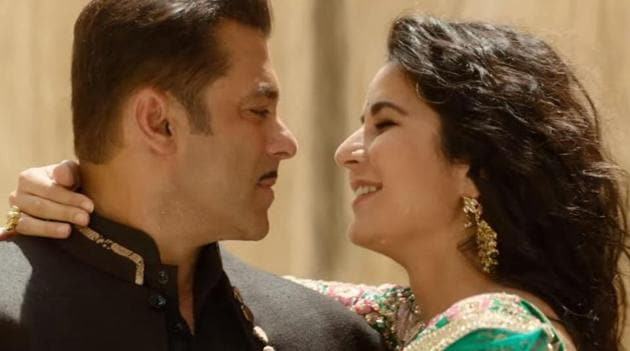 Hindustan Times, New Delhi |
Pinkvilla
Katrina Kaif might have been working in the industry for over 15 years, but there's been a huge shift in her choices in the last one year. It's not the same Kat anymore - she's more focused and hungry to do great work. There's also a huge change in the way she looks at things in the last two years, she admits as we meet her for brief chat. The trailer of Bharat, which released three days ago, has received a thundering response from the audience but it's Katrina Kaif who has turned out to be a scene stealer. Her dialogue delivery has improved and there's a gradual rise in her prowess. Tell her that and she flashes the million dollar smile. On that note, we begin our conversation where she not only discusses her role in Bharat but also reveals what suddenly changed within her. Over to her...
You were immensely praised for your performance in Zero. Now, even for Bharat, you have been receiving a positive response. How do you see the change in audience's perception towards you?
It's amazing actually. I believe every actor needs this affirmation from the audience. This is the most inspiring phase of work that I have ever been in. I am inspired to work harder each day. I'm finding a lot of assertion on this whole journey of Bharat. I have really enjoyed playing the character here. Even in Zero, I loved the whole process of film-making. I don't know but I'm getting different and newer ways to connect and bring more to what I'm trying to do at work now.
Also read: EXCLUSIVE | Salman Khan Mobile Phone Row- A detailed account of what happened in Mumbai
A lot of people feel something has suddenly changed in you. Is there any change internally?
It's something which doesn't change overnight, but instead, it's a slow change when you start to focus more on perhaps what you're doing and understand yourself a little better. A little more internalisation really helps - it helped me understand who I am, the way I want to function, where I am when work is concerned, and if this is what I am going to be doing. Do I really need to leave a part of me on-screen? I don't think this work is entirely representative of who I am, and now, I have to start bringing who I am to my work. It doesn't mean that I have to influence or change the characters I play. I would do them as is on paper. But now, I need to bring myself a little more. And who I am today is not who I was four years back. I'm not the same person. So that's possibly the change everyone's noticing in me.
There was a time when people felt you have an issue with the diction. But everyone's loving your dialogue in the trailer.
I have always worked with extreme passion and dedication. I'd work on things doubly hard if I can sense the audience isn't liking it that way. I have been very focused all throughout my career. But in my last two films (Bharat and Zero), I decided that if this isn't enough, I'm going to put in more time and effort into bettering what I'm already doing. I just put in a lot more hours continuously for these two projects. There's no other fancy way of putting it. I also believe if you are going to put in those many hours, you will definitely see the results.
Years ago, a choreographer had said you are not a great dancer. Today, you are the best we have. Is there an inherent urge of proving critics wrong?
(Smiles) Yes, I do feel that's there inherently in me. I think we, as people, accept too many opinions. We are so logical about everything else, but then, when it comes to opinions, our brains go out of the window and we lose all of that. We feel achha they said I can't do it so I possibly can't. It's so easy to make another person they are boxed in. It's the easiest to get someone else to think they can only do a particular thing. It's the same with me even today. After so many years of being in this business, I still get affected. One day, I realised this that one person, two people or even a hundred people's opinions doesn't make things a fact. And sometimes, even if they are a fact at that point, like you told me about my diction, it's not an unchangeable fact. So, I just think you should be careful of allowing anyone to tell you what you can or cannot do. That, we have to decide for ourselves. We are not going to be perfect in everything we do. I'm not flawless. But I'm also very clear now what I want to achieve when I'm getting into something. When that is the space you are in, you can be very sure that I'll put everything I can in my power to achieve it.
Bollywood has always been about actor-director pairs. All the films you have done with Ali Abbas Zafar have brought a different side of yours to the screen.
Definitely, he is one of those directors who bring out the best in me. When you ask me about the changes that people are noticing in me, the primary reason for that is the character that I'm playing. Ali writes interesting roles for me and I'm super fortunate to have characters like the ones in Zero and Bharat. Although I wasn't Ali's first choice and it was Priyanka (Chopra), I'm happy it has come to me. When I read the character of Kumud, I felt there's so much I can do in it and I wanted to immerse myself completely into it. I just hope that I keep getting to play such exciting characters which have enough meat in them.
How has your equation with Salman changed over the years, especially now because he's also picking different subjects?
The best thing about me and Salman coming together to work is that there's no sense of us taking it for granted. We don't go to the sets thinking, 'dekhte hai'. He knows that I'm going to come after putting 1000% of my time and effort behind finding the character, doing my prep. He has that confidence in me and I know when he comes, he's going to come up with something unique. However, well, I know him or whatever our equation is, when we come on a set, we both come respecting that this is the producer and director's place and not a playground. It's not about fun and games but a professional territory. We come and we do our scenes and rehearsals. That's how we work well together. There's no sense of taking anything easy or for granted. Also, we both have the same mindset when it comes to work. There's no discount from the audience. They aren't ready to give you that leeway anymore. You have to bring your heart and soul to a film. Sometimes, the audiences are a lot more forgiving and gentle when you're starting out. Now, there's a certain responsibility on us to deliver something of a certain standard to our audience. We both feel that.
Follow @htshowbiz for more
Personalise your news feed. Follow trending topics