Madhuri Dixit chased Aamir Khan with a hockey stick once. He deserved it
The 49-year-old actress, who played Aamir's love interest in the movie, shared about the naughtiest thing she has done ever on a Twitter Q&A session with fans
bollywood
Updated: Jun 01, 2016 13:30 IST
Madhuri Dixit Nene has revealed that she once chased Aamir Khan with a hockey stick for playing a prank on her on the sets of 1990 hit Dil.
The 49-year-old actress, who played Aamir's love interest in the movie, shared about the naughtiest thing she has done ever on a Twitter Q&A session with fans.
.@aditi_meena #askMadhuri pic.twitter.com/B3ujGzF6en

— Madhuri Dixit-Nene (@MadhuriDixit) May 31, 2016
"I have done is chased Aaamir Khan with a hockey stick on my sets of Dil because he played a prank on me. This is the naughtiest thing I have done," she said.
Read: Picture abhi baaki hai, I still have a lot to do, says Madhuri Dixit
Madhuri and Aamir in a still from Dil. (Ultra)
Madhuri started her career with 1984 film Abodh opposite Bengali actor Tapas Paul. After delivering a string of consecutive flops, the actress finally attained stardom with N Chandra's romantic thriller Tezaab followed by Ram Lakhan, Parinda among others.
She was last seen in crime drama Gulaab Gang in 2014.
When a fan asked who inspired her as an actor, Madhuri did not take any particular name.
.@ErineyAlfonse21 #askMadhuri pic.twitter.com/lqoMnOmkC4

— Madhuri Dixit-Nene (@MadhuriDixit) May 31, 2016
"There are lots of actor and actresses, who have inspired me. Whenever I see a good performance, it inspires me to perform better. So, I cannot say one particular actor but I can say good performances, which I have seen over the years till today even the youngsters, can aspire me."
Read: Definition of freedom is to have choices, says Madhuri Dixit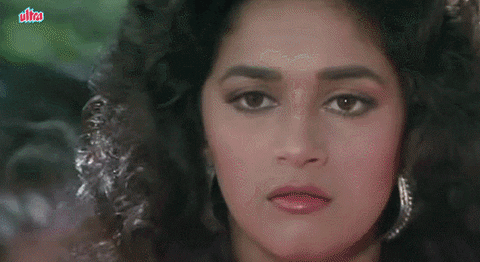 First Published: Jun 01, 2016 13:29 IST