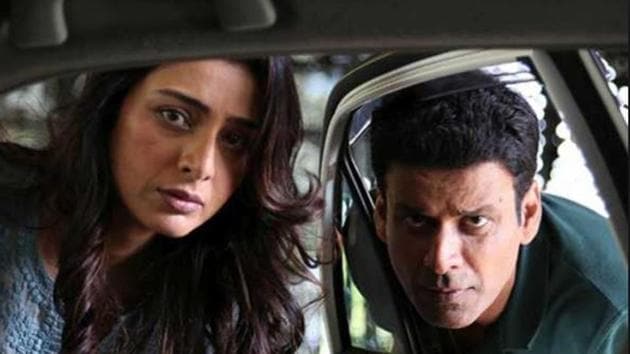 Maybe none of them is a culprit: Manoj Bajpayee reveals why there is a limited promotional drive for Missing
Missing, directed by Mukul Abhyankar, is a murder mystery involving three characters, played by Manoj Bajpayee, Tabu and Annu Kapoor.
UPDATED ON APR 05, 2018 01:29 PM IST
Director Mukul Abhyankar's Missing marks Manoj Bajpayee and Tabu's return in a film together after 18 years; they were last seen together in Ghaat (2008). Manoj Bajpayee says Tabu is one of his closest friends in the industry. "We are like buddies. We ensure that we talk once in a week. We seek each other's advice in professional matters. I give her a call whenever I want to have 'biriyani'. We have this freedom of taking each other for granted," said Manoj Bajpayee.
Missing, which is a murder mystery, also has Annu Kapoor in an important role. Manoj says, "Tabu's reputation as an actor is unquestionable. Every actor looks up to her for inspiration. Similarly, Annu Kapoor has inspired a generation. I had to be on my toes to match up to them. Actors of their calibre are always thinking about something, their mind is always rushing. So, you're taking their input seriously."
Read: Baaghi 2 movie review: Goa bears Tiger Shroff's wrath and so do we
However, the makers of the film opted for a no-promotion strategy. Manoj says it's to ensure a spoiler-free viewing for the audience. He says, "We kept our media interaction very limited because we didn't want to reveal much about her film. We don't want anybody to guess. Something is unfolding in the film till the last frame."
He adds, "Maybe none of them is culprit. If you realise then we released our first trailer only a week back. We had a release date, we were in talks with the distributors and exhibitors, still we went for such a promotional strategy to keep the audience hooked."
Read: Hichki movie review: Rani Mukerji's well-intentioned film could have been so much more
But can he really be sure of keeping the film's twist a secret even after the first show? He shows faith in the media, "See, critics didn't spoil Ittefaq by revealing the suspense. When you want your friends to watch the film then you write carefully. About Missing too, I am sure they will not reveal anything."
He praises the debutant director as well. "The director is a fantastic writer as well. You have respect for his talent. Maybe this guy knows better than you," says Manoj.
Missing will hit the screens on April 6, 2018.
Interact with Rohit Vats at Twitter/@nawabjha

Close