Neha Dhupia's daughter Mehr sleeps peacefully as grandfather Bishan Singh Bedi shares first pic
Nov 21, 2018 08:55 AM IST
Mehr Dhupia Bedi, daughter of actors Neha Dhupia and Angad Bedi, was born on Sunday at a Women's Hospital in Mumbai.
Neha Dhupia gave birth to a baby girl on Sunday, and expectedly, the Bedi and Dhupia households are delighted. While the proud parents shared the name of the little one on social media, paternal grandfather, the legendary spinner Bishan Singh Bedi, tweeted the first picture showing his granddaughter's face.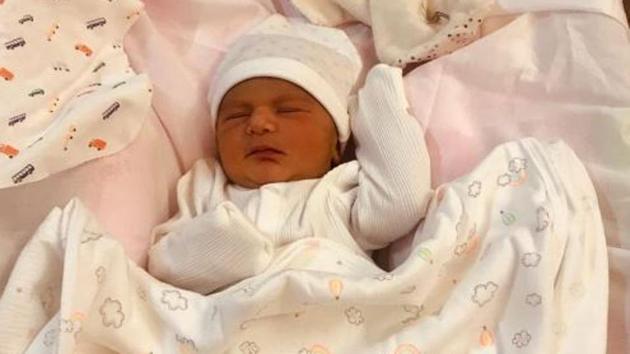 He wrote, "U Little Beauty MEHR..another Lifeline for Grandparents...Both Maternal & Paternal..Aren't we Blessed..?!! Yes All of it by Guru's MEHR Only..GodBless Little One..Welcome to this Journey..Ordained by Almighty WaheGuru..!!"
Mehr Dhupia Bedi, who was born at Women's Hospital in Mumbai on Sunday, could be seen sleeping in her crib, all wrapped in woollens.
Earlier, Neha had shared the first glimpse of the baby, but not of her face. The picture showed only her feet. She had pair of socks on and on them was written: Hello World.
On Monday, Angad Bedi had given a health update on the mother and child. He had written: "The last two days have been very overwhelming. @NehaDhupia and me have been blessed with a beautiful baby girl .Thank you all for your wishes and love that is coming our way. Both my girls are doing really well...."
Neha and Angad surprised all when they had a hush-hush wedding in May this year. Later, in August this year, they revealed that they were expecting a baby. Sharing the news, Angad had written on Instagram: "Ha! Turns out this rumor is true.. #3ofus #satnamwaheguru."
Appearing on the his wife's popular podcast, No Filter Neha, days before the birth of Mehr, Angad had revealed how his in-laws were livid when they came to know that Neha was with child when they announced their decision to get married.
Follow @htshowbiz for more