Sadak 2 teaser: On Mahesh Bhatt's 70th birthday, Alia Bhatt and Pooja Bhatt get the greatest present
Sep 20, 2018 03:54 PM IST
Alia Bhatt announced Sadak 2 on father Mahesh Bhatt's 70th birthday. The film will have Pooja Bhatt, Sanjay Dutt and Aditya Roy Kapur in a leading role along with Alia.
Almost two decades after he bid direction adieu, Mahesh Bhatt confirmed on his 70th birthday that he will be helming Sadak 2, a sequel of the 1991 superhit, which will star daughters Alia Bhatt and Pooja Bhatt. The film will have Sanjay Dutt and Aditya Roy Kapur as the male leads. The Sadak 2 teaser was revealed by Alia on Mahesh Bhatt's 70th birthday.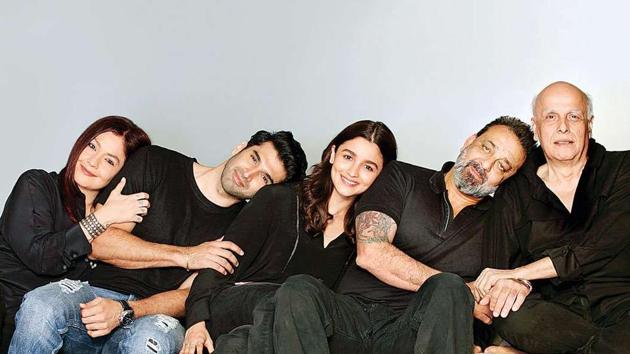 Alia wrote on Instagram, "On your 70th Birthday you have given me the greatest present I could ask and dream for. You are directing me! Sadak 2 is a dream come true.. What I thought will never be possible you have made possible. Thank you daddy from the bottom of my heart, soul and bones.This will be a journey of discovery.. Of life, movies, feeling and most of all.. Of a father and daughter. I love you my not-so-old man! Happy Birthday."
The clip teasing Sadak 2 begins with a few scenes from the 1991 superhit starring Pooja and Sanjay and then segues into the announcement of the new film.
Mahesh himself wrote about returning to direction after almost 19 years. "Life has no full stops. Just when I thought it was autumn, another spring arrives out of nowhere. I feel like a volcano that is about to explode again . There is no end, there is no beginning, there is only this never ending passionate flow of life," he tweeted.
Talking to Hindustan Times, Mahesh spoke about casting Alia in Sadak 2, "It was Sanju (Sanjay Dutt), Mukesh and Pooja, who suggested that it (Sadak 2) should be narrated to Alia but we hadn't considered her while writing the script. Alia is a difficult cookie to crack because she only responds with her heart; she's very clear about whether she wants to embrace it wholeheartedly or say no. Honestly, she doesn't have to say yes and prove anything vis-à-vis our relationship; I also wouldn't belittle our relationship by putting this burden on her. We gave a full narration to her and by the end of it; she was left shaking and crying. That was one hell of a triumph."
Pooja, who played a girl being forced into sex trade in Sadak, also tweeted, "And he's back!To breathe new life into our souls & to breathe more soul into our lives.I thought b'days were about receiving presents Pops & there you go and turn that on it's head by giving us a gift instead-the gift of Sadak2 & the privilege of being directed by you. Shukriya!"
Sanjay Dutt also wished Mahesh on his birthday and wrote, "Thank you for giving me #Sadak bhatt saab. Wish you a very Happy Birthday. I love you! Proud to take this journey with you again @MaheshNBhatt & @PoojaB1972. #Sadak2 on 25th March 2020. Looking forward to working with @aliaa08 & #AdityaRoyKapoor."
The announcement is truly important as it brings back Mahesh in the director's chair years after he announced his retirement. Also, daughter Alia is playing at the top of her prowess right now. It is also a collaboration with Pooja who chose direction over acting more than a decade back.
The film will release on March 25, 2020.