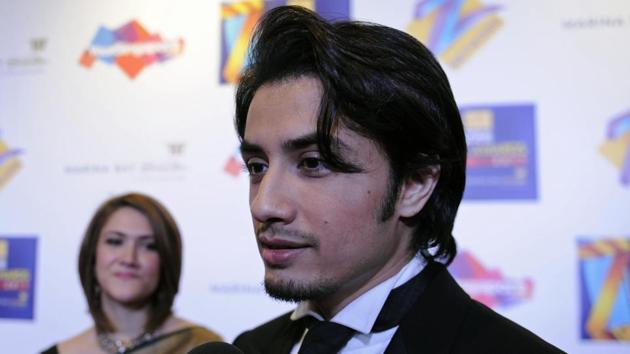 Sexual misconduct allegations against Ali Zafar meaningless, says Aqsa Ali
Ali Zafar was accused by some women of sexual misconduct. The singer said that he will see them in the court.
Indo Asian News Service | By Indo Asian News Service
UPDATED ON MAY 04, 2018 02:26 PM IST
Pakistani model-singer Aqsa Ali was surprised at the sexual assault allegations made by another Pakistani singer against Ali Zafar. She finds these allegations absurd. Defending Ali, she says he is a genuine person and treats everyone around him with respect and honour.
Ali has categorically denied all such claims, saying he will take the legal route to resolve the matter. Aqsa has come to his defence. "It took me by surprise, because apparently both of them are friends and they know each other from their university days. I myself am from the fashion industry and I have been working as a model. Now I am following my passion to be a singer as well. I don't think these allegations make any sense, there are so many loopholes in them. I am all in for women empowerment but at least things should make some sense," Aqsa told IANS in an email interview from Lahore.
Read: 102 Not Out movie review: It's all about Amitabh Bachchan, Rishi Kapoor's acting
Aqsa said, "When I read about ****** telling the world that Ali harassed her at a jam session, I did not want to stay quiet as I was there as well with everyone else in the band. Her manager and the event manager were there as well. I was astonished, as nothing happened at all! We all have pictures, and we all were sitting together. It was a great jam session, everything was great -- we also performed in Islamabad after the jam and all went really well."
She says, "It is a serious matter, and we must be really clear on everything and not make it sensational announcing your accusations on social media."
Aqsa has known Ali on a professional level. "I have been working with Ali for a few years and been travelling with him for concerts as well. It's always been a great experience. The exposure, the love and the learning are unconditional. I feel very comfortable while working with him and I always learn something new," said Aqsa, one of Ali's band members.
She described Ali as a genuine person, who treats people around him nicely. "I don't think there's any basis to these allegations, they are pretty empty and meaningless for me. I also don't think it is right to attack me for speaking up and telling the truth of what I witnessed -- lots of ******* supporters tore down my witness testimony by saying 'Oh, it doesn't count as she is Ali's band member...' or 'she was asked to write this'. My message to those ladies is simple: Don't tear one woman to show your support to another woman. That is really not empowerment for me."
Read: October movie review: Varun Dhawan powers Shoojit Sircar's soulful film
She feels ****** has misused a very noble #MeToo movement -- which came into existence with an intention to raise awareness about sexual harassment. "#MeToo is a great platform. ****** attitude is known in the entertainment industry and I don't think she really needs the #MeToo movement. She has a voice already and has never been scared to use it on anyone. I can't comment on why she did this, but for me she misused #MeToo."
She has a word of advice for *******. "#MeToo is a strong movement but I think it may be much better for the American and European people. Yes, it is to empower women, but with great power comes great responsibility... We should be clear on the allegations before putting up this hashtag. If we want justice and want to empower the world, then we should understand the responsibility of every life being affected by our words too."
(This story has been published from a wire agency feed without modifications to the text. Only the headline has been changed.)

Close