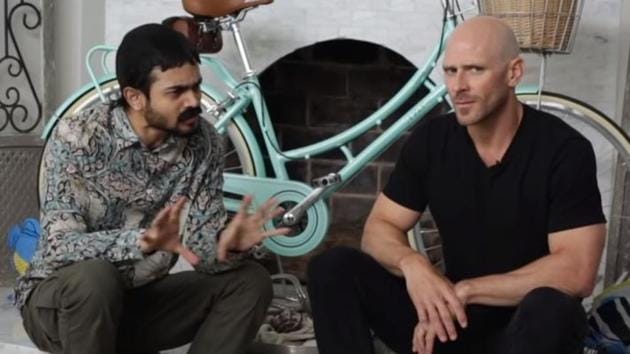 "Tune mujhe roast karna hai toh kar": What Johnny Sins said to Bhuvan Bam
YouTube sensation Bhuvan Bam recently collaborated with international adult film actor Johnny Sins, and sent the internet in a tizzy. Here's how he managed the feat.
UPDATED ON MAR 28, 2019 11:12 AM IST
YouTuber and singer Bhuvan Bam needs no introduction. The 24-year old internet sensation is bagging all the popular category awards, launching episodes with all the top actors, releasing songs one after the other and signing short films (meant for web). In December last year, he achieved the feat of having Shah Rukh Khan on his show, Titu Talks. The video has crossed 16 million views on his YouTube channel, beating his own previous records. "I wrote this concept about a year back and SRK was very sporting. We wanted to set an example ki lo bhaiyya, duniya ka sabse bada actor aa ke apne pe joke le raha hai, usse badi baat kya hogi," he says.
And now, he shot the second episode with international adult film actor Johnny Sins. "I am very excited. Mujhe duniya bhar se bande chahiye apne channel pe (I want people from world over on my channel). The thrill to collaborate with those personalities who are beyond anyone's imagination is something else. Before the episode with Johnny Sins, I had asked my followers to guess who the next guest would be, but nobody could guess it right," he says, adding, "He and I friends for a year now. He had tweeted something about wanting to translate his videos in Hindi. So I replied with something funny and it became a viral meme. So he messaged me on Twitter and then he put that tweet on his Youtube channel. He messaged me saying, "please help me connect with someone to translate my videos." And after that episode with Shah Rukh Khan (he was promoting his film, Zero at the time), I texted him."
With a porn star on his show that spans an audience of preteens, teens and adults, did he have any apprehension vis-a-vis their reaction? His answer is as candid as his personality. "Bilkul bhi nahi. Because I haven't shown anything explicit in the video. Buss voh banda hai jo uss industry se hai. And people are really keen to know ki vahaan hota kya hai. The questions that I have posed to him the episode are all genuine queries..ki inki videos mein logic kyu nahi hota, yeh itna overact kyu karte hain," he says. And to match this vibe, even Sins played along. "He was pretty chill. He said mujhe script se koi lena dena nahi hai, tune mujhe roast karna hai toh kar. Keh raha tha buss mujhe itna bataa de ki mere ko kya bolna hai. He knows yahaan bahut zyada audience hai unko dekhne vali. (Johnny Sins said he didn't want any script and was okay if I roasted him. All he asked was what I wanted him to say. He is aware that he has a huge fan base here.)," Bam shares.
+ +
Bam, who expanded the character of Titu Mama and gave him a show of his own, says that he is planning more specials around him. "People in the age bracket of 18-45 relate to Mama and like him a lot," he says.
With this fame and fan following, there's also backlash from some quarters, and he says with pride that it takes a lot of hard work to reach where he has reached. "For those who say ki teri toh kismat khul gayi, I say, par uski chabi aisi hi thodi padi rehti hai neeche. Voh dhoondni padhti hai, aur usme time lagta hai. Not that kismat doesn't play a role, but it's very important to be at the right place at the right time.
He may be a hero for millions of fans, but even he has his fanboy moments. In February, he met French football coach, Thierry Henry. "I had gone to see the NBA All Stars in Charlotte, USA and it was there that I met Thierry Henry. It was a total fanboy moment for me. I have been following him from his Arsenal (football club) days. We chit-chatted for a brief moment, but vohi mere liye bahut tha," he says.
+ +
His fans often ask him his mantra for success and he never shies from giving them advice. With the exam season, what would he like to tell the students, especially those sitting for their boards? "For the kids, I would like to say that one board exam cannot determine your career. For the parents, don't compare your child to someone else's because what your child can do, no one else can do. There's a lot of stress, but three-four years down the line, you would look back and think, "arrey! main iske liye tension le raha tha?" Kyuki abhi toh tension shuru bhi nahi hui hai. Aap college ke baad jab nikloge tab aapko pata chalega ki the struggle is real.
What can his fans expect from him in the future? "We are planning city-wise tours. A new episode of BB ki Vines will also be out soon. A few short films are in the pipeline," he says.
Interact with Etti Bali @TheBalinian
Close