With Ranbir Kapoor's Sanju missing these important details of Sanjay Dutt's life, is it really a biopic?
Sanju spends a lot of time in establishing drugs' bad effects on him, and refrains from showing some key people in his life.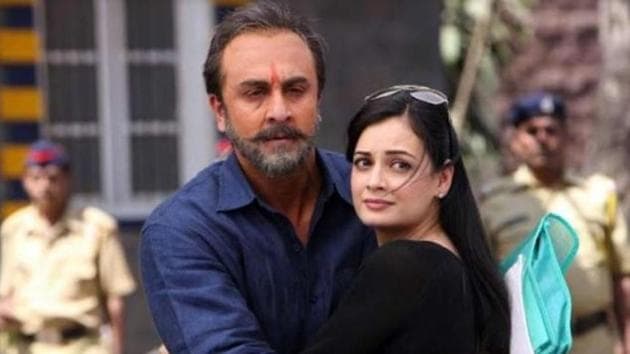 Updated on Jul 07, 2018 09:41 AM IST
Sanju, a biopic on controversial Bollywood star Sanjay Dutt, has stirred quite a storm at the box office. The film has already crossed the Rs 200-crore mark in the first week. In fact, it has become the fifth biggest opening film in Bollywood till date. The other four films are Dangal, Sultan, Baahubali and Tiger Zinda Hai, in that order. It is a record of sorts for the film's star, Ranbir Kapoor and another superhit in the long line of superhits delivered by Rajkumar Hirani.
This tremendous performance suggests that Sanju may end up as one of the highest grossing films India has ever seen. With no other big film hitting the screen before July 13, Sanju technically has a free run at the ticket window. Such a scenario will only improve its position in the long run.
However, this has not stopped the critics of Sanju from pointing out the absence of key people of Sanjay's life from the film. And this list is not confined to only his close friend Salman Khan and alleged former girlfriend Madhuri Dixit. There are other important people from Sanjay's life that have not found any mention in the film.
Watch: Sanju movie review
One such person is Tina Munim, the heroine of Sanjay's debut movie Rocky. Theirs was a hugely publicised affair. While the stars themselves never confirmed it, most of the country's glossy magazines wrote about them. Sanju even shows Ranbir Kapoor, who plays Sanjay Dutt, shooting for Rocky, but there is no heroine. It's a shooting scene in which Ranbir is only reacting while looking at the camera, there isn't any female lead across him.
In his book Khullam Khulla, Rishi Kapoor writes how Sanjay wanted to beat him up once. In the book, Gulshan Grover says, "Sanju was having an affair with Tina Munim at the time, and he thought that Chintu (as Rishi is referred to by his friends) was having one with her too. Sanju and I were like brothers, and he told me one day, 'We have to go to Chintu's house and beat him up'. We went to do that, but his fiancée Neetuji managed to convince us that Chintu was not in any such relationship. So we left."
Not only Tina Munim, Sanju doesn't feature Sanjay Gupta either. With Gupta, Sanjay Dutt has worked in films like Aatish, Jung, Khauff, Kaante, Musafir, Plan and Zinda. Their association started in 1994 and continued till 2006. They had a fall-out after that.
Gupta was the director who was with Sanjay through the time when he was struggling to get back to his feet amid cases related to Mumbai bomb blasts.
Sanjay's short but important stint with the Samajwadi Party has also been left out from the film. He used to be really close to politician Amar Singh then.
With so many important chapters missing from Sanju, can it be called an all inclusive biopic?
Follow @htshowbiz for more
Close Story