India's problem with Pakistan: History of partition, right-wing radicalisation
Updated on Jan 29, 2018 11:53 AM IST
A discussion on South Asia at the Jaipur Literature Festival concluded that SAARC could move forward only if Pakistan and India resolved their differences.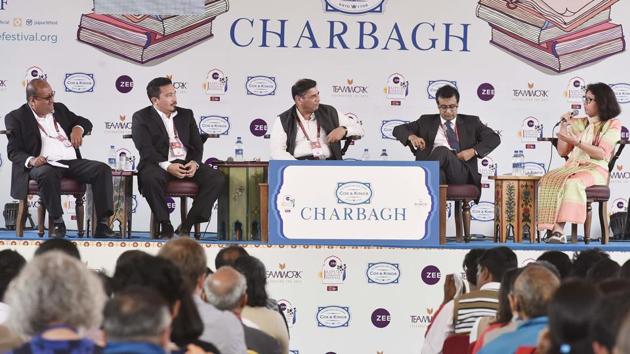 "Why isn't South Asia like South East Asia? Why has the Association of Southeast Asian Nations (ASEAN) done so much better than the South Asian Association of Regional Cooperation (SAARC)?" questioned TCA Raghavan, author and a former Indian High Commissioner to Singapore and Pakistan, thus setting the mood for the discussion on The People Next Door. The session on the socio-economic-political condition in South Asia featured doctor, writer and human rights activist Ma Thida from Myanmar, Nepali author and business leader Sujeev Shakya, Bhutanese journalist Tenzing Lamsang, and journalist Praveen Swami. Rather bizarrely, writer and banker Ishrat Husain, who was to put forth the Pakistani view, did not turn up for the discussion. Indeed, the absence of the former governor of the State Bank of Pakistan wasn't mentioned at all.
For Jaipur Literature Festival full coverage, click here
With two south Asian countries – Nepal and Bhutan – having recently held elections, the conversation automatically turned to poll agendas, to whether relations with India were a factor, and to the impact of the elections on the relations between the countries. "India is the big player in South Asian politics. Its smallest actions will impact its neighbours. So it becomes a factor in elections. But it is not the main factor. Regional issues are the main factors in these elections," explained Lamsang, who studied and worked in India, before returning to Bhutan.
While the panellists spoke about the need for each country to know more about the other, Thida pronounced that much more people-to-people contract was needed and that literature could help in this. Swami believes there was almost no real cultivation of serious knowledge in universities and think-tanks (about other countries). While there are rants against Pakistan on television, "you don't really come across serious analysis and serious commentary on what is going on. Yes, we all talk about the terrorist threat from Pakistan, but do we really talk about the consequences of a nuclear weapons state?"
Swami said South Asia hadn't learnt the right lessons from ASEAN. In all the countries of the region, a large percentage of the population is now below 25. "Any demographic historian will tell you, the periods when you have a large number of young people… it has been associated with tremendous political instability," he said. Unlike the ASEAN countries, India and her neighbours had failed to create jobs for this young population. "What the ASEAN countries got right was not that they were authoritarian or despotic, but they created a powerful state that was able to deliver education, public health and an educated competent work force," he said.
Any discussion on south Asian politics and diplomacy must have uneasy Indo-Pak relations at its core. Lamsang turned to this point as the discussion moved to the future of SAARC countries. "I took two cab rides while I've been in Jaipur. While making conversation with the drivers, both started saying things about Muslims. So I think your problem with Pakistan is a domestic problem because of the history of Partition and now with right-wing radicalisation. And you have a huge Muslim population. No country can move forward if there are such issues," he said. "On the external front, if Pakistan and India can resolve their differences the possibilities are limitless. SAARC can move forward, everything else can move forward," he added.
Follow @htlifeandstyle for more