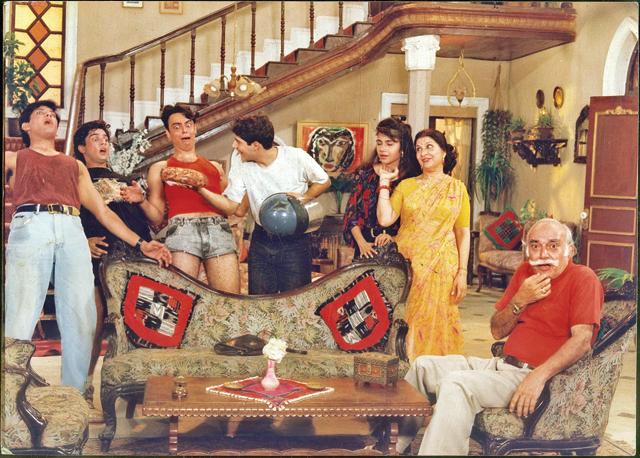 My own family was the inspiration behind Dekh Bhai Dekh: Anand Mahendroo
Anand Mahendroo talks about Dekh Bhai Dekh and the reasons why it resonated with the audience.
UPDATED ON JAN 14, 2016 11:09 AM IST
What was the inspiration behind Dekh Bhai Dekh? How did it all happen?
The inspiration was my own family. I grew up in a very similar household. Farida Jalal's character was like my mother, Navin Nischol's character was like my elder brother.
Jaya Bachchan was a friend and one day she dropped in at my office. She said, "We're starting a channel in the UK. So I want you to do a comedy for me." I agreed, shot a pilot and showed it to her. She loved it and that was it!
How do you explain the show's appeal?
Based on the feedback I've gathered over the last 22 years, I realise there were a couple of things that made it resonate with the audience.
First, the show had the basic concept of a quirky family. You have a mother, but she has a fun streak and the same applied to the dadi. Luckily we had a brilliant cast. The writing was brilliant too, and the credit for that goes to Lilliput (MM Faruqui). And we had multi-cameras. People hadn't seen such high production values before that.
Where do you think Indian TV went wrong after the early wave in the 90s?
On Doordarshan, at the time of the Asian Games, the focus was on quality, not on numbers. Television, at that point, was being watched by doctors, lawyers, educators, and journalists. Then came Zee, Sony, DD Metro, which meant competition. Slowly, satellite TV increased its reach into rural areas. But 2000 was a defining year when they introduced regressive shows that became hits.
Advertising agencies and channel owners decided that khadde mei jaane do padhe-likhe logon ko. We have a more loyal audience, including the women of the house who have more time for TV. So our TV became more and more dumb and regressive. You have aunties wearing jewellery as if they have not one, but 10 weddings to go to, though the scene demands that they've just woken up.
Some of these serials were pioneers in depicting kitchen politics. But people took it further to zeher daalna, dhokha dena, behosh kar dena. And then elements of fantasy started getting mixed with regular soap operas. Now you have daayans and naagins.
According to [TV rating agency] BARC, 51 per cent of TV viewership is in rural India. When we were doing TV, we were connected to only four metros and 12 satellite towns.
From HT Brunch, January 10, 2016
Follow us on twitter.com/HTBrunch
Connect with us on facebook.com/hindustantimesbrunch
Close