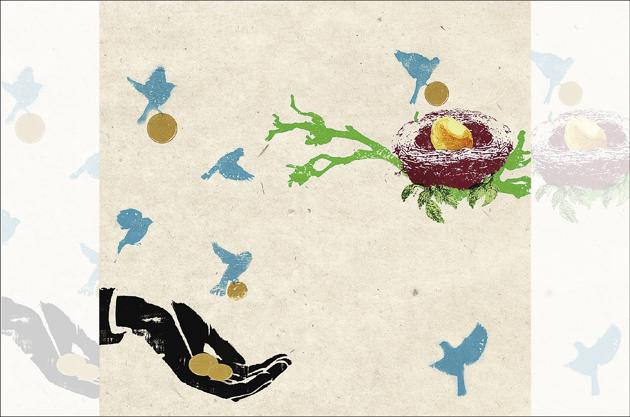 The importance of making the right retirement plan
Where will you head when retirement beckons?
By Seema Goswami
PUBLISHED ON MAY 06, 2017 08:38 PM IST
My cousin is on a bit of a high these days. Both literally and metaphorically. Her dream house in the mountains, with a spectacular view from every window, is finally coming together. The woodwork is done, the plumbing works, the furniture is in place, the curtains have been hung and the kitchen is on its way to being fully functional.
This is where she intends to retire when her work is finally done. Living blissfully among the clouds, breathing the fresh mountain air, cooking the vegetables she grows in her own back garden, going for long walks, spending endless afternoons reading and drinking green tea.
It sounds like an idyllic retirement, doesn't it? Well, I guess it does to most people. But when she showed me the pictures of the house and the view – both amazingly beautiful – and told me of her plan, the first thought that popped into my head was: "Where is the nearest hospital?"
No, of course, I didn't actually say that out loud. That's not the kind of thing you say when someone you love announces the fulfilment of the dream of a lifetime. Stamping down on that voice in my head, I went through all the pictures and told her how spectacular it looked – and it truly did.
But all the while I was making the right noises I was thinking about logistics. How long it would take to get to a doctor? How she would negotiate the steep climb up if – well okay, when – her knees went?
Instead of voicing these concerns, however, I restricted myself to encouraging her to persuade her sister and brother-in-law (both doctors) to buy a house nearby so that they could serve the tiny community's medical needs.
Yes, I know, I sound like a complete nutcase. But the truth is that when I think of my own retirement plans, the one thing that takes precedence over all else is the proximity of medical facilities. I would never dream of moving to a faraway village in the hills, no matter how lovely, if I wasn't sure that there was a good hospital a short ambulance ride away.
The other thing that I am obsessed about is having a single-level house. I have done my share of duplex living, trudging up and down from bedroom to living room and back again. But as my knees begin to twinge every time I walk down a staircase and my heart rate goes up when I walk back up, I have come to realise that I can't keep this up for long. In another two decades I will need a living space that allows me to shuffle slowly from one room to another, without negotiating any steps along the way.
And where would I like this home to be located? Well, having being born and bred in one big city and lived in several others, I know that country pleasures are not for me. Don't get me wrong. I enjoy a trip to the beach as much as the next person. I love to take a break in the mountains when the heat in the plains gets too much. I read, I sleep, I take long walks, I revel in the natural beauty, I unwind, I detox, I de-stress. I slow my life down, tune out the static so that I can hear myself think. I get in touch with myself.
But after a week of this enforced calm, I start to get itchy. The quiet seems to weigh heavy upon me. I start to miss the energy and excitement of the big city. I begin to long for a visit to the cinema, a quick trip to the shops, eating out at my favourite restaurants, meeting up with friends, catching an exhibition, attending a music recital, or just sitting at a coffee shop, sipping an excellent cappuccino and watching the world go by.
All of which leads me to believe that I would not enjoy a retirement spent in the mountains or beside a beach. The truth is that I only ever feel truly alive while living in a big city. A city that keeps me engaged through night and day, through the seasons, and indeed, through the years.
A city where there are enough public spaces where I can spend an hour or two with friends, with a good book, or even by myself. A city dotted with museums and monuments, where you can drop by when you want a sense of the past that shapes our present. A city that hosts everything from plays, art exhibitions, musical evenings to seminars and international conferences, to keep your brain stimulated in the best possible way. A city with enough beautiful green areas so that taking a walk doesn't seem like drudgery. A city that is safe enough for a single woman to negotiate on her own, no matter how late she is getting back home.
At the moment, the city that best fits the bill is Delhi – with its verdant Lodhi Garden, its amazing monuments like Purana Qila and Humayun's Tomb, and the full menu of programmes at such venues as India International Centre and Habitat Centre. The only area where it falls short is on women's safety. But with luck, by the time I am old and doddering, that problem will be sorted out.
Until then, I live on a hope and a prayer in my one-level apartment, a stone's throw away from the All India Institute of Medical Sciences (AIIMS). And take comfort in the fact that at least medical help is only a (very) short ambulance ride away.
From HT Brunch, May 7, 2017
Follow us on twitter.com/HTBrunch
Connect with us on facebook.com/hindustantimesbrunch
Close