There's something about Mother Mary
The world's favourite mother comforts even the sceptics among us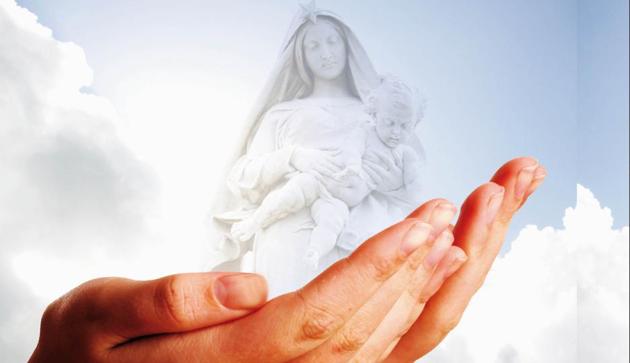 Updated on Sep 01, 2018 10:23 PM IST
Hindustan Times |
Rehana Munir
A strange thing happened the other night. I found myself standing at the feet of Mother Mary. The marble statue that chose me lives atop the dual staircase of the oratory that faces the Mount Mary Basilica in Bandra. I think it was the toes. For all the flowing robes and spiritual aura, I could see her standing on fragile feet like all of us. It is the custom of believers to see divinity in the human. We atheists often find ourselves struck by the humanity in the divine.
A tale of two Marys
If you've ever studied at a convent school, you will probably spend your life hailing Mary and her grace, willingly or not. Like so many students branded "non-Catholic" by the nuns in charge, I, too, was lumped with the Shaikhs and Sharmas into the Moral Science (later branded Value Education) class. The Catholics (as they were called, irrespective of their actual denomination) went to Religion class. Then there were the Bible and Catechism classes. All this fuss seemed so special to me. Who wanted plain old values when you could have magical stories?
A "non-Catholic" friend went so far as to install a statue of Mary among the idols of Laxmi and Ganpati in her mother's temple at home. "You have all your gods up there. Why can't I have mine?" she argued. As a Muslim-born rationalist, I still have two Marys firmly entrenched in my life. My younger sister was christened Mariah Mariam in a move typical of my atypical family. She's turned out to be quite contrary, too, I'm happy to report. Then there's my Goan cook, the Rani of Biryani, Maria. The other day I foisted a few different versions of Ave Maria on her as she stirred a pot of choris, unimpressed. Not a yes-woman, our Maria.
Queen of September
Another striking memory from the school years also concerns Madonna Sr. September 8 is traditionally celebrated as the feast of Mother Mary. The Sunday after that day, the Mount Mary fair commences. For us '80s kids, it was a desi Disneyworld, with the ferris wheel in the Mount Carmel compound being the centre of attraction. All along the streets that now boast swank cafés, we'd scramble for plastic stools at seekh kebab stalls. Aam papad, chana, matka piggy banks – these were our prized loot. One kindly teacher – Maryann Pereira – would take her sixth standard class to the fair every year. A teacher taking her class to the Bandra fair! I still can't think of anything more fun.
Then there were the nativity plays around Christmas time. We'd have the most beatific-looking girls in school cast in the all-important role. White and blue robes would be brought out of storage, a tall girl would stand in for Joseph (in a kajal moustache, melting away under the cellophane stage lights). Those were the days when height determined almost all casting choices. The redoubtable Teacher Susan would play the piano euphorically as Mary tried to control the giggles that came on at the unholiest of times.
Let it be
When I find myself in times of trouble, I listen to The Beatles. And they channelled Mary in one of the most memorable melodies of all time. The world is undoing itself with such alarming rapidity that 'Let it be' hardly seems an apt response. And yet when I hear McCartney sing there will be an answer, I allow myself to be comforted. Humko maloom hai jannat ki haqeeqat lekin/ Dil ke khush rakhne ko Ghalib yeh khayaal accha hai, admitted the poet of subtleties and contradictions.
It troubles me not one bit that this amazing grace comes to me via the devotion of believers. I don't have to believe in Immaculate Conception to be moved by Andrea Bocelli's Ave Maria. Nor to be moved immeasurably at the sight of Michelangelo's Pieta. Mary, through a purely rational lens, embodies the long-suffering, all-forgiving, endlessly caring mother archetype. But thanks to all the myths and legends, anecdotes and festivals, we sceptics too have a relationship with the figure. And it sometimes frees us from our analytical faculties, taking us to the realm of a Ghalib-certified hereafter. She's Our Lady, too.
From HT Brunch, September 2, 2018
Follow us on twitter.com/HTBrunch
Connect with us on facebook.com/hindustantimesbrunch
Close Story
Personalise your news feed. Follow trending topics