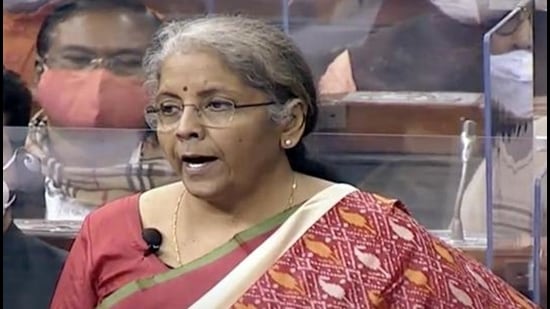 Nirmala Sitharaman to reply on budget discussion in Rajya Sabha today
The discussion started on Wednesday in Lok Sabha with Prime Minister Narendra Modi's reply to the motion of thanks on the President's address
By HT Correspondent | Edited by Sarah Kadan
UPDATED ON FEB 12, 2021 09:48 AM IST
Union finance minister Nirmala Sitharaman will reply to the discussion on Union Budget in Rajya Sabha on Friday. The discussion started on Wednesday in Lok Sabha after Prime Minister Narendra Modi's reply to the motion of thanks on the President's address.
Also Read | Budget session: Rajya Sabha sitting for February 13 cancelled
Sitharaman presented the Budget on February 1 that promised a significant increase in health and capital expenditure, and reforms including the privatisation of two state-owned banks and a general insurance company. It promised substantial government spending over the next five years and announced no major new taxes or levies.
Opposition parties in the Rajya Sabha on Thursday termed the Union Budget for 2021-22 as one "for the rich and by the rich" that reflected a "painful story" of the country and bankruptcy of its economy.
Various parties including the Congress, All India Trinamool Congress (TMC), Samajwadi Party and Left parties hit out at the government over the state of the economy and rising unemployment and alleged that the Modi dispensation was out to sell the country's assets.
Participating in the debate on the union budget, Congress leader P Chidambaram tore into the government for presenting a "disappointing" budget and described it as a "budget for the rich, of the rich and by the rich" meant for only "one per cent of India's population controlling 73 per cent wealth".
Rejecting the budget, the former finance minister hit out at the ruling dispensation, charging it with "incompetent economic management".
TMC member Sukhendu Sekhar Ray said the budget reflects the bankruptcy in the Indian economy.
"The Budget has shown certain dreams that even the Economic Survey has not talked about them," he said.
Stating that the budget outlines a "painful story", Ray said neither does it have the government's story nor that of the Opposition or that of the common man. All it has is a painful story, he alleged.
The first part of the Budget Session will conclude on February 13. The Parliament will again meet on March 8 and the session will conclude on April 8.
(With Agency inputs)
Close