India hits back at Donald Trump's tariffs, raises import duties on agri, steel products
Updated on Jun 21, 2018 01:35 PM IST
India raised tariffs on a slew of items in retaliation for the US imposing higher levies on some products shipped from the country, echoing steps taken by China, the European Union and other trading partners.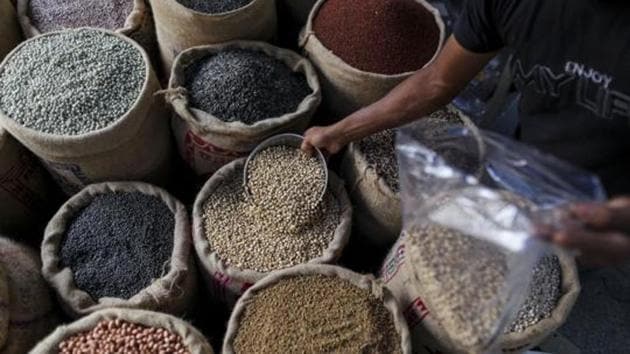 The global trade war deepened Thursday with China reiterating it will hit back if the latest tariff threats from Donald Trump materialize, while India followed the European Union in slapping retaliatory levies on US goods.
India raised tariffs on a slew of items in retaliation for the US imposing higher levies on some products shipped from the country, echoing steps taken by China, the European Union and other trading partners. The import duty on chickpeas and Bengal gram has been increased to 60%, while that on lentils has been hiked to 30%.
The duty on boric acid and binders for foundry moulds has been hiked to 7.5%, while that on domestic reagents was raised to 10%. Duty on artemia, a kind of shrimp, has been hiked to 15%.
The other products on which duties have been hiked include certain kind of nuts, iron and steel products, apples, pears, flat rolled products of stainless steel, other alloy steel, tube and pipe fittings, and screws, bolts and rivets.
However, there was no duty hike on motorcycles imported from the US. Last week, India had submitted to the WTO a revised list of 30 items on which it proposed to raise customs duties by up to 50%.
The move was in retaliation to the duty hike by the US on certain steel and aluminium products which had tariff implication of $241 million on India.
The duty hike by India would have an equivalent tariff implications for the US. Sources said out of 30 items proposed, India has "excluded motorbikes above 800cc. Now additional customs duties have been imposed on 29 items."
On March 9, US President Donald Trump imposed heavy tariffs on imported steel and aluminium items, a move that has sparked fears of a global trade war.
India has said the duty imposed by the US has affected steel exports by $198.6 million and aluminium shipments by $42.4 million.
India has also dragged the US to the World Trade Organisation's (WTO) dispute settlement mechanism over the imposition of import duties on steel and aluminium.
China also said it is "fully prepared" to respond to any new list of US tariffs, according to a commerce ministry spokesman, who said the nation will use a combination of quantitative and qualitative measures. Trump on Monday evening ordered up identification of $200 billion in Chinese imports for additional tariffs of 10 percent -- with another $200 billion after that if Beijing retaliates.
The world's most-powerful central bankers this week warned that escalating international trade tensions have started damaging confidence among companies, threatening the global economic expansion.
Case in point: Daimler AG late Wednesday slashed its earnings outlook for the year, saying fewer Chinese consumers will buy Mercedes-Benz SUVs because of tariffs Beijing is slapping on autos imported from the US.
"Changes in trade policy could cause us to have to question the outlook," Federal Reserve Chairman Jerome Powell said during a panel discussion at a European Central Bank conference in Sintra, Portugal. "For the first time, we're hearing about decisions to postpone investment, postpone hiring."
The European Union this week triggered the first phase of retaliation against the US over its metal-import tariffs imposed on national-security grounds, making good on more than three months of threats to hit American goods with tit-for-tat levies.
Japan has reserved the right to respond too, although it hasn't yet. Canada's retaliatory measures begin on July 1, and Mexico and other nations have also announced they will respond.
"The US abuses tariffs to trigger trade wars everywhere around the globe and that will severely damage the world trade order, hurt the interests of trading partners, and also hurt its domestic companies and people," Ministry of Commerce spokesman Gao Feng said at a regular briefing in Beijing on Thursday. The US "always use other nations as scapegoats for their own problems," he said.
The Trump administration this week ratcheted up its accusations that China's trade and intellectual property practices are threatening US economic interests. The two nations are locked in a worsening cycle of retaliation on trade, with no public sign that negotiations are still happening. Both sides have promised to impose tariffs early next month on billions of dollars in goods.
China had negotiated on agriculture and energy in early June and planned to negotiate on manufacturing and services, Gao said, adding that previous negotiations were in a "positive, constructive" manner.
— With inputs from Bloomberg and PTI
Topics
Close Story
Personalise your news feed. Follow trending topics