Jet Airways chairman Naresh Goyal steps down, banks take control
Mar 26, 2019 12:45 AM IST
Jet Airways, which has been operating for more than 25 years, is grappling with financial crunch and is also looking to raise fresh funds.
Naresh Goyal on Monday agreed to step down as Jet Airways chairman, giving in to pressure from creditors as the airline that he founded 25 years ago teetered on the edge of bankruptcy with thousands of jobs on the line. Goyal's decision, which came during a marathon board meeting that began late on Sunday and ended Monday afternoon, paved the way for banks to provide a cash infusion of ?1,500 crore, which is likely to take care of some of immediate payments such as delayed salaries and dues on aircraft lease.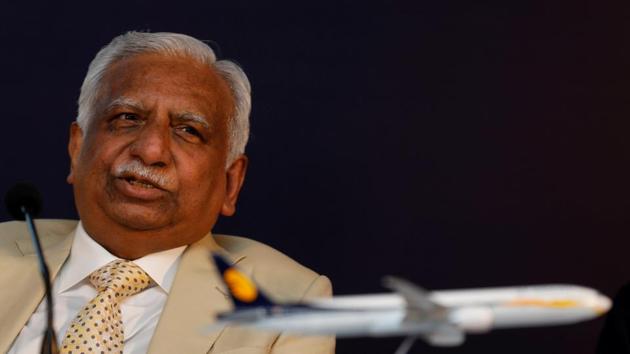 Goyal, his wife Anita, and Etihad Airways nominee, director Kevin Knight, also quit the board. "Naresh Goyal also ceases to be the chairman of the company," the airline told stock markets, as its stock price rose by 12.4%.
Saddled with debt of at least ?8,000 crore, Jet has been on the brink of collapse, and had to ground flights as it struggled to pay lenders, suppliers, pilots and leasing companies. The airline grounded nearly two-thirds of its 119-aircraft fleet due to the financial crisis. A consortium of lenders led by the State Bank of India took control of the airline, promising to throw open a bidding contest for a new investor.
The process is expected to be completed in the June quarter.
Goyal, a former ticketing agent who went on to build one of India's biggest airlines, had been under pressure to step down for months now. The financial crisis was a consequence of combination of factors, including a shrinking market-share that has gone to budget carriers and high oil prices last year.
The resignation marks a rare, if not unprecedented, ceding of control of a prominent corporate promoter in India. It also comes within months of the IL&FS crisis, in which the government for the first time took control of a private company as fears abounded of a wider contagion spreading in Indian stock markets.
"The self-interest of the banking system is that the company must survive so that their investment remains and when it prospers they can get back their monies," Union finance minister Arun Jaitley said Monday. "They have kept public interest in mind because India needs more airlines, more aircraft. Creditors have kept both these considerations in mind."
A shutdown of Jet Airways and consequent job losses would also have been a political nightmare for Prime Minister Narendra Modi's government ahead of the elections that begin on April 11.
The crisis in Jet Airways also contributed to a wider problem in the industry, as its curtailed flight operations translated into an increase in air fares.
Earlier this month, shortly after the grounding of Boeing 737 Max 8 aircraft over a potentially fatal flaw, air fares rose by 63% in comparison with last year, with some sectors reporting a spike as high as 270%, booking websites said.
"We see this [Goyal's resignation] as positive for the company as urgency of funds and [issues like] new investors wanting removal of old promoters are addressed," said Sameer Kalra, founder of Target Investing.
The bidding process for Jet Airways is expected to start on April 9 and is likely to generate interest not only from domestic carriers but also from foreign airlines. Among the contenders are India's largest airline by market share, IndiGo and the Tata Group.
While Etihad continues to be an investor in Jet, it remains to be seen if its rival Qatar Airways will also place a bid. To be sure, a foreign airline can hold a maximum of 49% in an Indian carrier.
The lenders have agreed to take a 50.5% stake in Jet Airways in order to save the airline and will form an interim management, which will monitor the daily cash flow and operations. Two members will also be nominated to the board.
Ajay Singh, chairman of rival SpiceJet Ltd, said the exit of Goyals marked a "sad day for Indian aviation". "This is also a wake-up call for Indian policy makers. We urgently need to address structural challenges that make India's airlines uncompetitive to airlines around the world," said Singh.
"Exciting news! Hindustan Times is now on WhatsApp Channels
Subscribe today by clicking the link and stay updated with the latest news!"
Click here!