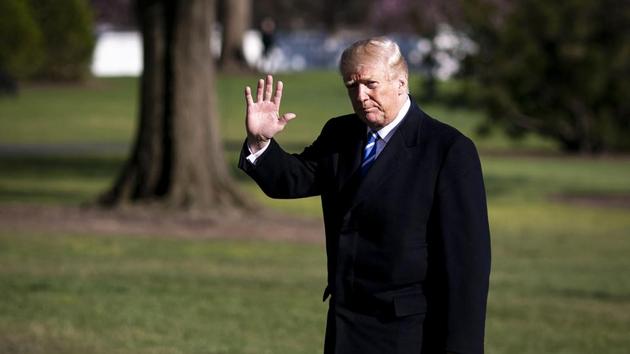 Trump threatens new $100 billion tariffs on Chinese products
Trump has argued that the US is only proposing the additional tariffs as a negotiating position, and will be happier to settle them through talks.
Hindustan Times, Washington | By Yashwant Raj
UPDATED ON APR 06, 2018 11:24 AM IST
US President Donald Trump on Thursday escalated trade tensions with China, saying he has instructed his officials to consider imposing tariff worth an additional $100 billion on Chinese imports goods. Trump accused China of continued "misconduct" and "unfair retaliation".
"Rather than remedy its misconduct, China has chosen to harm our farmers and manufacturers," Trump said in a statement referring to the last round of tariffs announced by Beijing on Wednesday, in retaliation to the $50 billion worth of proposed levies by the United States on 1,300 categories of products.
| Read: Are soyabeans China's fatal blow to US in this trade war?
He added: "In light of China's unfair retaliation, I have instructed the USTR (the office of the US Trade Representative) to consider whether $100 billion of additional tariffs would be appropriate … and, if so, to identify the products upon which to impose such tariffs."
But the president also sought to allay fears of a trade war saying the United States was still "prepared to have discussions". He has argued that the US is only proposing these tariffs as a negotiating position and will be happier to settle them through talks. Commerce secretary Wilbur ross has said, "Even shooting wars end with negotiations."
China's ministry of commerce, however, said on Friday the country was ready to pay "any cost" in the deepening trade war tensions with the US. "If the US side disregards opposition from China and the international community and insists on carrying out unilateralism and trade protectionism, the Chinese side will take them on until the end at any cost," said the ministry in a statement, reports Agence France-Presse.
Trump started this exchange in March announcing a 25% tariff on steel and 10% on aluminum from China and a host of other countries, including India. He had cited the country's burgeoning trade deficit of $800 billion as the reason, calling it a national security threat.
Then accusing China specifically of forcing American companies in China to transfer technology to their local partners and stealing intellectual property, he announced nearly $50 billion in tariff on Chinese goods later in the month. China hit back the next day with 15-25% duty on 128 American imports such as fresh fruit, pork and recycled aluminum.
The United States rolled out a list of 1,300 Chinese products on Tuesday implementing the president's earlier order — hitting aeronautics, medical products and computers among others. Beijing retaliated overnight, with $50 billion worth in tariff at the rate of 25% on aircraft, auto and soybeans.
| Read: US list of $50 billion tariffs aims at technology, retaliates in equal measure
The American tariff announcements are in the nature of proposals at present and will go into effect after a public comment process, including a public hearing at which supporters of the tariffs will have the opportunity cheer on the president, opponents will their chance to make their case.
Soybean farmers and their trade bodies will be right up their among the opponents. Soybean is America's number two crop and China is their number one market, accounting for 61% of American soy production. But China's top supplier is Brazil, which could pick up more of the marketshare if American soy goes under the new tariff.
"Soy growers are frustrated, but not surprised this week, as a trade war looms with US soy's top customer," said the American Soybean Association in a note on its website on Thursday, inviting readers to follow its twitter-handle that's running posts hash-tagged #RethinkTheTariffs and #SoyLeaders.
China has chosen its targets for retaliatory tariff well. President Trump won eight of the country's top 10 soy producing states in the 2016 elections and as trade tension intensifies, so will the political pressure on him his supporters. And he may already be feeling it, when he grumbled Thursday that "rather than remedy its misconduct, China has chosen to harm our farmers and manufacturers".
Close