Rupee falls 21 paise at 4-month low against USD in early trade
Extending losses for the third consecutive day, the rupee shed 21 paise to hit a four-month low of 63.77 against the US dollar in early trade on Monday at the Interbank Foreign Exchange due to continued demand for the American currency from importers.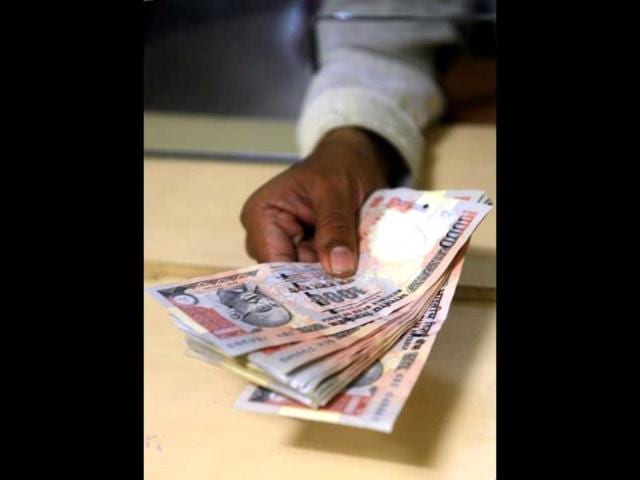 Updated on Apr 27, 2015 11:01 PM IST
Snapping its two-day losing trend, the rupee on Monday recovered by 8 paise to close at 63.48 against the US dollar, after plunging to a 4-month intra-day low of 63.77, on fresh selling of the American currency by exporters and some banks.
However, distinctly weak local equities, sustained capital outflows and firm dollar overseas capped the rupee rise to a major extent, a forex dealer said.
Initially, the domestic unit commenced weak at 63.70 a dollar from previous close of 63.56 and moved downwards to log almost 4-month intra-day low of 63.77 -- level not seen since when it had touched a low of 63.79 on December 30, 2014.
Dealers attributed the fall in the rupee value to a host of factors such as sluggish local stocks, continued selling by Foreign Portfolio Investors (FPIs) -- who sold shares worth $113.93 million last Friday as per Sebi data -- and firm dollar overseas by 0.23% against its global rivals ahead of the two-days US Fed's policy meeting.
However, later it fell back in the last session on renewed heavy dollar selling by exporters and some banks to a high of 63.46 before closing at 63.48, exhibiting a rise of eight paise or 0.13%. In past two days, it had tumbled by 74 paise or 1.18%.
In New York, the dollar started the week on the defensive in early trade after more disappointing US economic data reinforced expectations the US Federal Reserve will not hike interest rates any time soon, while concerns about Greece's ongoing debt talks pressured the euro.
Back home, the Indian benchmark Sensex on Monday plunged by 260.95 points, or 0.95%.
Pramit Brahmbhatt, Veracity Group, CEO said, "After falling for two consecutive days, the rupee appreciated on Monday. Exporters were seen selling dollar which helped the rupee to trade firm. Though local equities closed on a weak note which capped the rupee gain. The trading range for the Spot USD/INR pair is expected to be within 63.20 to 63.80."
In the forward market, the premium declined on fresh receivings by exporters and some banks.
The benchmark six-month premium payable in September softened to 198-200 paise from 199.5-202 paise last weekend and forward contracts maturing in March 2016 also slipped to 414-416 paise from 415.5-417 paise.
The Reserve Bank of India fixed the reference rate for dollar at 63.6115 and for the euro at 69.1839.
The rupee recouped against the pound sterling to 95.96 from 96.17 last Friday and also recovered slightly against the euro to 68.77 from 68.84.
It, however, finished stable against the Japanese yen to its last weekend's level of 53.19 per 100 yen.
Close Story