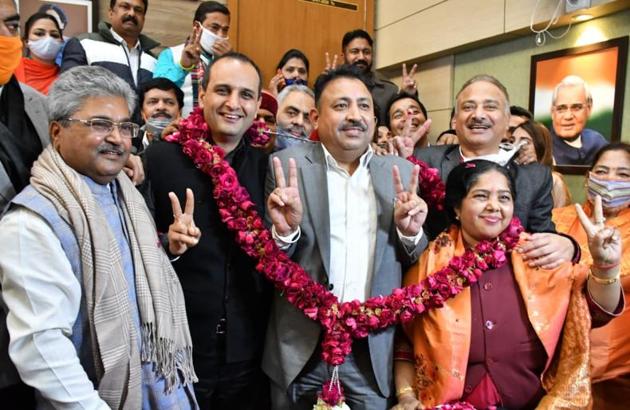 BJP's Ravi Kant Sharma is new Chandigarh mayor
Of the 24 votes polled, Sharma got 17, while Devinder Singh Babla of the Congress could muster only five votes. Two votes were declared invalid.
UPDATED ON JAN 08, 2021 11:00 PM IST
Bharatiya Janata Party managed to keep its flock together, making a clean sweep in the Chandigarh mayoral elections on Friday.
Ravi Kant Sharma, a first-time councillor and the outgoing senior deputy mayor, has been elected the mayor, and will succeed Raj Bala Malik.
Other party nominees, Maheshinder Singh Sidhu and Farmila, have been elected the senior deputy mayor and deputy mayor, respectively.
BJP leaders gave a sigh of relief after the results, as despite fears, no cross-voting took place. The party's choice of candidates had led to resentment within its councillors, and party state chief Arun Sood and other senior leaders had been holding meetings with them till Thursday night.
BJP has 20 members in the House, Congress has five and Shiromani Akali Dal has one. Local MP can also vote, being an ex-officio member, taking the total number of votes to 27. While MP Kirron Kher and BJP councillor Heera Negi did not turn up due to health reasons, SAD councillor Hardeep Singh was present but boycotted the election.
Sharma managed to get 17 of the 24 votes polled, while Congress mayoral candidate Devinder Singh Babla could muster only five. Two votes were declared invalid, as the councillors concerned had marked in front of both mayor candidates' names, said returning officer Anil Kumar Garg.
This is the Bharatiya Janata Party's sixth consecutive term on the mayor's post, and the last before the House goes to the polls again later this year.
Congress cries foul over use of mobile phones
After Sharma was elected mayor, Congress councillors boycotted elections of the senior deputy mayor and deputy mayor.
Even as voting was going on in the MC House, Chandigarh Congress leaders and councillors addressed a press conference. "Despite the ban, mobile phones were used by BJP councillors. There is discontent in BJP, and if there were no mobiles, Congress candidate Babla would have won by a large margin," said Congress chief Pardeep Chhabra. Mobile phones are said to be used for clicking pictures of the ballot paper after voting to rule out cross-voting.
Babla alleged that MC officials favoured the ruling party by not adhering to stipulated rules. Notably, before voting started, Garg had directed all councillors to deposit their mobile phones with the House officials. Councillors were seen to be following the directions, but Congress later alleged that BJP councillors had bought two mobile phones and submitted only one.
Meanwhile, both Sidhu and Farmila got 19 votes, equal to the number of those present and voting.
BJP to take action against erring councillors
State BJP in-charge Dushayant Gautam, who was present during the election, called the two invalid votes "a serious matter".
"Even after voting for the last four years in mayoral elections, councillors are making such mistakes," he said, while ruling out any intentional wrongdoing on their part.
However, he said that Arun Sood has been asked to examine the issue, and "we will take strict action against such councillors".
Gautam also indicated that councillors who indulged in anti-party activities in the last four years could be denied ticket during the MC elections. "It is an election year. Now, we will punish those who went against the party," he said.
'No new tax will be imposed, water tariff will come down'
Ravi Kant Sharma, 53, originally from Una in Himachal Pradesh, is associated with RSS since childhood and with ABVP since his college days.
After shifting to Chandigarh, he actively participated in the party's activities and rose through the ranks, from block-level worker to a mandal president and then to a district president. Running a courier and cargo business from Sector 34, he got the party ticket for MC elections for the first time in 2016.
After getting elected from ward 3, he went on to become the senior deputy mayor last year. Upon his elevation to the mayor's post on Friday, HT talked to him about his priorities.
Q. What will be your priorities?
A. Completing ongoing development projects will be top on agenda. Door-to-door waste segregation and road recarpeting also remain priorities.
Q. Internal party strife preceded your election. Your take?
A. There is no factionalism in the party. We all work in unison for the party and city's development.
Q. Will you be imposing fresh taxes?
A. We will not impose any new tax. Water tariff will also be decreased. For improving financial situation of MC, we will ensure that adequate funds are received from the Centre.
Close