KLF handler ' Happy PhD' plotting Rajasansi-like attack on Operation Bluestar anniversary: Cops
Harmeet 'PhD' is also a suspect in the grenade attack on a prayer congregation at the Nirankari Bhawan in Rajasansi that left three persons dead and several injured.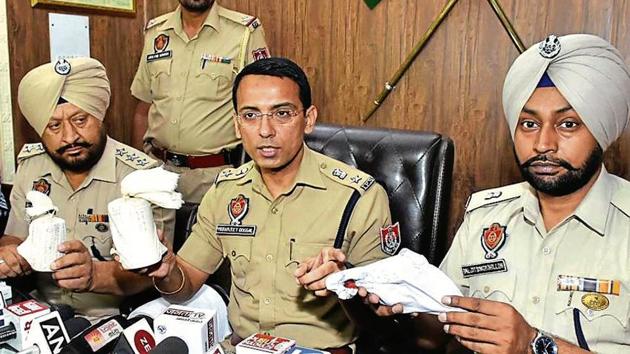 Updated on Jun 04, 2019 08:15 AM IST
Pakistan-based Khalistan Liberation Force (KLF) handler Harmeet Singh alias 'Happy PhD' is plotting to carry out a Rajasansi-like attack on the anniversary of the Operation Bluestar, police said on Monday.
Harmeet 'PhD', also a suspect in the grenade attack on a prayer congregation at the Nirankari Bhawan in Rajasansi that left three persons dead and several injured, is likely to be behind the smuggling of the hand grenades seized on Sunday at Kukranwala Adda in Amritsar district's Ajnala subdivision, the police claimed.
The hand grenades and a mobile phone were seized by the police at a checkpoint from two motorcycle-borne men who managed to escape from the spot. The turbaned suspects had their faces covered, said the police.
"As per our preliminary investigation, we have found that Harmeet PhD is behind the smuggling of grenades from Pakistan. But we are yet to ascertain whether the grenades are made in Pakistan as the forensic report is awaited," said Amritsar senior superintendent of police Vikramjit Singh Duggal at a press conference on Monday.
He said the police have averted a Rajasansi-like attack with the recovery of the grenades and the absconding men will be arrested soon. The SSP said the police on Friday arrested a resident of Ekalgadda village in Tarn Taran district with 500 gram heroin and seizure indicated towards PhD's involvement in the smuggling of a consignment of the contraband.
"The accused, Judgebir Singh, confessed to have got the heroin consignment from Pakistanbased smugglers. When his mobile phone was inspected, we found some pictures that hinted at PhD's involvement in it. When the Samsung phone seized on Sunday along with two grenades was inspected we again found pictures of the grenade consignment that matched with the ones in Judgebir's handset," he said.
"On Saturday, we nabbed Nishan Singh of Bahadur Nagar village in Tarn Taran with a .32 bore revolver and four rounds. When his mobile phone was checked, it was found that he is linked with Babbar Khalsa militant Kulwinder Singh Khanpuria, who is living in Malaysia. We have also found some leads that show links between Khanpuriya and PhD," the SSP said.
Duggal said, "We are close to breaking a nexus being run from across the border and other countries. The role of Khanpuriya is also being examined and we are writing to the director general of police (DGP) for taking get him extradited."
The agenda of some radicals living abroad is to revive terrorism in the state, he said.
WHO IS HARMEET PHD?
Harmeet is believed to have assumed the role of KLF chief after the outfit's head Harminder Mintoo was nabbed by the Punjab Police from Thailand in 2014. Mintoo, who later escaped from the Nabha jail with a group of gangsters but was nabbed again, died of cardiac arrest in April last year in jail.
Living in Pakistan for two decades, Harmeet hails from Chheharta in Amritsar and has a doctorate that earned him the alias 'PhD'. He is also the prime suspect in planning of targeted killings of Hindu right-wing and religious leaders in the state in 2016 and 2017.
Close Story