Regional buzz: Captain's jibes increasing Bajwa's shelf life
Former chief minister and deputy leader of party in the Lok Sabha, Captain Amarinder Singh's, repeated outbursts against Punjab Congress chief Partap Singh Bajwa have only given him a longer shelf-life.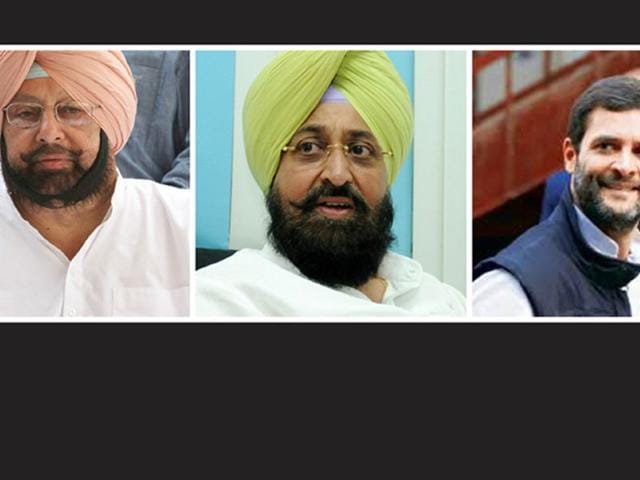 Updated on May 25, 2015 11:43 AM IST
Former chief minister and deputy leader of party in the Lok Sabha, Captain Amarinder Singh's, repeated
outbursts against Punjab Congress chief Partap Singh Bajwa have only given him a longer shelf-life.
To top it all, he openly opposed the elevation of Congress vice-president Rahul Gandhi to the president's post.
This too backfired as Rahul returned with a never-seen-before aggression to take on the National Democratic Alliance (NDA) regime in Delhi. So, Amarinder has been advised to hold his horses and avoid statements in the media against his party brethren. Now, he is busy building bridges with Rahul, who, a party top leader said, is not going to let the former CM dictate terms to him. On Bajwa, the Captain is practising silence and lest he be provoked to comment on Bajwa's activism in Punjab, he is avoiding calls from the media.

"We have asked the Maharaja Saab not to ask for Bajwa's ouster and let party leaders and people of the state demand it," an MLA close to Amarinder said. A silent, but uneasy Captain, and a poking Bajwa are a volatile mix. Wait for more on the Patiala peg.

Cadre change

Punjab IAS officer Adapa Karthik, who was keen to go to "more challenging" Chhattishgarh on inter-cadre deputation three years ago, may join the Chandigarh administration soon. The 2008-batch IAS officer's case for inter-cadre deputation from Punjab to the Arunachal Pradesh-Goa-Mizoram-Union Territories (AGMUT) cadre for the post of secretary (below super-time scale) in the Chandigarh administration for a period of three years came up before a committee headed by union secretary, personnel and training, Sanjay Kothari recently.
Though Karthik has not completed nine years of service required for such deputation, the committee does not seem to have any objection to the post-specific deputation as such proposals have been approved earlier, after relaxation of guidelines. The department has sought comments from the Punjab government. Karthik, who hails from Andhra Pradesh, and had moved from his original Uttarakhand cadre to Punjab in 2010 on inter-cadre transfer due to marriage, is tightlipped on the proposal for his deputation, though.

Marriage postings
Bureaucrats seeking a change in cadre due to marriage is nothing new, but their number appears to be going up. Punjab and Haryana, which have shortage of IAS officers, have got more young officers, thanks to the centre allowing change of cadre of some IAS officers on the grounds of marriage.
A 2013 batch IAS officer of AGMUT cadre, Parth Gupta, who married Astha Modi, a 2013-batch IPS (Indian Police Service) officer of Haryana cadre, in February this year, is moving to Haryana, as his cadre change has been approved by the department of personnel and training. Another AGMUT cadre IAS officer, Jaspreet Singh, who belongs to 2014 batch, has moved to Punjab on inter-cadre transfer on similar grounds. He is married to 2013-batch Punjab IPS officer Kanwardeep Kaur.

Cuisine's lure
Congress leader Girija Vyas, who was in Chandigarh the other day as part of her party's pan-India campaign against the failure of the NDA government, had a rather simple reason to cite for the rout of the Congress government. "Log khush the humse, par Modi ke vadon se unko laga ke roti to thik hai, ab shayad jalebi milegi, gujarati dhokle milenge, isliye Modi ko jita diya'', she claimed, meaning that though people were happy with the Congress rule, (Narendra) Modi's promises made them imagine that they would probably get jalebi and Gujarati dhokla and that made him win. "Par ab unhe samajh aa gaya hai aur shayad ab vo voh geet yaad karte hai, koi lauta de mere beete huye din" (Now they have now realised their mistake and recall the famous Hindi song.. If one could get me back my old days)," added the former union minister.

Modi, Cheeni and Babbar
Actor-turned-neta Raj Babbar rained jibes at the NDA government in his own Bollywood style punctuated with sarcasm. In Chandigarh the other day as part of the Congress' counter-offensive, he had a dig at Prime Minister Narendra Modi's attempts to show a connection with places he visited.
"Modiji ka China mein bhi connection hoga, kyonki bachchpan mein jab unke pitaji chaye bechate the to unko kehte the, beta cheeni lao, beta cheeni dena, to cheeni se to unka purana rishta hai'," he said implying that Modi could very well have a connection with China as well, for, in the childhood his tea-seller father would have often asked him to bring sugar (cheeni in Hindi), hence the connection.

'Paschataap' yatra
Punjab chief minister Parkash Singh Badal never misses an opportunity to get back at his rivals. Taking a jibe at Punjab Congress chief Partap Singh Bajwa's padyatra plans, Badal advised him to rename it "Paschataap Yatra" and seek apology for sins committed by his party against the state and its people. "Through this yatra, he will lose weight too and become fit. One must stay fit to avoid ailments," said the chief minister, poking fun at Bajwa.

PRO's misadventure
An enthusiastic public relations officer (PRO) with the Punjab government recently created a WhatsApp group of print journalists to facilitate the flow of information, press notes and invitations for press conferences. The effort turned into a misadventure when some scribes started posting messages, jokes and pictures making fun of politicians of the ruling party. A few others seemed more eager to offer advice than receiving official information.
To his further embarrassment, one journalist even advised the PRO to close down this group, cautioning him that his initiative could cost him his job. The PRO discontinued the messaging group. A truly sad burial to a welcome initiative.
Hooda's Marching orders

Former chief minister Bhupinder Singh Hooda has developed his own unique way of responding to questions he does not want to answer.
Interacting with journalists the other day, Hooda, whose favourite one-word response to inconvenient queries during his days in power was to term them as "hypothetical", faced a volley of questions pertaining to separate events being held by him and Haryana Congress chief Ashok Tanwar against the Manohar Lal Khattar-led Bharatiya Janata Party (BJP) government in the state. "Isme kya hai woh padyatra hi to nikal raha hai, isme kya, tum bhi nikal lo'' (What is it if he is taking out a march. You also do it) was all he was willing to say.
Wanting 'Serial' credit

Like his party colleagues in other states, Himachal Pradesh Congress chief Sukhvinder Singh Sukhu, considered close to Congress vice-president Rahul Gandhi, also slammed the NDA government the other day. After union finance minister Arun Jaitley listed out the Modi government's achievements in Delhi, Sukhu chose debates on television channels and party meetings to counter the BJP campaign and also recounted achievements of the Congress regimes at the same time.
Addressing women participants at a programme at Shimla, he reminded them about the telecommunication revolution during the Rajiv Gandhi era.
"Only because of the satellite expansion you are able to watch saas-bahu serials on television," he said. Only Sukhu could tell if he was being witty or was he serious in giving credit for family dramas to his party.
Brown cap rising
Union health minister JP Nadda has been politically active in his home state of Himachal Pradesh from the time of his induction in the cabinet, much to the chagrin of his party colleague, former chief minister Prem Kumar Dhumal. His rise in state politics has led to promotion of brown multi-colour band Himachali caps. Nadda gifted brown caps to the UN officials at World Health Organisation meet in Geneva recently.

Short and snappy
Himachal chief minister Virbhadra Singh is known for his administrative acumen and short temper. He cut short All-India Mahila Congress head Shobha Oza when she complained during a convention of women participants at Rajiv Bhawan that women usually found to difficult to enter the civil secretariat and the staff was not courteous. An upset CM later directed his staff to issue circular asking officers to show courtesy to public representatives.

Speechless
The gang rape hoax that triggered vehement protests in Himachal Pradesh not only brought embarrassment to Dharamsala, but also gave an opportunity to political leaders to indulge in mudslinging.
Former BJP minister Kishan Kapoor, who was initially silent on the issue, got into action as soon as false allegations surfaced on social media regarding the involvement of nephew of the local MLA and urban development minister Sudhir Sharma.
The Congress leader has only a niece who studies in kindergarten. However, Kapoor hurriedly convened a press conference demanding an inquiry by the Central Bureau of Investigation, without verifying the facts. He also announced a mass movement. When the police established the incident as a "hoax" the very next day, the saffron party leader was left speechless.

Contributed by Sukhdeep Kaur, Navneet Sharma, Ravinder Vasudeva, Prabhjit Singh, Rajesh Moudgil, Gaurav Bisht and Naresh K Thakur

Close Story
Personalise your news feed. Follow trending topics