After a 9-month hiatus, traffic police to check drunk drivers on New Year eve
However, instead of the alcometers, the traffic cops would be relying on their "instinct and experience" to identify drunk drivers and then send them for tests.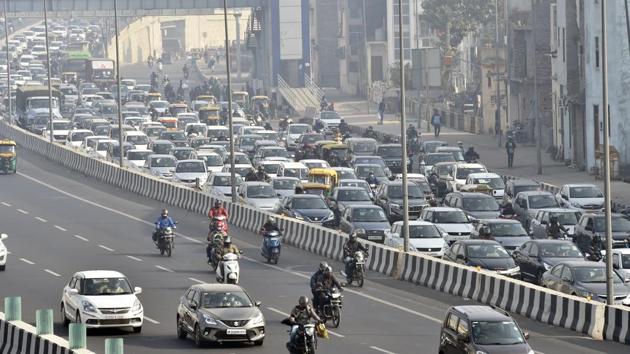 Updated on Dec 31, 2020 02:43 AM IST
Hindustan Times, New Delhi |
Shiv Sunny
After a gap of nearly nine months when the Delhi Traffic Police did not issue a single challan for driving drunk due to Covid-19 infection fears, the force will be back to the streets on New Year's eve to check drink driving and restrict vehicles from proceeding towards Connaught Place from 8pm on Thursday and possibly towards the India Gate on Friday.
However, instead of the alcometers, the traffic cops would be relying on their "instinct and experience" to identify drunk drivers and then send them for tests.
"Since using alcometers puts the police as well as the motorists at the risk of catching infection, we will be relying solely on our observation and experience to halt drunk drivers. They will then be subjected to a blood test and action will be taken against them if they are found to be drunk," said Manish Kumar Agrawal, joint commissioner of police (traffic).
For this, officials and doctors will be deployed across the city. "A sub-divisional magistrate and two doctors will be posted at the Parliament Street police station for violators in New Delhi district," Agrawal said citing an example.
Agarwal, however, said that the focus will be keeping the drunk drivers off the streets to make the roads safer rather than garnering high prosecution figures. "Our primary aim will be to regulate traffic," said Agrawal.
The restrictions against vehicles headed towards Connaught Place, meanwhile, will kick in from 8pm on Thursday and will continue till the New Year celebrations end.
Also Read | Restobars at 50% capacity, strict vigil by officials as city rings in a New Year
At the inner, middle and outer circles of Connaught Place, only those vehicles will be allowed to ply which have valid passes. These include customers who have made prior booking with restaurants and thus have the passes, and those providing services to the restaurants and bars in CP.
The customers holding these passes too will have to enter CP before 8pm.
All other vehicles will be halted at separate points leading to CP and will have to walk to the restaurants and bars after parking their cars along certain lanes identified by the traffic police.
Points after which vehicles won't be allowed to proceed towards CP include the roundabouts of Mandi House, Bengali Market, Ashram Marg-Chitragupt Marg Crossing, Gole Market and other points such as North foot of Ranjit Singh Flyover, Minto Road-DDU Marg Crossing, Patel Chowk, Panchkuian Road-Bangla Sahib Lane, etc.
Agrawal said that while the traffic police will be deploying its full strength on the city's roads on Thursday evening and on Friday, they are anticipating lesser rush due to Covid-19 precautions and because restaurants are being allowed to operate up to only 50% of their capacity and unlike previous occasions, no special programmes are scheduled.
That is a reason why no restrictions have been imposed on motorists heading towards India Gate. But restrictions could kick in on Friday morning if the situation is different, said Agrawal.
In recent years, India gate has witnessed a large gathering of citizens, possibly tens of thousands, who visit the place on January 1.
"On New Year's eve, people are generally visiting restaurants. But if we see heavy pedestrian movement around India Gate, we will not allow vehicles to go through the C-Hexagon after 10 am on Friday," the officer said.
In that case, vehicles will be diverted from a host of points identified by the traffic police and the information about which will be relayed over the traffic police's social media accounts as well as their personnel deployed at those restriction points.
The police have further advised motorists to avoid Bhairon Marg/Mathura Road between Nizamuddin and Pragati Maidan in anticipation that there could be rush at the Delhi zoo.
Diversions in an around Connaught Place and Ashoka Road too are possible if there is heavy pedestrian movement, Agrawal said, advising visitors to opt for public transport over private vehicles.
Close Story
Personalise your news feed. Follow trending topics