'Love you, Delhi': Kejriwal revels in AAP's MCD poll win, seeks PM's blessing
Dec 07, 2022 03:46 PM IST
MCD election results 2022: The AAP has won over 130 of 250 wards in the city.
Soon after a big win in the elections for the MCD (Municipal Corporation of Delhi), top Aam Aadmi Party (AAP) leaders gathered for a big show of strength in the national capital where Arvind Kejriwal sought Prime Minister Narendra Modi's blessings to address the city's civic concerns. "We have to end corruption, we have to clean Delhi... I am thankful to those who voted for us. For those who did not vote for us, we will get their concerns addressed first," he promised.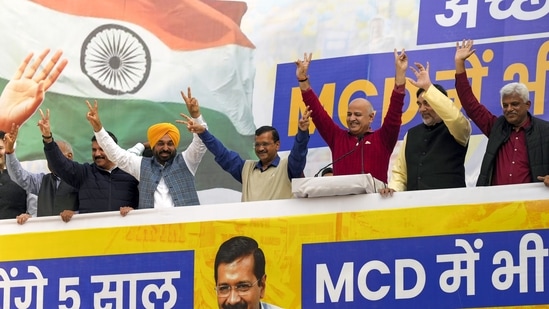 Also Read | MCD election 2022 results: Full list of BJP, AAP & Congress winners/leading candidates
"I appeal to the Centre and ask for Prime Minister Modi's blessings to make Delhi better," the Delhi chief minister further asserted, as he told those winning from AAP: "After the victory, you're no longer just a party member, you belong to the ward and the civic body. We have to work together. Delhi has shown that issues like health and education are critical too."
Also Read | MCD poll win likely to bolster AAP's expansion plans
The AAP has secured victory in 134 wards of 250 wards in the national capital; the BJP has ended at the second spot with its tally at 104. This ends the BJP's nearly 15-year-long rule. This also happens to be the maiden win for Kejriwal's party and at the huge gathering, he highlighted that this is the fourth victory for the party in the city in nearly eight years. It comes as a huge boost for AAP, which has been trying hard to expand its national footprint. It was successful in forming a government in Punjab earlier this year.
Earlier in a tweet, Kejriwal wrote in Hindi. "Thanks to the people of Delhi for this grand victory and many congratulations to all. Now all of us together have to make Delhi clean and beautiful."
Among those who were present at the show of strength were Deputy Chief Minister Manish Sisodia, Punjab Chief Minister Bhagwant Mann, and Raghav Chadha.