MCD election 2022 results: Full list of BJP, AAP & Congress winners/leading candidates
Dec 07, 2022 09:25 PM IST
MCD election results 2022: The AAP has won the MCD election and ended the BJP's 15-year rule. Here's the full list of AAP, BJP and Congress winners.
The Aam Aadmi Party has registered a big victory in the Municipal Corporation of Delhi (MCD) election and has ended the Bharatiya Janata Party's 15-year rule. Final results declared by the State Election Commission show the AAP won 134 of 250 wards under the MCD. The BJP -which exit polls predicted would suffer a big defeat - put up a spirited fight and won 104 seats. The Congress claimed nine and three went with independent candidates. Voting for the 250 wards was held on December 4 with about 50 per cent voter turnout and a total of 1,349 candidates in the fray.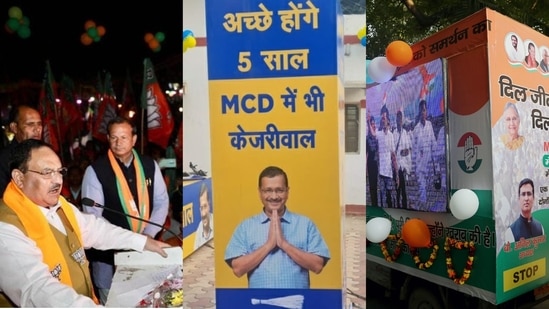 Stay tuned with breaking news on HT Channel on Facebook.
Join Now
MCD election result 2022: When and where to watch/check results
Here's a full list of MCD election winners:
| | | | | |
| --- | --- | --- | --- | --- |
| Wards | BJP Candidates | AAP Candidates | Congress Candidates | Winning/Leading Party |
| Abul Fazalenclave | Charan Singh | Wajid Khan | Ariba Khan | Congress (Winner) |
| Adarsh Nagar | Anubhav Dhir | Mukesh Goel | Virender Kumar Goel | AAP (Winner) |
| Alipur | Yogesh Rana | Deep Khatri | Rai Singh Mann | BJP (Winner) |
| Aman Vihar | Narendra Manral | Ravinder Bhardwaj | Suresh Chand Gupta | AAP (Winner) |
| Amar Colony | Sharad Kapoor | Jitender Kumar | Devendra Basoya | BJP (Winner) |
| Anand Vihar | Dr Monika Pant | Rahul Jain | Rajiv Chaudhary | BJP (Winner) |
| Anarkali | Meenakshi Sharma | Rekha Dikshit | Madhu Rani | BJP (Winner) |
| Andrews Ganj | Priti Bhati | Anita Baisoya | Pooja Yadav | AAP (Winner) |
| Ashok Nagar | Reena Maheshwari | Sushma Sisodia | Niti Garg | BJP (Winner) |
| Ashok Vihar | Poonam Sharma | Rita Khari | Manisha | BJP (Winner) |
| Aya Nagar | Manisha Chaudhary | Himani Ambavata | Sheetal | Congress (Winner) |
| Azad Nagar | Neelam Jitu Chaudhary | Minni Rathore | Varyam Kaur | BJP (Congress) |
| Azadpur | Suman Kumari | Mannu Gupta | Ritu Singh | BJP (Winner) |
| Badarpur | Veena Pawan Rahi | Manju Devi | Rainoo Kumari | AAP (Winner) |
| Bakhtawarpur | Janta Devi | Babita Chauhan | Jyoti Upadhyay | BJP (Winner) |
| Baljeet Nagar | Ayushi Tiwari | Dr Ronakshi Sharma | Uma | AAP (Winner) |
| Ballimaran | Ramdev Sharma | Mohd. Sadik | Salik Khan | AAP (Winner) |
| Bankner | Vinod Bharadwaj | Dinesh Bhardwaj | Anand Kumar Khatri | AAP (Winner) |
| Baprola | Mahesh Tripathi | Ravinder Solanki | Jatin Sehrawat | AAP (Winner) |
| Bawana | Brahmprakash | Pawan Kumar | Kuldeep Sehrawat | AAP (Winner) |
| Bazar Sita Ram | Sonia Shrivastav | Rafia Mahir | Seema Tahira | AAP (Winner) |
| Begumpur | Jai Bhagwan Yadav | Dharmender Kumar | Sonu Tomar | BJP (Winner) |
| Bhajanpura | Ramraj Tiwari | Rekha Rani | Ajeet SIngh | AAP (Winner) |
| Bhalswa | Lallu Singh Thakur | Ajit Singh | Ashok Yadav | AAP (Winner) |
| Bhati | Ramvir Tanwar | Sunder Tanwar | Joginder Tanwar | AAP (Winner) |
| Bijwasan | Jaiveer Rana | Narender Jatt Rana | Satyendar Rana | BJP (Winner) |
| Binda Pur | Sudha Sharma | Krishna Devi Raghav | Preeti Kumari | AAP (Winner) |
| Braham Puri | Kavita Sharma | Chaaya Sharma | Priyanka Rawat | AAP (Winner) |
| Brij Puri | Nirmal Sharma | Aafreen Naaz | Nazia Khatoon | Congress (Winner) |
| Budh Vihar | Rajpal Garg | Amrit Lal Jain | Vinod Dabas | AAP (Winner) |
| Burari | Anil Tyagi | Aashish Tyagi | Nitin Tyagi | BJP (Winner) |
| Chandani Mahal | Irfan Malik | Aaley Mohammed Iqbal | Mohd. Hamid | AAP (Winner) |
| Chandni Chowk | Ravinder Kumar Kaptan | Punardeep Singh Swahney (Sabby) | Rahul Sharma | AAP (Winner) |
| Chauhan Banger | Saba Gaji | Aasma Rehman | Shagufta Chaudhary | Congress (Winner) |
| Chaukhandi Nagar | Suman Kherwal | Sunil Kumar Chadha | Ramesh Yadav | AAP (Winner) |
| Chhatarpur | Shikha Tyagi | Pinky Tyagi | Manisha Khatana | AAP (Winner) |
| Chhawala | Shashi Yadav | Jeeta Nambardar | Sukhbir Singh | BJP (Winner) |
| Chhitranjan Park | Rakesh Guliya | Ashu Thakur | Bhawna Gupta | AAP (Winner) |
| Chirag Delhi | Krishan Jakhar | Asha Thakur | Vandana Saini | AAP (Winner) |
| Civil Lines | Sardar Avtar Singh | Vikas Tank | Charan Dass | AAP (Winner) |
| Dabri | Vinay Chauhan | Tillotma Chaudhary | Sameer Tiwari | AAP (Winner) |
| Dakshin Puri | Raj Kumar Chautala | Prem Chauhan | Anil Khairwal | AAP (Winner) |
| Daryaganj | Lalit Bhamri | Sarika Chaudhary | Farhad Suri | AAP (Winner) |
| Dayalpur | Puneet Sharma | Kamal Gaur | Tara Singh | BJP (Winner) |
| Delhi Gate | Deepti Vidyarthi | Kiran Bala | Dipti | AAP (Winner) |
| Deoli | Anita Singhal | Sneh Lata | Manju Singhal | BJP (Winner) |
| Dev Nagar | Ghanshyam Chetiwal | Mahesh Kumar | Sushila Madan Khorwal | AAP (Winner) |
| Dhirpur | Neelam Budhiraja | Neha Aggarwal | Chanchal Chabra | AAP (Winner) |
| Dichaon Kalan | Neelam Krishan Pahalwan | Anita Pandey | Komal Prakash Dev | BJP (Winner) |
| Dilshad Colony | Sanrika Sharma Jha | Behn Preeti | Santosh Sunil Mittal | AAP (Winner) |
| Dilshad Garden | BS Pawar | Praveen Kasana | Vinod Kumar | BJP (Winner) |
| Dwarka-A | Ram Niwas Gehlot | Capt. Shalini | Manoj Kumar Gupta | BJP (Winner) |
| Dwarka-B | Kamaljeet Sehrawat | Sudha Sinha | Sunita Mallik | BJP (Winner) |
| Dwarka-C | Sushma Godara | Sunita | Neha Lamba | AAP (Winner) |
| East Patel Nagar | Deepali Kapoor | Dr Shelly Oberoi | --- | AAP (Winner) |
| Fateh Nagar | Mukul Agarwal | Raminder Kaur | Anuheet Kaur | AAP (Winner) |
| Gandhi Nagar | Priya Kamboj | Rakhi Sharma | Anjana Sharma | BJP (Winner) |
| Gautam Puri | Satya Sharma | Anil Jain | Mohd Riyasat | BJP (Winner) |
| Geeta Colony | Neemaa Bhagat | Kawaljeet Kaur | Kanika Kwatra | BJP (Winner) |
| Gharoli | Sunita Gautam | Priyanka Gautam | Vidhya Devi | AAP (Winner) |
| Ghonda | Preeti Gupta | Vidyawati Chaudhary | Reetu Chaudhary | BJP (Winner) |
| Gokal Puri | Nirmala Jatav | Somwati Chaudhary | Savita | AAP (Winner) |
| Gorakh Park | Kusum Tomar | Priyanka Saxena | Arti | AAP (Winner) |
| Govind Puri | Shri Chandraprakash | Vijay Sheriyar | Manpreet Singh | BJP (Winner) |
| Greater Kailash | Shika Roy | Ajit Kaur Pasricha | Shakuntala Dahima | BJP (Winner) |
| Green Park | Manoj Garg | Sarita Phogat | Hawa Singh Tokas | AAP (Winner) |
| Guru Harkishan Nagar | Monika Goyal | Shweta Khera | Anu Gulati | BJP (Winner) |
| Hari Nagar | Shyam Sharma | Rajesh Kumar Ladi | Dinesh Jain | AAP (Winner) |
| Hari Nagar Extension | Mithilesh Singh | Nikhil Chaprana | Rajender Sindwani | AAP (Winner) |
| Harkesh Nagar | Mamta Tundelkar | Mamta Pratap | Vineeta | AAP (Winner) |
| Harsh Vihar | Laxmi Mahor | Poonam Nirmal | Tarawati | AAP (Winner) |
| Hastsal | Suman Pawan Singhal | Rakhi Yadav | Sunita Yadav | AAP (Winner) |
| Hauz Khas | Sumitra Dahiya | Kamal Bhardwaj | Pawan Vashishth | AAP (Winner) |
| Holambi Kalan | Archana | Neha Mishra | Monika choudhary | AAP (Winner) |
| Inder Puri | Mohan Lal Dayma | Jyoti Gautam | Sunil Bagri | AAP (Winner) |
| IP Extension | Amrita Pachauri | Rachna | Arti Mehrol | AAP (Winner) |
| Isapur | Suman Dagar | Shivdutt Kaushik | Pooja Kaushik | Independent Meena Devi (Winner) |
| Jagat Puri | Raju Sai Sachdeva | Timsy Sharma | Mustkeem Khan | BJP (Winner) |
| Jahangir Puri | Divya Jha | Timsy Sharma | Sunita Devi | AAP (Winner) |
| Jaitpur | Rachna Mishra | Hema | Sana Fatima | AAP (Winner) |
| Jama Masjid | Asha Verma | Sultana Abad | Shahin Parveen | AAP (Winner) |
| Janakpuri South | Veena Rani Garg | Dimple Ahuja | Geeta | AAP (Winner) |
| Janakpuri West | Urmila Chawla | Santosh Chilwal | Anushree Khutel | BJP (Winner) |
| Jawalapuri | Brijesh Rai | Santosh Devi | Veena Chauhan | AAP (Winner) |
| Jharoda | .. | Gagan Choudhary | Surender Singh | AAP (Winner) |
| Jhilmil | Pankaj Luthra | Roshan Lal Sagar | Puneet Manchanda | BJP (Winner) |
| Joharipur | Roshan Lal | Sajid Khan | Munesh Kumar | AAP (Winner) |
| Kabir Nagar | Vinod Gupta | Munesh Sharma | Zarif | Congress (Winner) |
| Kadipur | Urmila Rana | Munesh Devi | Ruma Rana | AAP (Winner) |
| Kakrola | Pawan Kumar Tomar | Sudesh Kumar | Indrawati Singh | AAP (Winner) |
| Kalkaji | Yogita Singh | Bunty Gautam | Narindra Kaur Captain | BJP (Winner) |
| Kalyanpuri | Rajkumar Dhillon | Kiran Gupta Sethi | Bhola Singh | BJP (Winner) |
| Kamla Nagar | Renu Aggarwal | Sandeep Dabas | Ashima Gandhi | BJP (Winner) |
| Kanjhawala | Varun Saini | Sandeep | Joginder | AAP (Winner) |
| Kapashera | Sunita Yadav | Aarti Yadav | Laxmi Devi | AAP (Winner) |
| Karam Pura | Rajiv Girotra | Rakesh Joshi | Satdev Goyal | AAP (Winner) |
| Karawal Nagar - East | Shimla Devi | Jitender Bansal | Saroj Baghel | BJP (Winner) |
| Karawal Nagar-West | Satyapal Singh | Mukesh Yadav | Dharmender Bhaiya | BJP (Winner) |
| Kardam Puri | Mukesh Bansal | Urmila Gautam | Sanjay Gour | BJP (Winner) |
| Karol Bagh | Usha Lavadiya | Urmila Devi | Pooja | AAP (Winner) |
| Keshav Puram | Yogesh Verma | Vikas Goel | Pankaj Sharma | BJP (Winner) |
| Keshopur | Harish Oberoi | Sachin Tyagi | Mahinder Khera | BJP (Winner) |
| Khanpur | Mamta Yadav | Suman Gupta | Deepika | BJP (Winner) |
| Khyala | Paramjeet Kaur | Shilpa Kaur | Rajwati Chandela | AAP (Winner) |
| Kirari | Urmila Choudhary | Ramesh Chand | Rahul Mathur | AAP (Winner) |
| Kishan Ganj | Geeta Nagar | Pooja Maan Singh | Prerna Singh | AAP (Winner) |
| Kohat Enclave | Ajay Ravi Hans | N Raja | Dushyant Kumar | BJP (Winner) |
| Kondli | Munesh Dedha | Vinita Dedha | Jyoti | BJP (Winner) |
| Kotla Mubarakpur | Kusumlata Chaudhary | Rinu Mittal | Renu | BJP (Winner) |
| Krishna Nagar | Sandeep Kapoor | Jugal Arora | Pradeep Kumar | BJP (Winner) |
| Kunwar Singh Nagar | Shashi Prabha Solanki | Rajbala Lakra | Krishna Devi | BJP (Winner) |
| Lado Sarai | Pravesh Sejwal | Rajeev Sansanwal | Anita | AAP (Winner) |
| Lajpat Nagar | Sardar Arjun Pal Singh Marwah | Subhash Malhotra | Bala Subramanyam | BJP (Winner) |
| Lalita Park | Himanshi Pandey | Shweta Nigam | Chandani Siddiqui | AAP (Winner) |
| Laxmi Nagar | Alka Raghav | Meenakshi Sharma | Sunita Dhawan | BJP (Winner) |
| Madangir | Manisha Chandrapal | Geeta | Doli | AAP (Winner) |
| Madanpur Khadar East | Dr Lekhraj | Praveen Kumar | Jeewan Singh | AAP (Winner) |
| Madanpur Khadar West | Braham Singh | Karamvir Bidhuri | Vijay Pal | BJP (Winner) |
| Madhu Vihar | Sushma Rathee | Neha Chauhan | Esha Bishnoi | BJP (Winner) |
| Madipur | Sunita Kangda | Sahil Gangwal | Sant Prakash Gangwal | AAP (Winner) |
| Mahaveer Enclave | Ajeet Singh | Praveen Rajpoot | Amar Tiwari | AAP (Winner) |
| Mahavir Enclave | Raj Kumar | Ajay Kumar Rai | Jai kiran | AAP (Winner) |
| Mahipalpur | Indrajeet Sehrawat | Joginder Sehrawat | Kunal Sehrawat | BJP (Winner) |
| Malka Ganj | Rekha Amarnath Jatav | Guddi Devi | Mamta | BJP (Winner) |
| Malviya Nagar | Dr. Nandini Sharma | Leena Kumari | Vandana Saini | AAP (Winner) |
| Mandawali | Shashi Chandna | Reena Tomer | Usha Chaudhary | BJP (Winner) |
| Manglapuri | Vijay Veer Solanki | Narender Kunar | Joginder Kishor (Singhal) | AAP (Winner) |
| Mangol Puri | Shashi Sood | Rajesh Kumar | Deepak Kumar | AAP (Winner) |
| Mangolpuri-A | Ashok Bidlan | Dharam Rakshak | Om Prakash | AAP (Winner) |
| Mangolpuri-B | Rajeshwari Jaswant | Suman Savaria | Pooja | AAP (Winner) |
| Matiala | Anuradha Sharma | Rajnish Matiala | Neelam Vats | BJP (Winner) |
| Maujpur | Anil Sharma | Anil Jain | Vinod Kumar | BJP (Winner) |
| Mayur Vihar Phase-1 | Prema Devi | Beena Balguher | Ranjna Kumar Bhati | AAP (Winner) |
| Mayur Vihar Phase-2 | Bipin Bihari Singh | Devender Chaudhary | Heera Singh Rawat | AAP (Winner) |
| Meethapur | Guddi Chaudhary | Rita Awana | Amiri Devi | BJP (Winner) |
| Mehrauli | Arti Singh Yadav | Rekha Chaudhary | Pushpa Singh | AAP (Winner) |
| Model Town | Vikesh Sethi | Nathuram Nagar | JK Dabar | BJP (Winner) |
| Mohan Garden | Shyam Mishra | Surender Kaushik | Pardeep Kumar Karhana | AAP (Winner) |
| Molarband | Gagan Kasana | Hem Chand Goyal | Rajvir Sharma | AAP (Winner) |
| Moti Nagar | Ritu Madan | Alka Dhingra | Neelam Nijhawan | AAP (Winner) |
| Mubarikpur | Ramdayal Mahto | Rajesh Kumar Gupta | Diwakar Mittal | AAP (Winner) |
| Mukherjee Nagar | Sardar Raja Iqbal Singh | Antul Kohli | Rajeev Khurana | BJP (Winner) |
| Mukundpur | Gulab Singh Rathore | Ajay Sharma | Shyam Singh Sisodiya | BJP (Winner) |
| Mundka | Gajendr Daraal | Anil Lakra | Surendra Kumar Lakra | Independent |
| Munirka | Rama Tokas | Rajbala Tokas | Anita Tokas | AAP (Winner) |
| Mustafabad | Shabnam Malik | Dr Nasreen | Sabila Beghum | Congress (Winner) |
| Najafgarh | Amit Kharkhari | Rajbir Dabas | Satbir Sharma | BJP (Winner) |
| Nand Nagri | Rinku Kumar | Ramesh Baisiya | Mohan | AAP (Winner) |
| Nangal Thakran | Babita Dabas | Manisha Nain | Komal | BJP (Winner) |
| Nangli Sakrawati | Savita Sharma | Geetu Shokeen | Kranti Jha | BJP (Winner) |
| Nangloi | Babita Kirar | Hemlata Ladla | Sangeeta Singh | AAP (Winner) |
| Nangloi Jat | Poonam Saini | Vijaylaxmi Yadav | Kaushilya | BJP (Winner) |
| Naraina | Umang Bajaj | Vijender Gar | Ram Kumar Tanwar | BJP (Winner) |
| Narela | Keshrani Khatri | Shweta Khatri | Nirmala Devi | AAP (Winner) |
| Nawada | Rinku Gehlot | Nirmala Devi | Sarla Chaudhary | AAP (Winner) |
| Nehru Vihar | Arun Singh Bhati | Pravesh Chaudhary | Aleem | BJP (Winner) |
| New Ashok Nagar | Sanjeev Singh | Anita Hakam | Vishal Kumar | BJP (Winner) |
| Nihal Vihar | Shivangi Pandey | Ashok Bhardwaj | Mandeep Singh | Congress (Winner) |
| Nilothi | Bibi Kuljeet Kaur | Babina Shokeen | Poonam Sharma | AAP (Winner) |
| Nithari | Sona Ranjeet Choudhary | Mamta Gupta | Haseena | AAP (Winner) |
| Pahar Ganj | Manish Chadha | Amarnath Rajpoot | Dharmesh Raikwar | BJP (Winner) |
| Palam | Seema Pandit | Vishnu Pandit | Dilbag Singh Solanki | BJP (Winner) |
| Pandav Nagar | Yashpal Singh | Vijay Shishodia (Sonu) | Praveen Sharma | BJP (Winner) |
| Paschim Vihar | Vineet Vohra | Shllu Duggal | Dushyant Yadav | BJP (Winner) |
| Patparganj | Renu Chaudhary | Seema Mann Singh | Ratna Sharma | BJP (Winner) |
| Pitampura | Amit Nagpal | Sanju Jain | Rajiv Kumar Sharma | BJP (Winner) |
| Pooth Kalan | Kavita Solanki | Ritu Mekesh Kumar | Raj Bala Dabas | AAP (Winner) |
| Pooth Kurd | Anju Devi | Umindra Rana | Nirmala | BJP (Winner) |
| Preet Vihar | Ramesh Garg | Ramesh Pandit | Chander Mohan Sharma | BJP (Winner) |
| Prem Nagar | Nilla Kumari | Munni Panwar | Muskan | BJP (Winner) |
| Pul Pehladpur | Munshi Ram | Rakesh Lohia | Satish Kumar | AAP (Winner) |
| Punjabi Bagh | Suman Tyagi | Manoj Tayal | Shivani Mendiratta | BJP (Winner) |
| Pushp Vihar | Naresh Sankhla | Arun Nawariya | Lakhmi Chand | AAP (Winner) |
| Quraish Nagar | Shamina Raja | Shamim Bano | Arfa | AAP (Winner) |
| Raghubir Nagar | Urmila Gangwal | Dharamveer | Pinki Valmiki | BJP (Winner) |
| Raj Nagar | Aruna Rawat | Poonam Bhardwaj | Krishna Sharma | AAP (Winner) |
| Rajinder Nagar | Manika Nischal | Arti Chawla | Cheena Malik | AAP (Winner) |
| Rajouri Garden | Shashi Talwar | | Vandana Singh | BJP (Winner) |
| Ram Nagar | Kamal Bagri | Priya Chandela | Sulakshna | BJP (Winner) |
| Ram Nagar East | Chander Prakash Sharma | Dharmendra Mahawar | Parmanand Sharma | BJP (Winner) |
| Ramesh Nagar | Pradeep Tiwari | Punit Rai | Gurpreet Singh (Raja) | AAP (Winner) |
| Rani Bagh | Jyoti Aggarwal | -- | Anju Khurana | BJP (Winner) |
| Rani Khera | Sushila Mathur | Manisha Jasbir Karala | Nirmala Vats | AAP (Winner) |
| Ranjeet Nagar | Tej Ram Phore | Ankush Narang | Rajesh Kumar Chillar | AAP (Winner) |
| Rithala | Narender Kumar Singh | Shubham Kumar Tripathi | Ajay Kumar Singh | BJP (Winner) |
| RK Puram | Tulsi Joshi | Dharamvir Singh | Shanti Swaroop | AAP (Winner) |
| Rohini-A | Naveen Garg | Pradeep Mittal | Jagdish Jain | AAP (Winner) |
| Rohini-B | Komal Vasisth | Suman Anil Rana | Shagun Bhadana | AAP (Winner) |
| Rohini-C | Dharmendra Sharma | Pradeep Mittal | Jitender Ahuja | BJP (Winner) |
| Rohini-D | Smita Kaushik | Suman Rana | Poonam Rohilla | BJP (Winner) |
| Rohini-E | Pravesh Wahi | Anil Mittal | Ajay Sherawat | BJP (Winner) |
| Rohini-F | Ritu Goel | Anshu Priya | Suman Kaushik | BJP (Winner) |
| Rohtash Nagar | Suman Lata Nagar | Shivani Panchal | Sarita | AAP (Winner) |
| Roshan Pura | Banke Pehelwan urf Devendra Dabas | | Jasbir Dabas | BJP (Winner) |
| Sabapur | Brijesh Singh | Birender Gupta Fauji | Praveen Kumar | BJP (Winner) |
| Saboli | Hari Prakash Bahadur | Jaswant Singh | Naresh Pal | AAP (Winner) |
| Sadar Bazar | Pinki Jain | Usha Sharma | Manisha Sharma | AAP (Winner) |
| Sadatpur | Neeta Bisht | Manoj Tyagi | Varsha | BJP (Winner) |
| Sadh Nagar | Inder Kaur | Sandhya Gaur | Praveen Dogra | BJP (Winner) |
| Sagarpur | Poonam Jindal | Simmi Yadav | Geeta Rajput | AAP (Winner) |
| Said-Ul-Ajaib | Rampal Yadav | Umed Singh | Surender Balhar | AAP (Winner) |
| Sainik Enclave | Reeta Vinay Gaur | Nirmala Kumari | Arti | AAP (Winner) |
| Samaypur Badli | Gayatri Yadav | Savita Yadav | Seema Yadav | BJP (Winner) |
| Sangam Park | Sushil Mathur Jonty | Ravi Shankar | Manoj Kumar Machhla | BJP (Winner) |
| Sangam Vihar-A | Chandan Kumar Choudhary | Neeraj Yadav | Rahisuddin | BJP (Winner) |
| Sangam Vihar-B | Neeraj Gupta | Kajal Singh | Sandhya Aggarwal | AAP (Winner) |
| Sangam Vihar-C | Chandan Chaudhary | Pankaj Gupta | Tarun Raj | AAP (Winner) |
| Sant Nagar | Rekha Rawat | Ruby Rawat | Uma Sharma | AAP (Winner) |
| Saraswati Vihar | Shikha Bharadwaj Gupta | Urmila Garg | Deepika Deshwal | BJP (Winner) |
| Sarita Vihar | Neetu Manish Chaudhary | Muskan Bidhuri | Zaberia Mehfooz | BJP (Winner) |
| Sarup Nagar | Suresh Pandey | Jogender Singh | Jai Prakash | AAP (Winner) |
| Seelampur | Seema Sharma | Naseem Bano | Mumtaz | Independent (Winner) |
| Shahbaad Dairy | Santosh Bharti | Ram Chander | Sraddhanand Sangwan | AAP (Winner) |
| Shahdara | Bharat Gautam | Dal Chand Dali | Goldy Sood | BJP (Winner) |
| Shakarpur | Ramkishore Sharma | Sharad Dixit | Sundar Nagar | BJP (Winner) |
| Shakur Pur | Kishan Lal | Ashok Gangwal | Murari Lal | BJP (Winner) |
| Shalimar Bagh-A | Sujeet Thakur | Jalaj Kumar | Gopeshwar Yadav | AAP (Winner) |
| Shalimar Bagh-B | Rekha Gupta | Ishupret Gujral | Mona Shokeen | BJP (Winner) |
| Shastri Nagar | Manoj Kumar Jindal | Babita Sharma | Pankaj Rana | BJP (Winner) |
| Shastri Park | Bharat Bahdoria | Aditya Chaudhary | Sameer Ahmed | Congress (Winner) |
| Sidhartha Nagar | Sonali | Neetu Khatana | Darshna | BJP (Winner) |
| Sonia Vihar | Soni Panday | Rimjhim Sharma | Preeti | BJP (Winner) |
| Sri Niwas Puri | Rajpal Singh | Indu | Kanta Sharma | BJP (Winner) |
| Sriram Colony | Pramod Jha | Aamil Malik | Zulfekar Ali | AAP (Winner_ |
| Subhash Mohalla | Manisha Singh | Rekha Tyagi | Nazara Begum | BJP (Winner) |
| Subhash Nagar | Rekha Sahni | Manju Setia | Sneh Lata Tripathi | AAP (Winner) |
| Sultanpuri-A | Ekta Jatav | Bobby Kinnar | Varuna Dhaka | AAP (Winner) |
| Sultanpuri-B | Hukum Singh Rathore | Daulat Panwar | Manhar Lal | AAP (Winner) |
| Sundar Nagri | Bhumika Singh | Mohini Jeenwal | Pooja Rani | AAP (Winner) |
| Tigri | Meera Pahariya | Jyoti Jarwal | Rajani | AAP (Winner) |
| Tilak Nagar | Raj Kumar Grover | Ashok Manu | Harish Chander Lamba | AAP (Winner) |
| Timarpur | Amar Lata Sangwan | Promila Gupta | Priya Gulati Jayant | AAP (Winner) |
| Tri Nagar | Meenu Goel | Nitu Yadav | Juhi Goel | BJP (Winner) |
| Trilokpuri | Meenu Goyal | Vijay Kumar | Amar Deep | AAP (Winner) |
| Tughlakabad | Pushpa Bidhuri | Sugandha Bidhuri | Pooja Bhiduri | AAP (Winner) |
| Tughlakabad Extension | Poonam Bhati | Bhagbir | Chandra Kant Giri | AAP (Winner) |
| Uttam Nagar | Rajesh Agarwal | Deepak Vohra | Ajay Rajput | AAP (Winner) |
| Vasant Kunj | Jagmohan Singh Mehlawat | Amarjeet Chillar | Naveen Yadav | BJP (Winner) |
| Vasant Vihar | Raj Rani Sharma | Hiani Jain | Jyoti Gaur | AAP (Winner) |
| Vijay Vihar | Amrita Jha | Pushpa Solanki | Rekha Rani | AAP (Winner) |
| Vikas Nagar | Pankaj Kumar Singh | Ashok Pandey | Babita Agnihotri | AAP (Winner) |
| Vikas Puri | Sunil Jindal | Saib Asiwal | Vijay Verma | AAP (Winner) |
| Vinod Nagar | Ravinder Singh Negi | Kuldeep Bhandari | Vinay Shankar Dubey | BJP (Winner) |
| Vishnu Garden | Sanjay Yadav | Meenakshi Chandela | Pradeep Kumar Lohia | AAP (Winner) |
| Vishwas Nagar | Dr Cherry Sain | Jyoti Rani | Sunita Devi | AAP (Winner) |
| Wazirpur | Sonia Devraj Koli | Chitra Vidyarthi | Mamta Verma | AAP (Winner) |
| Welcome Colony | Ritesh Suji | Sudhesh Chaudhary | Sanjay Gupta | BJP (Winner) |
| West Patel Nagar | Meenu Naresh Kumar | Kavita Chauhan | Sandhya Kumari | AAP (Winner) |
| Yamuna Vihar | Pramod Gupta | Vinita Luthra | Raj Kumar Sharma | BJP (Winner) |
| Zakir Nagar | Lata Chauhan | Salma Khan | Nazia Danish | Congress (Winner) |